Here in the Smoky Mountains, we're known for outdoor adventures. So with our "new normal," how do we stay six feet apart from others on trails and while pursuing our favorite sports?
Here's our list of fun adventures, and our thoughts on how to be safe while enjoying these activities. Many are merely reminders to observe the common courtesies of trail etiquette.
Hiking
One of best ways to explore the Smoky Mountains can quickly become a favorite pastime. When you come to hike, try these safety tips:
Be a good citizen. Please pack out your trash. Nobody wants to touch other people's things… especially their trash. Please don't litter on the trail or leave your trash on the ground next to a full trash can. Learn more about the 7 principles of Leave No Trace and how to protect wildlife and the environment.
Bring along a face shield. We like the lightweight, stretchy material products affectionately known as a "buff" (or "gaiter", above). Wear it around your neck and it helps keep you cool, and when needed, is quick to pull up over your face.
Avoid crowded trails. If the trailhead parking area is full, consider choosing a different trail or re-schedule your hike. Mornings are generally less crowded.
If the trail is wide, groups tend to walk side-by-side. However, walking single file can help keep the "six feet plus" if other hikers approach.
If another group is approaching from the other direction, pull up your face mask until well past one another.
Avoid touching hand rails on bridge crossings, stair ascents and descents. This is a hard one because we've been conditioned to "hold the handrail".
Bring that hand sanitizer with you too!!
How fast is your group hiking speed? Some people walk faster and need to pass. A courtesy "shout-out" can aid' in distancing: "on your left!" Or as we like to say it in this area, "Coming around y'all!"
On multi-use trails if you're not aware of this best practice, bikers always yield to runners and hikers. If you're biking, please extend this courtesy!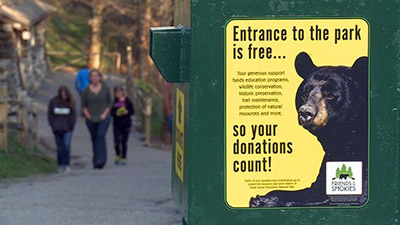 Consider the Fee Box. The Great Smoky Mountains National Park is one of the only parks in the United States that does not charge an entrance fee. Your donations to a trailhead Fee Box help fund education programs, historic preservation, wildlife conservation, trail maintenance, the protection of natural resources and more. It's appreciated!
Avoid the "post hike party". Often times it's common to enjoy a post hike gathering. We're all for that, except maybe not in this time of the corona virus. Congregating in a parking lot may not be the best place to protect yourselves and others.
Know your trail. If you are genuinely concerned about protecting yourself, know what you're getting yourself into. We have many trails here in the Smokies that are wide, old logging and now forest service roads with plenty of space to move out of the way for others. But many of our trails here are "single track"; very narrow and impossible to keep six feet or better from others. We have lots of information here on GreatSmokies.com and we also like the App called AllTrails which is very user friendly and provides you all of the information you'd ever need about a trail system.
Mountain Biking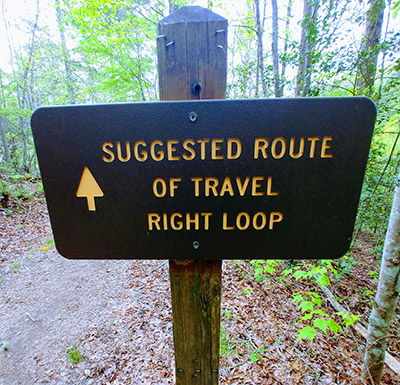 Tsali Recreation Area is right here in our back yard, and one of the premiere mountain biking trail systems anywhere in the United States! When riding Tsali, groups of riders are typically spread far apart because of the 4 separate trails available. Also:
Bring that buff! It's not uncomfortable during a ride, cools you, and you can pull it up if you encounter other riders.
Follow the "Suggested Route of Travel"! We admit it… some do ride the other ways at times, just to enjoy a different view. But in these times, we'd recommend taking the suggested route.
Apply many of the same suggestions made in hiking to your biking adventure and then go out and have fun!
Kayaking and Paddle Boarding
Social distancing on the water is easy! If you're near someone else, just paddle the other way!
Horseback Riding
This is easy social distancing because of the size of the animals. On a guided ride, every horse follows the lead horse in single file.
Fishing
Fly fishermen naturally give each other space to cast.
Come to the Smokies for some great outdoor adventures, stay safe and protect our trails for future generations.
See you on the trails!
Mark Van Osdal
Carolina Bound Adventures
Subscribe to Stories From The Smokies
Every few weeks, you'll receive an email previewing our latest blog post and a link to the online story. We hope you'll enjoy our stories, but you can unsubscribe at any time.