Waterfalls
Nantahala Cascades
A Rewarding Drive Up Nantahala Mountain
Each year, thousands of people enjoy rafting and kayaking the Nantahala without ever experiencing the most beautiful section of the river — the series of cascades that begins 1000 feet above the gorge floor. The Upper Nantahala follows Wayah Road providing a scenic car-window tableau along the way.
Near the top of the mountain, at its confluence with White Oak Creek, the Upper Nantahala leaves Wayah Road and follows Old River Road (dirt) west before leaving the road altogether. The section along Old River Road has several very nice waterfalls with pull-overs.
To reach the cascades, travel along US 19/74 to the southern end of the Nantahala Gorge. Turn onto Wayah Road, which is where all the rafts launch for rafting trips. After you pass the launch site and the Nantahala power station, you will be driving right beside the water. If you like to fish for trout, this is a popular section of the Nantahala River. Several times a year, Duke Energy creates more forceful water releases in this section and you will be able to watch kayakers navigating these cascades.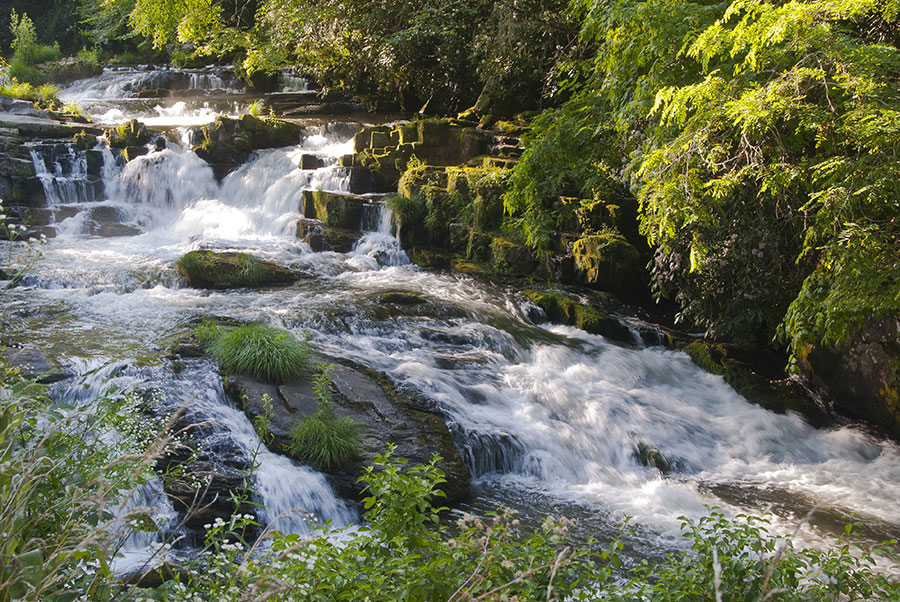 These cascades – the largest on the Nantahala – are near the top of the mountain. There's a small pull-over for cars.
Bryson City - Swain County
Chamber of Commerce
210 Main Street
P.O. Box 509
Bryson City, NC 28713
Karen Proctor
Executive Director
828-488-3681
877-472-1681
Free 2020 Travel Guide to the Smokies — Includes the Official 2020 All Aboard for the Great Smoky Mountains Railroad.
Sign up for our monthly travel news