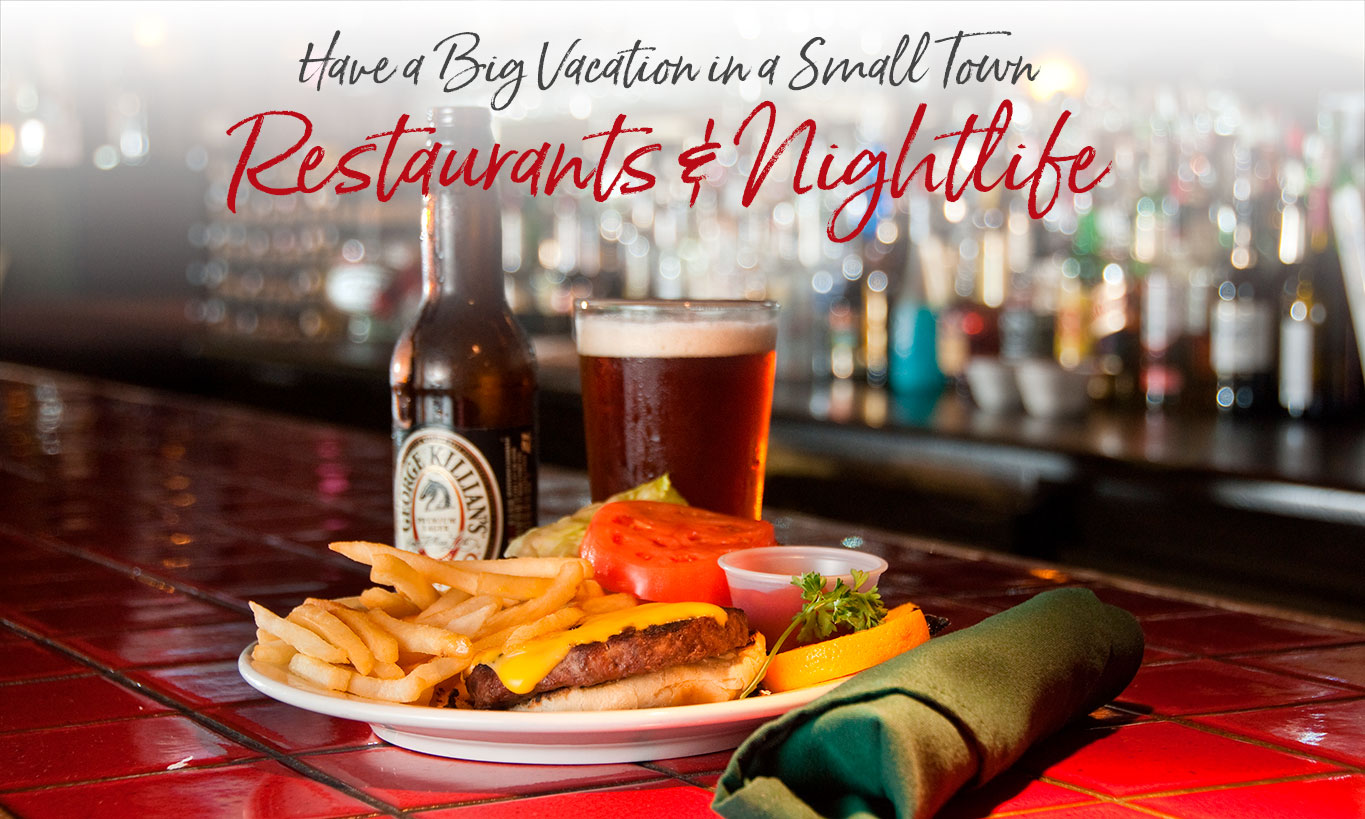 Bryson City's Area Restaurants Offer Something for Every Taste
For a small town, Bryson City has quite a variety of restaurant choices — from southern home cooking, hickory-smoked barbecue, piled-high deli sandwiches, and juicy hamburgers — to gourmet meals, farm-to-table offerings, and ethnic foods like Italian or Mexican. We've even got an old-fashioned family run drive-in.
There are Nantahala Gorge restaurants where you can watch whitewater rafting riverside, or have a quick lunch before spending an afternoon on the water.
Look for the

for pet friendly outside seating.
Click on thumbnails in listings to enlarge.
Breweries, brew pubs and wineries.
Looking for a place to picnic? Check out our map of picnic areas.
Bryson City Dining on Facebook
IN OUR BLOG…
Find a favorite spot to share with your special doggo.
Bryson City's newest night spot offers a relaxed, upscale atmosphere, large outdoor deck, and live music on Friday and Saturday nights. Enjoy dinner from the food truck on site or take out from one of our local downtown restaurants.

Pet friendly outside seating.

Inside Dining 

Outside Dining
Enjoy classic Italian favorites served in a rustic yet refined atmosphere. Full lunch and dinner menus with daily evening specials. Full bar and extensive wine list. Catering available and larger groups are welcome with reservations required.

Inside Dining

Takeout
Authentic hand-tossed pizza, burgers, homemade dinners, appetizers, subs, paninis, salads & desserts. Large selection of craft, imported and domestic beers; full bar and wine. Inside and covered outdoor dining; with relaxed lounge seating areas in Derailed Bar. Free wifi. Across from train depot.

Pet friendly outside seating. 

Inside Dining 

Outside Dining 

Takeout
Conveniently located across from the Great Smoky Mountains Railroad Depot in Bryson City, Boxcar Cafè & Cones offers a varied breakfast and lunch menu including burgers, wraps, wings, and more. Order online at website and schedule your delivery or pick up. In the mood for something sweet? We have 16 flavors of hand dipped ice cream available in cones, cups or shakes.

Pet friendly outdoor seating.

Inside Dining 

Outside Dining 

Takeout 

Delivery
Iron Wok is a locally owned and recently renovated restaurant in downtown Bryson City featuring authentic dishes from China, Japan, the Philippines, Thailand and Vietnam. All orders are made fresh with no MSG and gluten free options are available. Private room and gift certificates are available. 

Inside Dining

Takeout
Located just down the street from the Nantahala Brewing Company, The Warehouse at Nantahala Brewing offers fresh, local, farm to table dining in a casual, rustic setting. Dine outdoors or in and enjoy the signature Nantahala Brewing Company beers or a cocktail from the bar. 

Pet friendly outside seating. 

Inside Dining 

Outside Dining 

Takeout
Custom roasted coffee and espresso drinks, smoothies, freezes and master blended teas. Great selection of gourmet wraps, salads, quiche, vegetarian and gluten free dishes and soup. Also handmade bagels and tasty cream cheeses, muffins, baked goods and bagel or croissant sandwiches. Free Wi-Fi. Eat in, on the porch, or carry out. Delivery service available. 

Pet friendly outside seating. 

Inside Dining 

Outside Dining 

Takeout 

Delivery
When you visit the Nantahala Gorge, be sure to bring your appetite! NOC offers two riverside dining locations, River's End and Big Wesser – with menus boasting a little bit of something for everyone! Menus and hours change seasonally, visit website for current information. Free Wi-Fi. At
River's End
whether you're craving a juicy cheeseburger, a filling salad, or the staple Sherpa Rice dish, you can enjoy your meal where every seat has a view of the river.

Inside Dining 

Outside Dining 

Takeout.
The menu at
Big Wesser
draws from NOC's southern roots, bringing mouthwatering bites like burgers and barbeque to the Nantahala Gorge. 

Pet friendly outside seating at Big Wesser. (open in season)

Inside Dining 

Outside Dining 

Takeout
Come inside and smell the chocolate! Hand dipped chocolates and made-in-store fudges, caramel apples, brittles, specialty popcorn, pralines, and a selection of unique candies. Plus 24 flavors of creamy and delicious premium ice cream made especially for the Chocolate Shoppe including flavors for the diabetic and lactose intolerant.
Take a virtual tour 

Takeout Only
Southern-inspired fast-food chain known for Cajun fried chicken, biscuits & signature sides. Serving breakfast all day. Breakfast, lunch and dinner.

Drive Thru Only
Old school drive-in located beside the Tuckasegee River in Bryson City.  Breakfast, lunch, and dinner menus offering curb service, under cover. Open all year. Closed Sundays.

Curbside Only
Fresh made to order sandwiches, salads, soups and homemade desserts, and outstanding customer service make High Test Deli & Sweet Shop your first choice for quality dining in Bryson City. Monday-Saturday, 11am-4pm, closed on Sundays.

Takeout Only
A traditional style breakfast and lunch featuring daily specials as well as a variety of sandwiches, homemade soups, salads, and desserts. Hours of operation: Monday, Wednesday, Thursday, Friday, Saturday, 7am - 2pm. Sunday, 7:30am - 2pm. Closed Tuesday.

Inside Dining 

Takeout 

Delivery
Family friendly restaurant with full bar, pet friendly outdoor covered deck, and pool tables and games conveniently located just across from the Great Smoky Mountains Railroad in the heart of downtown Bryson City. Daily food and drink specials, weekend live entertainment, and NFL Ticket for those fall football weekends.

Pet friendly outside seating.

Inside Dining 

Outside Dining 

Takeout
Beer Treks is not your typical beer drinking brewery tour, but an educational experience into the world of Craft beer, the story behind each brewery, and the history of Western North Carolina beer and our mountain towns. Tour great local craft breweries with a certified beer expert, going behind-the-scenes of the beer making process while learning how to critically taste a variety of craft beers brewed by exceptional brewmasters.
The Beef Jerky Experience story is really pretty simple; take the highest quality USDA approved jerky you can find, create over 100 varieties and sizes ranging from mild to wild, and build a store around it. Make it in small batches so it will always be fresh. Offer samples so everyone can find a favorite - or two! Finally, add even more variety by including gourmet popcorn, sauces, seasonings, marinades and more. Come in today or order online.
Located in downtown Bryson City, directly across from the Great Smoky Mountain Railroad offering a delicious array of handmade chocolates, award winning fudge, fresh brewed coffee and espresso drinks, along with an assortment of other sweet treats and beverages. 

Pet friendly outside seating.

Inside Dining 

Outside Dining 

Takeout
Soda Pop's, established in 2000 as a family business, Bryson City's only '40's and '50's old fashioned Soda Fountain located in the heart of downtown. Specializing in Coca-Cola memorabilia. Our setting will take you and your kids back in time! 

Pet friendly outside seating.

Inside Dining 

Outside Dining 

Takeout
Subs, wraps and salads, protein bowls, breakfast sandwiches. Kid mini-meals. Open all year seven days a week.

Inside Dining

Takeout
Open Tuesday through Saturday 11am-8 pm. April 1 through November 1. Open extra days during July and color season. Hickory smoked pit BBQ made on the premises.

Pet friendly outside seating.

Inside Dining 

Outside Dining 

Takeout
Choose from two tour options complete with a designated driver; our Breweries Tour which visits 3 mountain towns & 5 breweries and our Waterfalls and Breweries Tour: 4 waterfalls, and then 5 breweries. We pick you up at your Bryson City stay location and drop you back off after the tour. We drive… you have all the fun! Tour accommodates up to 7 guests. See the beauty of Western Carolina, enjoy our great local breweries, and consider us your "Brew-bur Driver"!
All aboard! Join us for one of our evening specialty dinner trains, The Fontana Trestle featuring BBQ & Brews OR Uncorked Wine Train. Both trains follow a scenic evening route and feature a delicious menu paired with the wine/beer, and knowledgeable representatives from the brewery or vineyard showcased. Whether you are a craft beer connoisseur or have a taste for vibrant wines we've got you covered with these unique railroading dining experiences.
Authentic Mexican fare, full bar and lively atmosphere. Private rooms available for all your celebrations. Open daily all year for lunch and dinner. 11am-2:30 pm lunch and 5 pm-10 pm for dinner. 

Inside Dining 

Takeout
Locally owned and operated pizzeria and grill. We offer only the highest quality ingredients and serve hand crafted beers in a unique setting. We take pride in providing our customers with a memorable experience that keeps them coming back time and time again. 

Pet friendly outdoor seating.

Inside Dining 

Outside Dining 

Takeout
Offering both lunch and dinner in a casual and inviting atmosphere on Main Street, Jimmy Mac's features a full menu including soups, salads, appetizers, burgers, steaks, seafood and more. 

Inside Dining 

Outside Dining 

Takeout
La Dolce Vita Bakery is a farm to table dessert bakery. We specialize in custom order cakes and cupcakes made from the best local ingredients. We will have a variety of desserts and specialty desserts available daily. Now serving fresh Italian gelato daily! 

Pet friendly outside seating. 

Inside Dining 

Outside Dining 

Takeout
The Backwoods Bakery is a small batch artisan bakery deep in the backwoods of Western NC which uses only the finest and most natural products available; our flour is sourced from North Carolina mills and all from certified organic grain. You'll find o
ur "storefront" at your local farmers markets in both Swain and Jackson counties and our products can be found at several local restaurants and retail outlets. Our wood-fired pizza food truck can also be found at regional and local events. 
Featuring breakfast, lunch and dinner menus with fresh salads, wings, burgers, Phillies, and home-style daily specials. Private room available for groups or meetings. Free Wi-Fi.

Inside Dining 

Takeout
Located in the center of downtown Bryson City, the brewery has indoor seating as well as outdoor seating on a covered rooftop terrace with a beautiful view of the Tuckasegee River and the mountains surrounding the town. The brewery currently has a number of beers on tap, a hard cider on tap, and a variety of wines, sodas, tea, and coffee.
Our permanent food truck, The Rice Wagon Bryson City, is open every day.
Several local restaurants offer food delivery to your table. 

Pet friendly outside seating in patio area.

Inside Dining 

Outside Dining
Listed on the National Register of Historic Places, the Fryemont Inn has been a tradition in mountain hospitality since 1923. Enjoy fireside dining and your favorite wines and cocktails. We serve a full country breakfast from 8-10am; and a delicious four-course dinner from 6-8pm Sunday-Thursday and 6-9pm Friday-Saturday. Prime rib, lamb shanks and pecan crusted trout are just a few of the tasty offerings.
Take a virtual tour.
Open mid-April through Thanksgiving. Reservations, please.

Inside Dining Only
Area Beverage Policies
Restaurants
The town of Bryson City permits the sale of alcoholic beverages within the city limits; and a number of Bryson City restaurants offer beer, wine and mixed drinks.
Outside of the city limits, only certain qualifying resort properties are permitted to serve alcohol by the drink as well as beer and wine. Restaurants at the Nantahala Outdoor Center are permitted to serve only beer and wine.
In Cherokee, beer & wine may be served at certain restaurants that are within one mile of the Blue Ridge Parkway entrance (north end of Cherokee). Beer, wine and mixed drinks are served in the Harrah's Casino & Hotel restaurants and on the Casino floor. The remainder of the Cherokee Indian Reservation is dry.
Because of differing policies, restaurant patrons are advised to check with the restaurant ahead of time.
Bottle Sales
In Bryson City, liquors are sold at the ABC Store at 254 Veterans Boulevard (next to Arby's) (9 to 9, Monday through Saturday). 828-488-6682.
Beer, wine and mixers are sold only at grocery stores, convenience stores and package stores within the city limits. Hours vary from store to store, but are allowed to be from 6 am to midnight, except on Sunday, when sales are permitted from 10 am – 2 am. The Wesser General Store in the Nantahala Gorge sells beer and wine (open seasonally).