When and where will you find the best leaf color in the Smokies this fall?
It's the most often-asked question from people planning an autumn trip to the Great Smoky Mountains — "When will the color peak?" The truth is, with the wide variety of trees, elevations and microclimates in the Smokies, our leaf season can last up to six weeks.
Just be comforted with the knowledge that no matter when you visit the Smokies in the fall, you should be able to find beautiful leaf color.
Not only do the Smoky Mountains explode with beautiful color in the fall, the small town of Bryson City itself puts on a festive fall show, too!
Colorful fall flowers and scarecrows hang out on the streets mixing with the beautiful fall foliage changes. You can go for a hayride, visit a pumpkin patch and a sunflower maze, hear ghost stories, sample local produce at our Friday Farmers Market, watch artisans create one-of-a-kind arts and crafts, and more.
Update: Due to an unusually warm and wet summer, leaf season is running about two weeks later than what you see above.
Events & Festivals
Events are in Bryson City/Swain County unless otherwise noted. Events are subject to change. For detailed information, visit event websites.
Daily ranger led programs in the Great Smoky Mountains National Park (October). 828-497-1904.
Farmers Market– Every Friday morning May thru October, 9 am – 1 pm on Island Street in Bryson City.
September 20 – October 31- Fall Events at Darnell Farm: Sunflower Maze (opens early October) & Pumpkin Patch daily (open now). Hayrides, Thursday – Sunday. Haunted Trail the week of Halloween.
September 22 – "Uncorked" event train food with wine pairings. All adult-first class car.
September 22 – Swain County Agricultural Fair. Swain County Event Park, 10 am – 10 pm. Demos, crafts, food, live music and judging of vegetables, eggs, flowers & animals.
September 22 – Octoberfest at Nantahala Brewing. Traditional German dishes and fun family games.
September 29 – Mountain Heritage Day at Western Carolina University, Cullowhee.
September 28-30 – Guest Appreciation Festival at Nantahala Outdoor Center.
October: Fridays thru Sundays – Peanuts Pumpkin Patch Express Train Event. Ride to pumpkin patch, meet Peanuts charactures, enjoy activities and music, pick your own pumpkin.
October: Fridays & Saturdays – Spooky Tales at the Storytelling Center. 8 pm, around the fire pit in the train depot area.
October: Fridays & Saturdays – Cherokee Bonfire & Storytelling, 5-7 pm. Islands Park in Cherokee.
October 2-6 – Cherokee Indian Fair
October 5-14 – Smoky Mountain Arts Festival under the big tent at the train depot.
October 6 – ColorFest arts and crafts show, Dillsboro.
October 6 & 20 – Old-time music jam at Oconaluftee Visitor Center, Great Smoky Mountains National Park. 1-3 pm. (Cherokee)
October 6-7 – Fall Festival at John C. Campbell Folk School, Hayesville.
October 13 – Smoky Mountain Fly Fishing Festival. 9 am – 5 pm at the Warehouse at Nantahala Brewing.
October 13-14 & 20-21 – The Inspirations Fall Color Gospel Festival, 2 pm daily. Swain County Event Park.
October 19-20 Cruise the Smokies Fall Rod Run, Cherokee, 9 am – 5 pm.
October 19-20 – Stecoah Harvest Festival, crafts, food, music and country fair, Stecoah.
October 20 – Southeastern Downriver Championship. 8 mile course on the Nantahala River.
October 26-27 – Witch's Brew Release & Halloween Party, Nantahala Brewing Co. Live music.
October 27 – NOCtoberFest Great Pumpkin Pursuit, games and music on the Nantahala River.
October 31 – Downtown Trick or Treat. 4 – 7 pm safe trick or treating with merchants on Everett Street in Downtown Bryson City (street is closed to vehicles).
November 3 – WNC Pottery Festival, Dillsboro.
November 3-4 – Rumble in the Rhododendron Fly Fishing Tournament, Cherokee.
November 10 – Heritage Arts Festival, 10 am – 4 pm. SW Community College/Swain Center.
Special Train Rides
Leave the driving to the Great Smoky Mountains Railroad on the special "Leaf-Looker" excursions to the Nantahala Gorge. Daily. (Named one of the 10 Top Fall Foliage Trains by Travel and Leisure)
Peanuts Pumpkin Patch Express – Friday-Sunday in October. Enjoy the ride, play games, pick out your own pumpkin & meet Charlie Brown, Lucy & Snoopy.
'Shine & Dine' all adult first class moonshine car featuring Junior Johnson's Midnight Moon Spirits. Nantahala River excursions.
More Ways to Enjoy Autumn
Biking trails – ride through a canopy of color
Easy hikes to waterfalls in the area
Soar above the trees on a zip line
Scenic drives on the Blue Ridge Parkway or through the Great Smoky Mountains National Park, or on "The Dragon."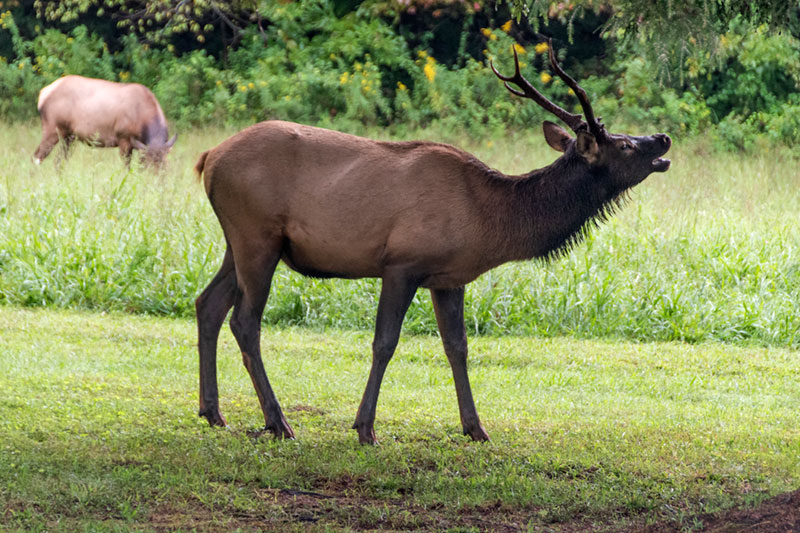 Listen to The Bugle of the Smokies Elk
Hearing a bull elk's bugling during the fall rutting season is a memorable experience… that comes with a caution. While the animals are not frightened by humans, they are wild and potentially dangerous, particularly during mating season when the males are aggressively guarding their harems. Observers should stay at least 50 yards away and use binoculars or telephoto lens for a closer view.
Where to view elk. For years following the herd's 2001 reintroduction into the Great Smoky Mountains National Park, elk watching meant driving deep into the Cataloochee area of the park, about 1.5 hours from Bryson City. But these days, you're just as likely to see elk grazing in the fields next to the Oconaluftee Visitor Center in Cherokee, or in the lowland fields along US 441 in the National Park, or in the Job Corps Civilian Conservation Center just north of park visitor center.
Bryson City - Swain County
Chamber of Commerce
210 Main Street
P.O. Box 509
Bryson City, NC 28713
Karen Proctor Wilmot
Executive Director
800-867-9246 toll-free
828-488-3681 local
828-488-6858 fax
Free 2018 Travel Guide to the Smokies — Includes the Official 2018 All Aboard for the Great Smoky Mountains Railroad.