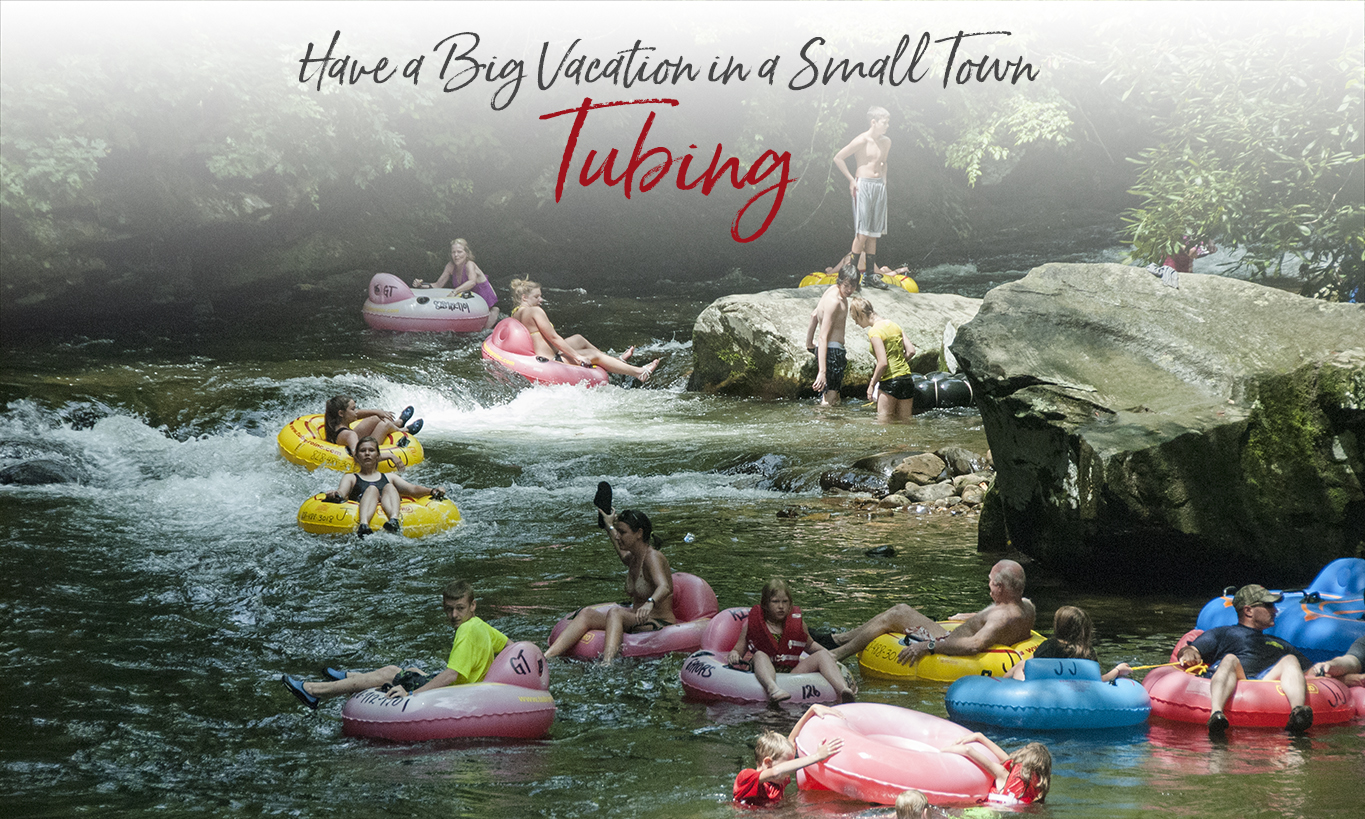 Mountain Tubing Can Be an Easy Float or a Wild, Whitewater Ride
Western North Carolina has two great tubing runs and both are near Bryson City. Both Deep Creek and the Oconaluftee River in Cherokee have crystal clear water that originates in springs bubbling up and filtering through the ferns and moss in the Great Smoky Mountains National Park.
Tubing companies generally operate from Memorial Day weekend through Labor Day weekend, however Deep Creek tubing can begin earlier in May and continue after Labor Day if the weather is warm.
DEEP CREEK
Just outside Bryson City, the Deep Creek ride consists of two sections: 1.) The upper "whitewater" section which flows from Indian Creek through the narrow Deep Creek gorge. This is a wild, bouncy ride that often separates the rider from the tube, especially when the water is swift after a rain. At the end of the rapids section, there's a wide, deep swimming hole that provides a relaxing break before getting back on the tube. (2) The lower section, which is wider, easier going and more appropriate for smaller kids, ends at the parking lot. Put-in for this section is at the swimming hole just above the first bridge.
New: Parking tags are required to park in the Deep Creek Area of the Great Smoky Mountains National Park. Tags can be purchased online or on-site. $5/day, $15/week or $40/year. Parking Info
Life Jacket Policy – The Great Smoky Mountains National Park requires all children 13 years of age and younger to wear a life jacket while tubing. You may bring your own vest, or pick one up when you are renting your tube.
Tube rental companies are located on West Deep Creek Road, near the National Park entrance. From the parking lot at the Deep Creek trailhead, you carry your inner tube upstream less than a mile into the Great Smoky Mountains National Park on the Deep Creek trail. The put-in is where Indian Creek flows into Deep Creek.
Explore all of what Deep Creek has to offer – hiking, biking, picnicking, fishing and more. Discover Deep Creek's trails and waterfalls.
OCONALUFTEE RIVER
Just 20 minutes from Bryson City, the Oconaluftee River flows through downtown Cherokee. There you'll find one of the purest rivers in the Mountains where you can enjoy an inner-tube ride that's part rushing rapids, and part lazy ripples and swimming holes. The water ranges from ankle deep to chest high and flows over soft sand and flat, time-smoothed river rocks shed from the world's oldest mountains. Tube rental companies in Cherokee transport you and your tube to a put-in spot and pick you up at the end of your ride.
What to Wear
It's advisable to wear a bathing suit or shorts and tee shirt and secure shoes. Watches and loose jewelry should be left behind. And eyeglasses should be secured with a head strap. Finally, because our mountain streams and rivers are cool, you should bring towels and a change of dry clothes.
More fun activities on the water near Bryson City.