Mom & Pop Motels, Hotels, and Mountain Resorts in the Heart of the Smokies
We've been hosting Smoky Mountain visitors for generations, and we know how to do it right. We've got plenty of comfortable hotels, motels and resorts that can be your home base for enjoying all the mountains have to offer.
Find a Bryson City hotels, motels or resorts for your next getaway. Search by name, by amenities, by community area, or by amenities plus area. Click on thumbnails to enlarge.
Map of Community Areas
Click or tap to enlarge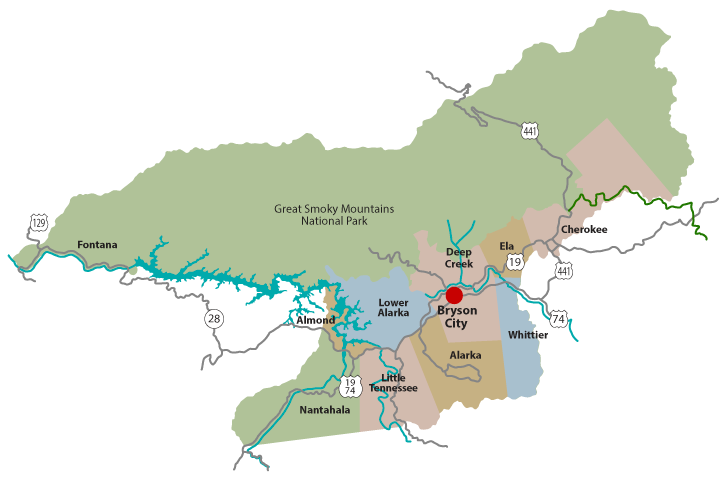 Contact Name:
Stephanie Alvarez
Address:
37 Tsalagi Road
Cherokee
NC
28719
Located on the Cherokee Indian Reservation, this 154 room property features guest rooms with 2 double beds or 1 king bed with complimentary hot breakfast. Large indoor heated pool/outdoor seasonal pool, free wifi, free parking, Cable TV with free HBO, gift shop, art gallery and guest laundry facilities. Located just 1 ½ miles from Harrah's Cherokee Casino. Close to all area attractions and Great Smoky Mountain Railroad. Restaurant open with seasonal hours. Catering and meeting space available.
Lodging Choices
Want to rock awhile overlooking the river, catch an early train ride, or have a mountain view? How about a swim in the pool, or a game of tennis, or a relaxing day at the spa? Our hotels, motels and resorts have that much to offer and more.
Some Bryson City hotels, motels and resorts are open year-round, some seasonally. Some are handicap accessible.
And if you want to bring the family pet, there's a Bryson City pet-friendly hotel, motel or resort that you both will love.
Bryson City - Swain County
Chamber of Commerce
210 Main Street
P.O. Box 509
Bryson City, NC 28713
Karen Proctor Wilmot
Executive Director
800-867-9246 toll-free
828-488-3681 local
828-488-6858 fax
Free 2018 Travel Guide to the Smokies — Includes the Official 2018 All Aboard for the Great Smoky Mountains Railroad.