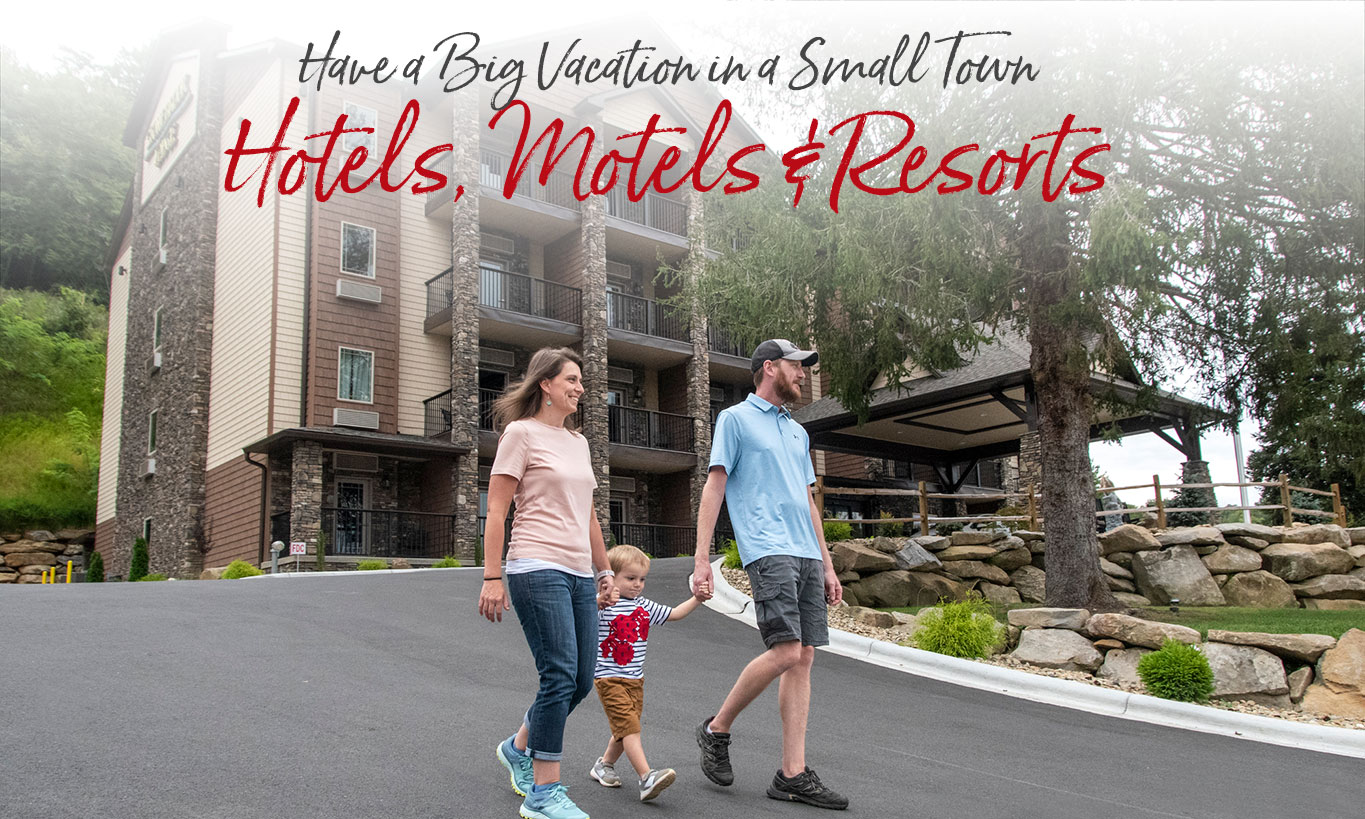 Motels, Hotels and Mountain Resorts in the  Smokies
We've been hosting Smoky Mountain visitors for generations, and we know how to do it right. We've got plenty of comfortable hotels, motels and resorts that can be your home base for enjoying all the mountains have to offer.
Find a Bryson City hotels, motels or resorts for your next getaway. Search by name, by amenities, by community area, or by amenities plus area. Click on thumbnails to enlarge.
Located by the beautiful Nantahala River in the heart of the Nantahala Gorge, the Lodge Nantahala River offers ten rooms with their own kitchenettes and restrooms that share a wonderful sitting porch. The common grounds have grilling areas and fire pits surrounded by the National Forest.
Conveniently located in downtown Bryson City this hotel has it all: clean, quiet rooms - several with river view, pool, in room phones, refrigerator and microwave. Complimentary coffee in lobby. Free high speed internet. Walk to the train, library, or one of our many great restaurants. Open year round.
You can't get any closer to the Great Smoky Mountains National Park! Located at the Deep Creek entrance, The Lodge offers one or two bedroom efficiency rooms, kitchen/dinette/living room, queen size bed, large sitting porch, beautiful view. Or enjoy the two bedroom cabin located directly on the creek. Group rates available with the Lodge, public showers, tube rentals, snack bar, game room, and laundromat on premises.
Falling Waters has two options for two distinct types of travelers. The Group Lodge is an economical, convenient option for up to 44 people. Bunk bed sleeping in six rooms each with a shower, toilet and vanity. Rental kitchen available. The Yurt Village has 8 Yurt Cabins that sleep up to 4, includes small refrigerators, coffee makers, shared but private bathrooms, a hot tub for Yurt guests. On site of the Nantahala Gorge Canopy Tours. Non-smoking, No Pets.
Brand new in 2020! Our beautiful property is conveniently located in Downtown Bryson City within easy walking distance of dining, shopping, and the Great Smoky Mountains Railroad. Our rooms are tastefully decorated, spacious, and are available in the following types: 2 queen beds (with or without balcony), 1 king bed (with or without balcony), 1 king bed with jacuzzi and balcony, handicap-accessible king with balcony, and handicap-accessible with 2 queen beds and balcony. All rooms include mini-refrigerator, microwave, free wi-fi and a continental breakfast served in the lobby from 6:30 - 9:30 AM, and are non-smoking with no pets allowed. Indoor pool available onsite.
Located on the Cherokee Indian Reservation, this 154 room property features guest rooms with 2 double beds or 1 king bed with complimentary hot breakfast. Large indoor heated pool/outdoor seasonal pool, free wifi, free parking, Cable TV with free HBO, gift shop, art gallery and guest laundry facilities. Located just 1 ½ miles from Harrah's Cherokee Casino. Close to all area attractions and Great Smoky Mountain Railroad. Restaurant open with seasonal hours. Catering and meeting space available.
On the National Register of Historic Places, the Fryemont Inn has been a tradition in mountain hospitality since 1923. There are 32 rooms and suites in the Historic Lodge and 8 luxury cottage suites with fireplaces, and a 2 bedroom cabin adjacent to the swimming pool. The cabin is a pet-friendly accommodation. The Historic Lodge & Restaurant are open mid-April through Thanksgiving weekend. Rates during that time include a full breakfast and a 4 course dinner. The cabin and fireplace suites are open all year. Free Wi-Fi in lobby.
Take a virtual tour
UNPLUG. UNWIND. UNHOSTED. Featured in Southern Living, the resort spa creates the perfect setting to relax, unwind, and breathe a little lighter. Set on a mountainside with spectacular views of Fontana Lake- Lakeview at Fontana's cottages evoke the soul-nurturing feel of a quaint Mediterranean village. It's the ideal getaway- the perfect blend of an "unhosted" self-sufficient stay with resort-style amenities at your doorstep...think Airbnb-meets-resort spa. For those who love nature, the outdoors, and simple pleasures, this is your calling.
Downtown motel with reasonable rates is within walking distance to Great Smoky Mountains Railroad Depot, restaurants and shops. Eighteen rooms with cable TV and phone. Business center with free high-speed internet access.
Take a virtual tour
.
Enjoy a beautiful and quiet country setting with the unique attraction of the merging of the Oconaluftee and Tuckaseegee Rivers on our grounds. Central to the Great Smoky Mountains National Park and the many other local attractions and activities in the region. Cabins have full access to all Lodge amenities, including the swimming pool and river-side park.
The Watershed Resort is a 50-acre property at the gateway to the Nantahala Gorge, convenient to Cherokee, Bryson City, the Nantahala River, Fontana Lake and more. The resort-like property features amenities such as a common area we call "the Yard" with a bocce ball court and other yard games as well as our "log-zebo" bedswing that is perched perfectly overlooking the Nantahala Gorge to the west for awesome sunsets. Hiking trails on the property lead to the playground area and our waterfall area with trout pond (feeding only, no fishing) We can host weddings and corporate events.
At Smoky Mountain Country Club, you will stay in one of our luxurious two or three-bedroom condominiums or houses. Each condominium or house contains the following for your comfort and enjoyment: full kitchen, dining area, living room with gas fireplace, washer & dryer, large view deck with barbecue. From mid-April to October, enjoy our large community pool and hot tub at no additional cost!
Located in the beautiful Nantahala National Forest adjacent to the Great Smokies National Park, Fontana Village Resort is the largest resort and marina in Western North Carolina. In addition to our lodge, cabins, campground, and restaurants we offer multiple activities on-site including hiking and biking trails, mini-golf, disc golf, two pools, a lazy river, easy access to scenic drives including the Cherohala Skyway, and a full service marina located on Fontana Lake. With on-site catering and event planning staff, Fontana Village Resort is perfect for groups, weddings and family reunions, as well as your family vacation.
Great service and great views from our location! Free High Speed Wireless Internet Access and complimentary continental breakfast. Suite amenities include coffee maker, microwave and refrigerator. Handicap accessible. Minutes away from all of your outdoor adventure. Special package offers through the Great Smoky Mountains Railroad.
McKinley Edwards Inn offers upscale boutique hotel lodging in a historic Bryson City landmark only minutes from downtown Bryson City. We offer 13 large guest rooms plus a two-bedroom, one bath cottage with three queens, and hide-a-bed and full kitchen, and feature three pet friendly rooms. Guests receive  a continental breakfast in the main house, which has multiple common rooms for activities such as TV, movies, board games and visiting. There is a large public great room for events, workshops and small weddings.
Take a virtual tour
Newly remodeled 50-room CHOICE franchise hotel in Bryson City. Free continental breakfast, free local calls, free weekday newspaper, seasonal outdoor pool, free high speed wireless access, free coffee and tea 24 hours, business center. Open year round.
Lloyd's on the River Country Inn is nestled in a beautiful, quiet riverfront setting, just five miles from Bryson City and Cherokee, on US Highway 19. Our location provides easy access to the area's dining, shopping, and attractions including the Great Smoky Mountains National Park, whitewater rafting, the Great Smoky Mountains Railroad and more!
The home of the world famous road known as The Dragon. A full service motorcycle resort with a gas station, 50 seat bikers' restaurant, motel and general store with Dragon souvenirs. US 129 & NC 28.
Scenic riverfront location, fishing dock, just outside downtown Bryson City, convenient to all area attractions. New rooms range from small queen-bedded rooms to large doubles, and kings, all with refrigerators, microwaves, and in-room coffee. We also have one cottage and one wood cabin. Open April thru December. Wi-Fi available.
With picturesque views and easy accessibility to all of downtown Bryson City's fine dining and eclectic boutiques, this renovated historic landmark will help you unwind during your visit. The Everett offers ten rustic luxury guest rooms; and a full-service bar and mountain view rooftop terrace with a fire pit for guest use..
Take a virtual tour
Lodging Choices Including Pet Friendly
Want to rock awhile overlooking the river, catch an early train ride, or have a mountain view? How about a swim in the pool, or a game of tennis, or a relaxing day at the spa? Our hotels, motels and resorts have that much to offer and more.
Some Bryson City hotels, motels and resorts are open year-round, some seasonally. Some are handicap accessible.
And if you want to bring the family pet, there's a Bryson City pet-friendly hotel, motel or resort that you both will love.