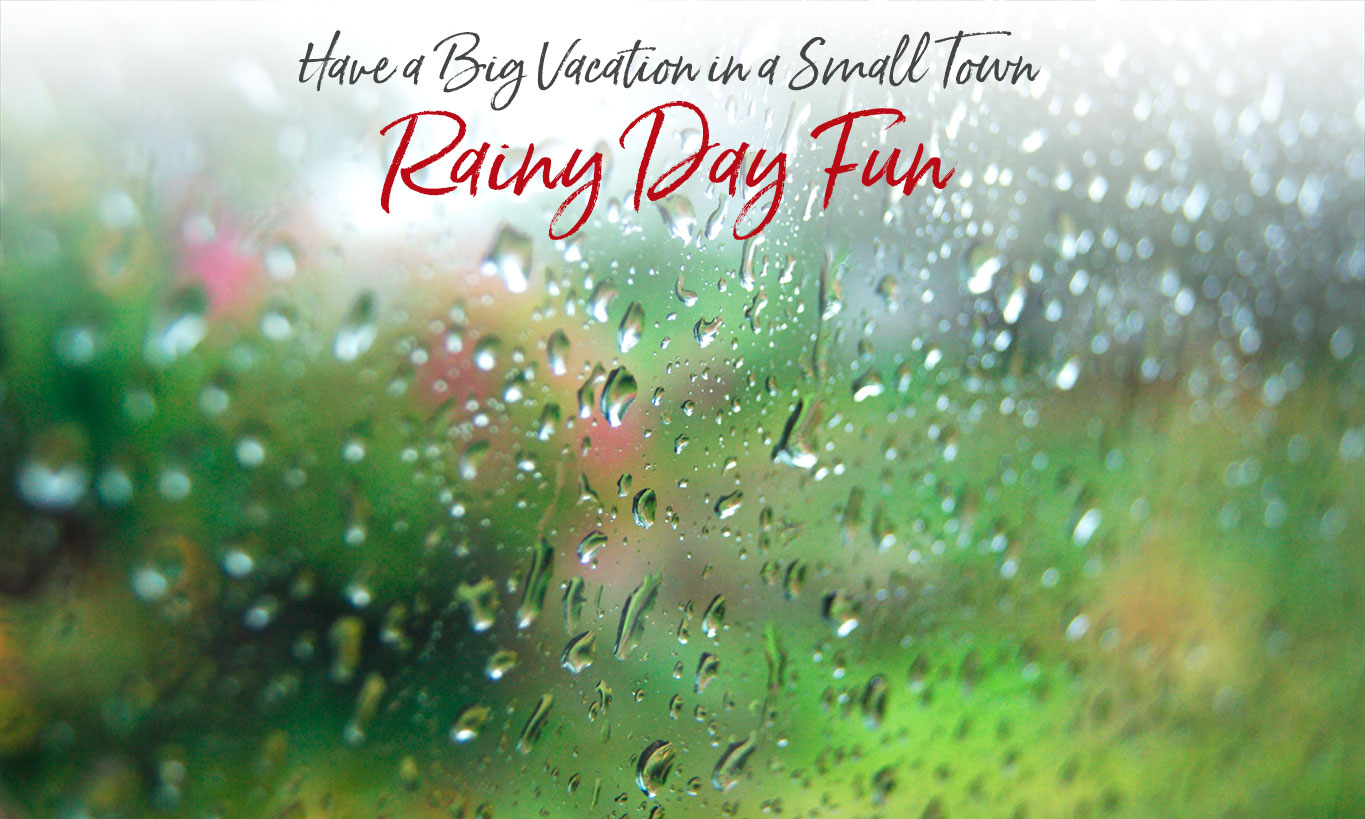 Don't Let a Little Rain Dampen Your Fun
You come to the Smokies to enjoy the great outdoors — hiking, biking, boating, fishing. paddleboarding, horseback riding, zip lining and exploring the Great Smoky Mountains National Park. But what if it rains? Other than tubing or whitewater rafting (you're going to get wet anyway), you'll probably prefer some indoor activities. And we have plenty.
Rainy Day Things to Do in the NC Smokies
BRYSON CITY
Downtown Bryson City
Why not spend a casual afternoon visiting our coffee shops, lounges, unique stores, or craft breweries? Or schedule a massage for the ultimate indoor relaxation?
Swain County Heritage Museum
Artifacts and information on the history of Swain County. Free admission.
Monday–Friday, 10am–6pm
2 Everett Street
828-488-7857
Great Smoky Mountains Railroad
Scenic excursions daily.
226 Everett Street
800-872-4681
Smoky Mountain Model Train Museum
Numerous operating layouts, activity center, and more.
226 Everett Street
866-914-5200
Fly Fishing Museum of the Southern Appalachians
Exhibits, video, and more tracing the evolution of the sport in the Southeast. Free admission.
117 Island Street
828-488-7857
Appalachian Rivers Aquarium
Game and non-game fish, Hellbenders salamanders and more.
117 Island Street
828-488-7857
CHEROKEE
Museum of the Cherokee Indian
Travel through time and learn the history of the Cherokee Nation.
589 Tsali Boulevard
828-497-3481
Cherokee Cinemas
Six screens, stadium seating, game room. Open daily.
91 Sequoyah Trail
828-497-7384
UltraStar Multi-tainment Center
Located in Harrah's Cherokee Casino, this entertainment center offers twenty-four lanes of bowling, arcade, and adult lounge. Open daily.
777 Casino Drive
MAGGIE VALLEY
Wheels Through Time Museum
All American motorcycle museum with over 300 displays.
Open Thursday–Monday, April thru Thanksgiving
2914 Soco Road
828-926-6266
FRANKLIN
The Factory
Fun for the whole family: games, indoor jump center, carousel, indoor mini golf.
1024 Georgia Road (US 441)
828-349-8888
Scottish Tartans Museum
Dedicated to the origins, history, and development of tartans, specifically the development of the kilt.
86 East Main Street
828-524-7472
CULLOWHEE
Mountain Heritage Center, Western Carolina University
Celebrate the natural and cultural heritage of the Southern Appalachians. Free admission.
176 Central Drive
828-227-7129
ASHEVILLE
Biltmore Estate
America's Largest Home
Children 9 and under are free when accompanied with a paying adult.
1 Lodge Street
1-800-411-3812
For more information on these attractions, please stop by the Visitor Center at 2 Everett Street, Bryson City.