Plan Your Smokies Getaway
Stay Fit Vacation
2-Day Vacation Plan to Keep up your Fitness Training
Taking a break from your usual fitness program with a small vacation?
Here's a fun way to take time off yet maintain your fitness level with an active recovery break or cross-training change up. Bryson City has lots of options.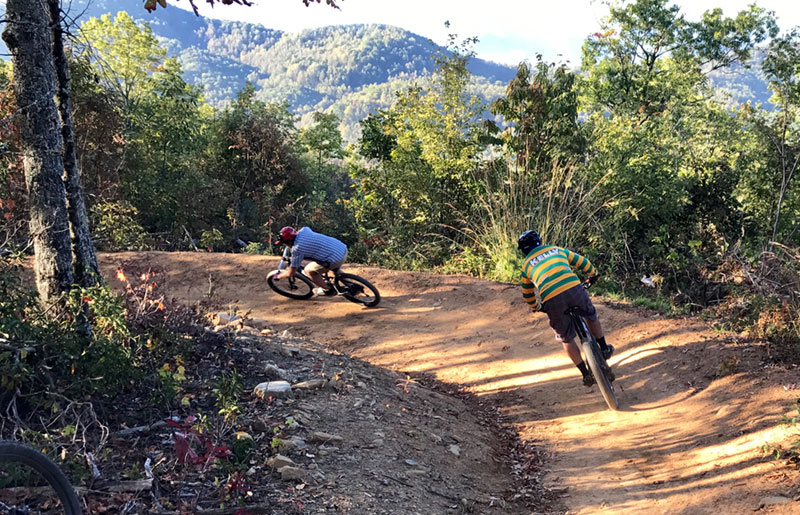 Replace that boring treadmill video or neighborhood sidewalk with the beauty of the Smoky Mountains around Bryson City NC. This 2-day plan will strengthen your legs with running and mountain biking, your core with paddle boarding, and your upper body with kayaking moves. Never tried one of these pursuits? Vacation is the perfect time to try something new. But it's not all hard work; we've added in some great restaurant suggestions, and even a massage as a reward for all your hard work.
Insiders tip:  On Tuesdays at 5:45 pm meet up  with the local Bryson City Outdoors Run Club, for the game plan and warm up/stretch. Then the group heads out at 6 pm (times may vary with daylight changes).
1 DAY ONE
Work Your Legs, Core & Upper Body
Breakfast: Mountain Perks. Everything bagel, trail fuel bagel, or bacon swirled cinnamon roll, with coffee or tea.
Activity: Jogging. 4.2 mile loop. Just a few minutes outside Bryson City, you'll find Deep Creek recreation area of the Great Smoky Mountains National Park with an easy to moderate trail passing waterfalls, along creeks and through the woods.
Lunch: Anthony's Restaurant. Salads, hot and cold sandwiches, full meals, specialty pizzas with sauce made fresh each day. Enjoy indoors or on the covered deck.
Activity: Paddleboarding. Fontana Lake hourly paddleboard rentals from Bryson City Outdoors or Nantahala Outdoor Center.
Snack & Shop: Pick up an ice cream cone at Soda Pop's or delights from The Fudge Depot and stroll around Bryson City. Check out the shops and galleries.
While you are out: Pick up a sandwich at High Test Deli and Sweet Shop for lunch on Day Two. With names like the "Super Charged," and the "Italian Turbo," you'll find just the fuel you need for tomorrow. If you need to rent a mountain bike for Tsali, Flint Ridge or Fire Mountain trails, or just some good trail advice, drop by Tsali Cycles in town or the Nantahala Outdoor Center in the Gorge.
Dinner: See what's on tap at the Nantahala Brewery or Mountain Layers Brewing, then enjoy a burger and a game of pool at CJ's Grille.
Activity: Sunset kayak tour of Lake Fontana. 7 – 9:30 pm. Guided by Endless River Adventures. Enjoy the lake from a fresh perspective. Advance reservations required. Light refreshments provided.
2DAY TWO
More Legwork, Recuperate & Celebrate
Breakfast: Everett Street Diner. Fruit, granola & yogurt; oatmeal, or fresh mixed fruits & a bagel.
Activity: Mountain biking at Tsali, Fire Mountain or Flint Ridge trails.
Break for Lunch: Bag lunch from High Test Deli and Sub Shop(see Day One)
Activity: Massage. Book a 1-hour or more therapeutic massage to relax those muscles and soft tissue at one of our local spas.
Dinner: Mid-April thru November, enjoy dining at The Fryemont Inn, where you will enjoy local trout dishes as well as casual fare in their Fireside Bar.