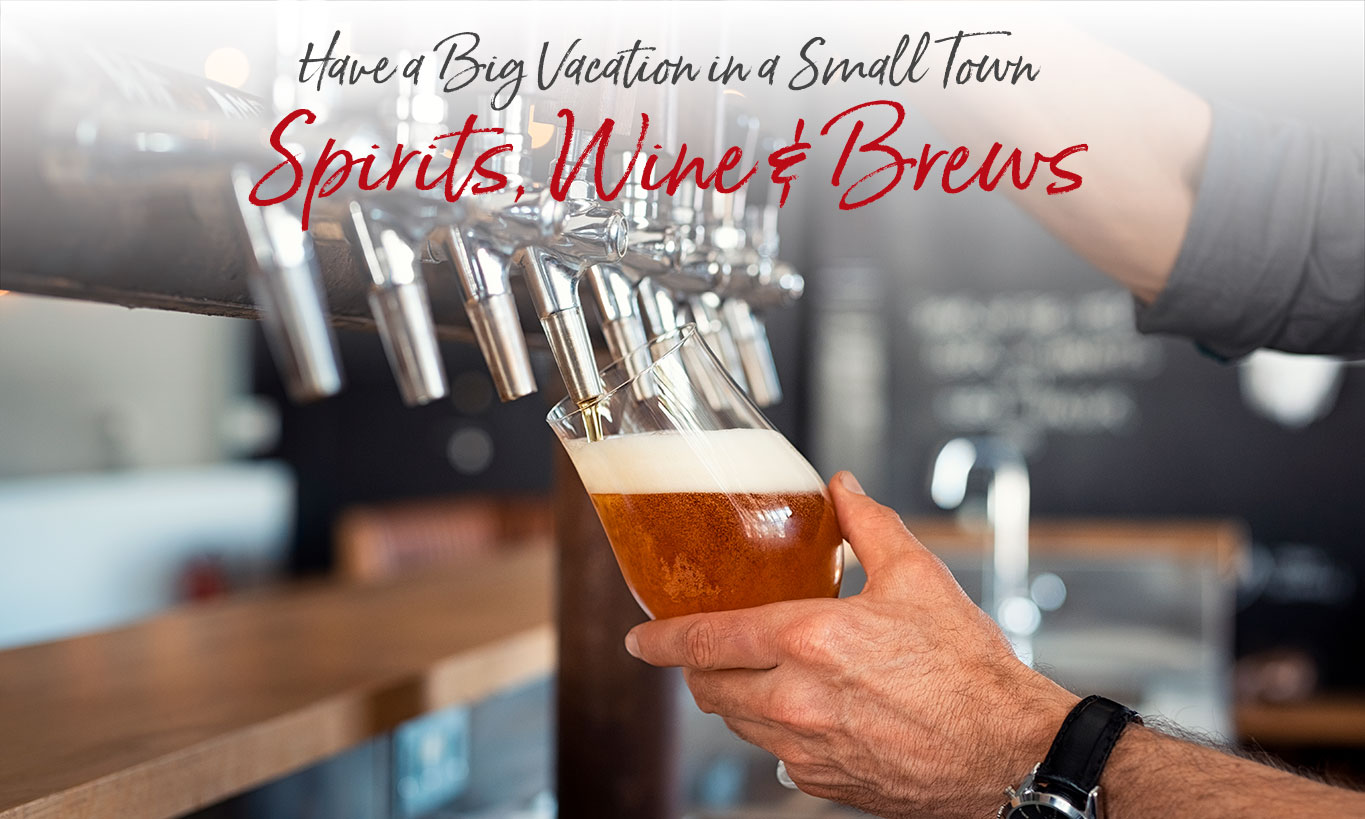 Craft brews, wines & spirits. What's your pleasure?
Bryson City offers unique ways to enjoy your beer, wine and cocktails. There are two breweries with indoor and outdoor seating, a taproom & patio at an outfitters store and another in a bike rental shop. You can take guided tours of area breweries, or just order a locally-crafted beverage in many of our restaurants. Our family-owned winery handcrafts wine in small batches for unique tastes. Stop by the wine market for flight tastings and find not only wines, but meads. Signatures cocktails are available at local bars and restaurants. We've got a lot to offer!
Look for the

for pet friendly outside seating wherever you enjoy your beer or wine.
IN OUR BLOG…
Find a favorite spot to share with your special doggo.
Bryson City's newest night spot offers a relaxed, upscale atmosphere, large outdoor deck, and live music on Friday and Saturday nights. Enjoy dinner from the food truck on site or take out from one of our local downtown restaurants.

Pet friendly outside seating.

Inside Dining 

Outside Dining
Here at Bryson City Wine Market we offer a hand-picked selection of wines, meads, and craft and import beers sure to please any taste, style or budget. In addition to our amazing collection of beverages, we offer locally made cheeses and meats and premium cigars to round out your special evening or event. Made to order gift baskets and gift certificates also available. Stop by on Friday and Saturday from 11am – 8pm to enjoy our Wine Flight tastings and browse our local art collection.
Choose from three tour options complete with a designated driver; our Breweries Tour which visits 3 mountain towns and 5 breweries and our Waterfalls and Breweries Tour: 4 waterfalls, and 5 breweries, and our Fly Fishing and Breweries Tour which offers a morning of guided fly fishing and an afternoon of 4 breweries. We pick you up at your Bryson City stay location and drop you back off after the tour. We drive… you have all the fun! Tours accommodate up to 7 guests. See the beauty of Western Carolina, enjoy our great local breweries, and consider us your "Brew-bur Driver"!
Enjoy a craft beer or cider from one of our 12 rotating taps or choose from our extensive wine selection and from a selection of 70+ cold bottles and cans. Grab a beer and shop for gear or just enjoy the cozy taproom atmosphere or outdoor covered patio. There are food trucks daily for lunch and dinner or bring your food in from anywhere in town and enjoy it at the bar or on our front patio. And, yes, we still have an awesome selection of over 250 beers, ciders and wine to go. Pet friendly inside and outside seating.

Located just down the street from the Nantahala Brewing Company, The Warehouse at Nantahala Brewing offers fresh, local, farm to table dining in a casual, rustic setting. Dine outdoors or in and enjoy the signature Nantahala Brewing Company beers or a cocktail from the bar. 

Pet friendly outside seating. 

Inside Dining 

Outside Dining 

Takeout
Beer Treks is not your typical beer drinking brewery tour, but an educational experience into the world of Craft beer, the story behind each brewery, and the history of Western North Carolina beer and our mountain towns. Tour great local craft breweries with a certified beer expert, going behind-the-scenes of the beer making process while learning how to critically taste a variety of craft beers brewed by exceptional brewmasters.
Stop by Tsali Cycles and you'll get more than just a bike rental, repair or first-hand trail information. We've got six craft beers on tap with a good variety from IPAs to pilsners to stouts — all from our Asheville to Andrews neighborhood. Beer tastes great after a ride or one of our Tsali Yoga and Spin classes. Enjoy food from home or a local restaurant. Open from 10 am - 5 pm, Monday - Saturday.
Located in the center of downtown Bryson City, the brewery has indoor seating as well as outdoor seating on a covered rooftop terrace with a beautiful view of the Tuckasegee River and the mountains surrounding the town. The brewery currently has a number of beers on tap, a hard cider on tap, and a variety of wines, sodas, tea, and coffee.
Our permanent food truck, The Rice Wagon Bryson City, is open every day.
Several local restaurants offer food delivery to your table. 

Pet friendly outside seating in patio area.

Inside Dining 

Outside Dining