Bryson City – A Real, Small Town
Bordering the southern side of the Great Smoky Mountains National Park, Bryson City is a laid-back, non-touristy town of 1,300 with more stop signs than stoplights. It's an easily stroll-able town with local bookstores, arts and crafts galleries with working artisans, bike shops, a fly fishing shop, a historical museum, a fly fishing museum, a scenic train, a brewery, and a surprising variety of restaurants. Map of downtown shops, eateries, attractions
Take a virtual tour of Bryson City with interior 360 visits to fifteen of our small businesses.
Sit a spell on a bench and look up at a clear blue sky and green mountainsides. People watch, enjoy a sweet treat, visit some shops, enjoy some music, drop a fishing line in the Tuckasegee River as it flows through town or explore it by kayak or paddleboard. Take a literary tour of the Bryson City Cemetery, the Bryson City Tales / Larimore tour, or a historical stroll through town. Enjoy having your pet with you on vacation? – we're dog friendly.
Venture just a few minutes from this quiet downtown and you'll find a vast outdoor playground for water sports, mountain biking, hiking, horseback riding, zip lines, scenic drives, waterfalls and more.
You will love Bryson City, where you can have a big vacation in a small town!
Here's What Writers Say About Bryson City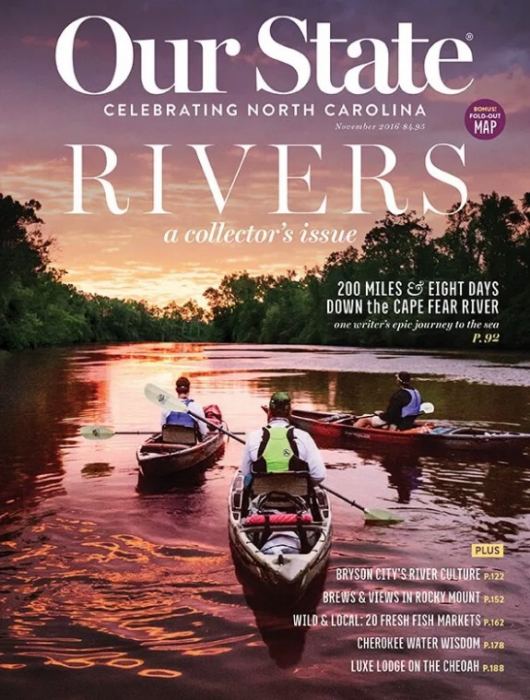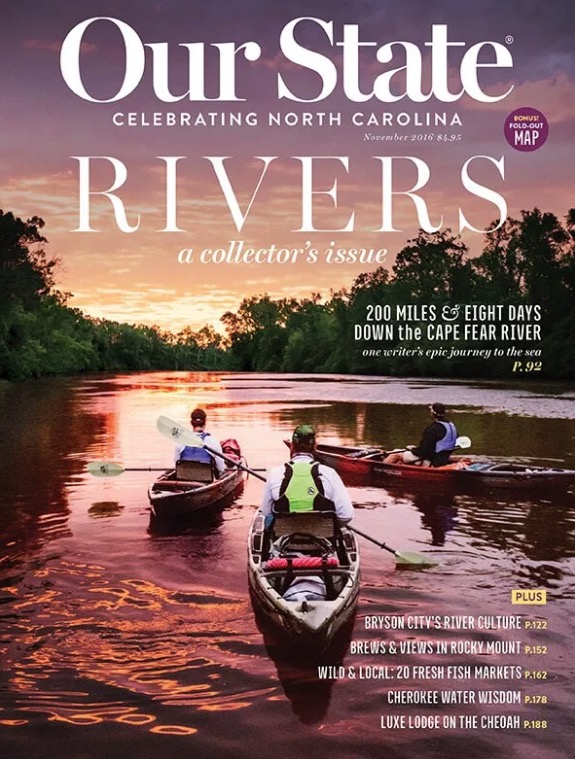 Our State Magazine featured Bryson City in an 8-page human interest article in the November 2016 issue. The issue's theme is Celebrating North Carolina Rivers, and the article focused on the Tuckasegee River that flows through downtown and its role bringing in vibrant new businesses to the community. Read
"Check out vibrant, little downtown Bryson City for dining spots and shops busy with small town commerce."
— The Charlotte Observer
"Vacationers seeking small-town atmosphere blended with the beauty of the wilderness will find refuge in Bryson City, NC, a gorgeous mountain town tucked away in the Smoky Mountains. The town features plenty of dining and shopping opportunities, lovely inns, and outdoor activities to choose from."
— VisitSouth.com
"Explore Bryson City's fun mix of old and new. Without question, the natural playground of forests, rivers, and trails surrounding Bryson City, and even the Tuckasegee River that cuts through the center of town, maintain a strong pull, but the town holds its own charm — all two square miles of it." 
— WNC magazine
'For kids, the small mountain town is a picturesque playground with plenty of places to have fun and burn off some energy."
— EverydayLife.com
"Here's the thing about Bryson City. It's a true getaway. You don't have to worry about what to wear, how to fix your hair, putting on makeup, checking boxes on your touristy list or having concrete plans. You just go and do whatever and stare at the mountains and breathe easier."
— Dana Miller, Housetweaking
"But, most of all, skip the nearby over-developed region that is Gatlinburg and visit Bryson City on the North Carolina side of the park.  It is a beautiful small American town with great road-side inns, shops and family entertainment that takes you back to the America of the past, something you can not get much of these days."
— LivePretty.com
Bryson City - Swain County
Chamber of Commerce
210 Main Street
P.O. Box 509
Bryson City, NC 28713
Karen Proctor Wilmot
Executive Director
800-867-9246 toll-free
828-488-3681 local
828-488-6858 fax
Free 2018 Travel Guide to the Smokies — Includes the Official 2018 All Aboard for the Great Smoky Mountains Railroad.