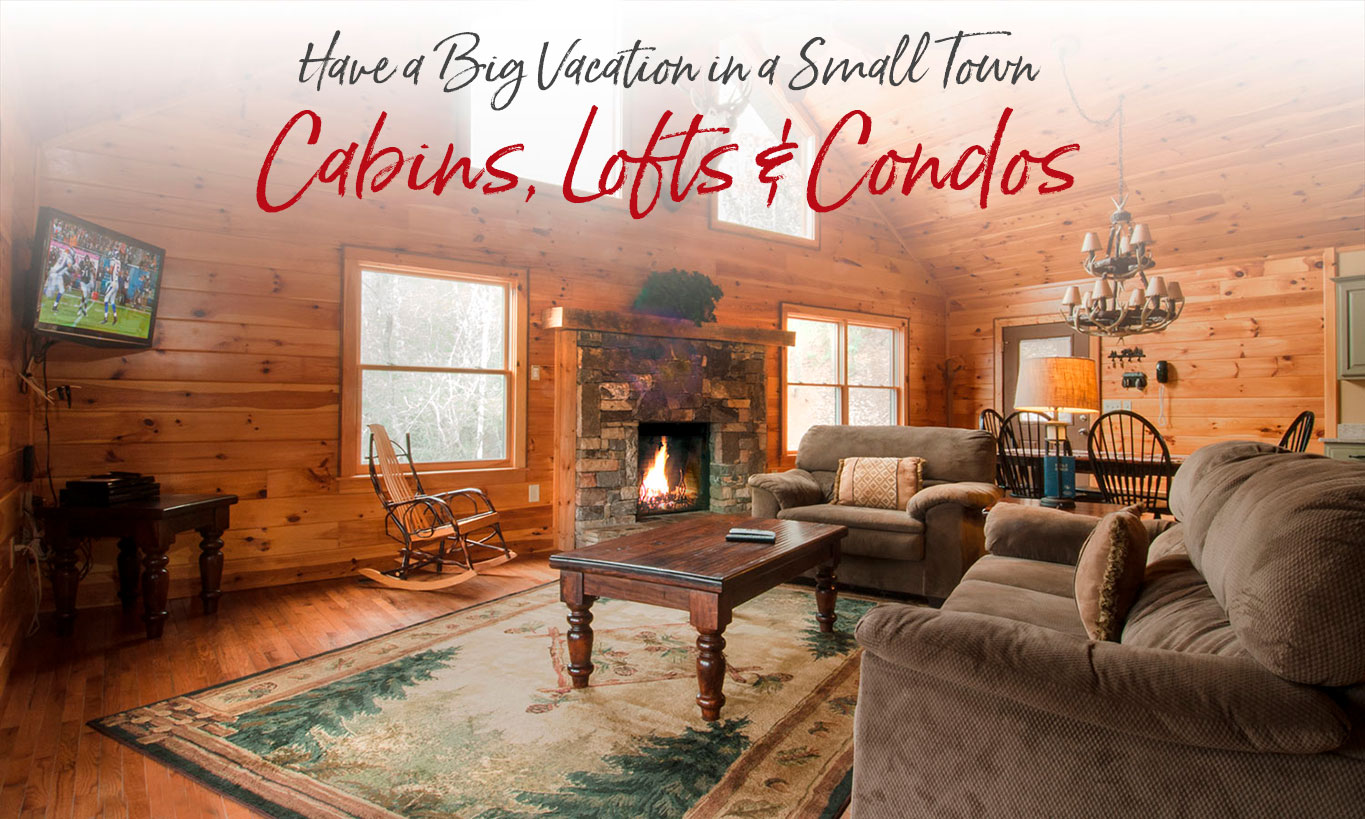 Vacation Cabin Rental Options in the Smokies
Vacation cabins, lofts and condos can be your home away from home – ideal lodging for families and small groups. And if you want to bring Fido, many are pet-friendly. Trip Advisor named Bryson City one of "15 Affordable Summer Cabin Getaways Across America." (May 2017)
This page lists individual vacation rentals by owner. In addition, many other rentals are available through the area's vacation rental agencies. If your group is larger than one cabin can accommodate, keep in mind that some owners have several cabins at the same location. Group capacity is stated in each cabin listing.
Find a Bryson City cabin for your next getaway.  Search by name and by amenities. Click on thumbnails to enlarge.
Restorative Retreats offers a four-bedroom retreat home in the heart of the Nantahala River Gorge, just a mile from the Nantahala Outdoor Center and the Appalachian Trail. Boasting pet friendly amenities, a hot tub, well equipped chef's kitchen, and a peaceful porch view of Big Creek. Get ready to retreat!
One, two and four bedroom cabins next to beautiful Oconaluftee River, full porches with rockers, linens not furnished. Five minutes from downtown Cherokee.
Ready to upgrade your stay without breaking the bank? Our ultra-mordern cabin is like nothing you've ever experienced before, and right in the middle of beatiful Nantahala Gorge. Minutes from the Nanathala Outdoor center and downtown Bryson City, come and stay in luxury on your private mountain top for a vacation your won't soon forget.
Our brand new tiny house cabins feature screened porches to enjoy incredible views of the Great Smoky Mountains National Park, fire pits with firewood provided, all linens, coffee service, welcome snacks and toiletries, and more. Only one mile from downtown Bryson City and close to popular attractions, we offer both convenience and serenity - the best of both worlds for your mountain getaway!
Located on Deep Creek. Eight cabins, sleeps 2 adults and 2-3 children each. Big house sleeps 12. Fully furnished, Air conditioned, TV, full kitchen, microwave, ceiling fans, screened in porch. Picnic tables, barbeque grills, open fire rings, volleyball court, horseshoes. No smoking. Please call for winter rates & specials. Great for family reunions or groups.
67 rental cabins from 1 – 5 bedrooms, many pet-friendly, and several with easy motorcycle access. Scattered in the mountains around Bryson City, all cabins are fully furnished, and offer everything you need for your romantic getaway, family vacation, or reunion.
Tucked between the Nantahala Gorge and the Great Smoky Mountains National Park is this cozy two bedroom, one bath cabin that comfortably sleeps six. Amenities include a fully equipped kitchen, gas-log fireplace, washer/dryer, satellite T.V., telephone, BBQ grill, campfire ring, and a large screened porch with a picnic table. All linens are furnished. All the comforts of home but easy on the pocketbook. Check out our rates!
Enjoy beautiful Western North Carolina mountain views from the porches of our two mountain getaway cabins; Smoky Ridge and Tom's Trail. Each has 2 bedrooms with king-sized beds and TVs, and 2 baths with showers. Each includes fully-stocked kitchen, Wi-Fi, gas log fireplace, covered porch, hot tub and a fire pit. Located just three miles out of Bryson City.
Tuckasegee River/handcrafted log home, relax on your own private river bank. Enjoy swimming, fly fishing, sunset views. Cozy lodge furnishings, 2-wood burning Fireplaces, Chefs kitchen, 2 baths/indoor spa tub, 3 private bedrooms. All amenities & full caretaking staff provided. An ideal destination for an elegant romantic getaway or an outrageous family retreat.
This cabin has it all; beautiful view, paved drive, spacious front and back porches, washer, dryer, 1 king bed, 2 queen beds, and a sleeper sofa. Only 2 miles from town, yet you feel a million miles away from it all! Come and enjoy your vacation and experience true Tranquility!
Located in the Nantahala Gorge near rafting, mountain biking, zip lining, horseback riding, train excursions, fishing, boating and more. We have different size cabins to accommodate our needs. Hot tubs, fireplace, wireless internet, full kitchens, full baths, a/c and heat, grills, picnic tables, fire-pits. and mountain views. Pets are welcomed. Open Year round.
Stay at our picturesque lodge situated on Lake Fontana. The Whistle Stop is open all year and sleeps up to 24 people in 7 bedrooms. Immerse yourselves in the scenic beauty, hot tub, gas fireplace, full kitchen, washer/dryer, AC, 32" TV, and secluded location. Minimum stay is 3 nights. Enjoy.
Perched at 3,400 feet elevation, this heavenly 2 bedroom, 3 bath cabin with a loft and sleeper sofa offers amazing views and is only minutes from regional attractions including NOC, Fontana Lake, Tsali recreation area, Harrah's Casino and Great Smoky Mountain National Park. The roaring fireplace in the living room casts a warm glow on the comfortable buttery leather furniture and is the perfect backdrop for connecting with family and friends, or just curling up with a good book and enjoying the "clouds as they dance through the smoky mountains".
Follow the winding road up to the perfect mountaintop cabin in Bryson City. This 3-story, luxury lodge is just minutes from town, offers sleeping for up to 6 guests, fabulous, private amenities, and best of all, almost every room showcases long-range views of the Great Smoky Mountains and Nantahala National Forest!
Located by the beautiful Nantahala River in the heart of the Nantahala Gorge, the Lodge Nantahala River offers ten rooms with their own kitchenettes and restrooms that share a wonderful sitting porch. The common grounds have grilling areas and fire pits surrounded by the National Forest.
Welcome to your new home away from home! Comfort Mountain Getaway is a very nice, new, three bedroom, two bath, split-plan, single-story house located in a quiet wooded area close to Fontana Lake and the Nantahala River. Sit on the deck and rock away your cares in one of our comfortable rocking chairs or take a relaxing soak in our hot tub. Stay connected and entertained with Wi-Fi and satellite TV and enjoy the convenience of our full kitchen and laundry.
Over 50 cabins to choose from: one, two, three and four bedrooms available. Several are on a rushing trout stream; one has a swimming pool; many have mountain views; all are fully furnished including TV, fireplace and BBQ grill. Most are pet friendly, motorcycle accessible, and have hot tubs. Can accommodate groups.
Whispering Pines Deluxe Rentals is a small rental agency that is dedicated to providing a traditional, friendly and personalized approach to finding your family the perfect cabin and helping you plan an unforgettable trip to the Smoky Mountains. Our cabins are located near Bryson City, Almond and Cherokee.
Relax in your very own five-person outdoor hot tub overlooking scenic mountains from your large, private deck. This log cabin is just minutes from Bryson City & close to restaurants, shopping, the Great Smoky Mountains Railroad and the National Park. Your cabin in the Smokies - modern yet situated in a rustic country setting.
Secluded, in-town cabins with great views, fireplace and AC. Two full bedrooms, queen bed in loft, queen pull out sofa upstairs living room, queen futon downstairs living room, decks on both levels-where smoking is permitted. Fully furnished kitchen, 2 full baths, bedrooms have TV/VCR and cable. Equipped with Jacuzzi or Hot Tub. Children welcomed.
Four bedroom home located on East Deep Creek. Enjoy a peaceful evening on the creek minutes away from the Great Smoky Mountains National Park entrance. Minutes away from downtown Bryson City, enjoy strolling through the historic downtown or stopping in the eclectic shops for some retail therapy. Located near many of the area attractions such as rafting, zip lining, hiking, and much more. WiFi available.
Cedar Cabin with beautiful valley view from the side deck. Relax and take in the rustic feel of this mountain cabin. Fully stocked kitchen and linens are provided. Enjoy a meal cooked on the charcoal grill or sit by the fire pit and roast marshmallows while taking in the starry night views. Approximately 10 miles from town.
Custom built authentic log cabin in the scenic Smokys. 3 bedrooms, a loft, 2 ½ bath, Wi-Fi, Roku, wood-burning fireplace. Wheelchair access. Spectacular unhampered views of the Smoky mountains only 3.7 miles off Highway 74. Close proximity to the Great Smoky Mountains National Park, the Great Smoky Mountain Railroad, Nantahala Forest/River, Tsali, and numerous other scenic places and activities.
Perfect for family reunions, extended family getaways, or just a couple's getaway, our three- and four-bedroom log cabins are fully furnished including washer/dryer, TV w/Direct TV, WI-FI, phone, coffee maker, microwave, gas grill, and fireplaces w/wood, (gas and electric also). Relax on the comfortable front porch and enjoy the view! Cabins sleep ten to sixteen guests. No smoking or pets. Available year around.
NOC's convenient onsite cabins provide easy access to all of the outdoor adventures you can (and will) dream of! Whitewater rafting, kayaking, zip lining, mountain biking, Fontana Lake access and more are at your fingertips. Enjoy close proximity to the Appalachian Trail and explore the mountains of Western NC by foot. NOC cabins will have everything you need for a comfortable mountain vacation!
Located within walking distance of downtown Bryson City, Virginia's Cottage is a truly unique find. This 100 year old restored cottage offers thoughtful touches throughout and features reclaimed wood and materials from the original structure. Enjoy the fire pit out back as you gaze at the Tuckaseegee River and the train as it comes back into town.
Enjoy your next vacation in one of our fully equipped cabins. Explore the Great Smoky Mountains and then come home to your vista cabin and relax in the hot tub. Whether you are looking for relaxation or an adventure, you will find it here in the Great Smoky Mountains.
5 modern, elegant rooms with private baths. Large screened-in porch and a deck with lovely views of Bryson City. Cabins, the Granite House, and the Victorian House are also available. Open year round.
19 Cabins nestled in the Deep Creek valley with view of the mountains and the soothing sounds of Deep Creek. Cabins accommodate 4, 5, 6 and 10 people. Internet access & some pet friendly cabins. 1 mile from the GSMNP. Tubing, camp store, trout fishing, volleyball, laundry, and a playground. Open April-October.
Our 5 Cabins are the perfect location for a couple's vacation or a small family. The one and two bedroom Fox Cabins all have hot Tubs, internet, HDTV, fireplaces, BBQ grills, fully equiped kitchens, Washers/dryers, central heat & AC and are pet friendly. Our two bedroom cabins in Bryson city are all along a fast moving creek and our one bedroom cabins near cherokee are secluded hideaways that are perfect for a couple's getaway.
Rent one of our hand crafted Tear Drop Solar Trailers to place on a site of your choosing. The newest craze in camping is a greener choice, Solar Powered Tear Drop Campers.Green and healthy using mold resistant, sustainable materials, and enhanced with all of your comfort needs, including a memory foam mattress, full kitchenette and much more. When you rent one of our designer Tear Drops, we will set it up at the campground you have selected and it will be ready for your stay to the beautiful mountains of Western NC.
Handcrafted log cabins, just a couple of minutes from town. Secluded, private paradise for daily and weekly rental. 75 acres, miles of roads and walking trails, property adjoins Tuckaseegee River with 1/2 mile of riverfront. Natures best and plenty of animals.
On Fontana Lake, one and two bedroom housekeeping cottages. Completely furnished, A/C, no pets. Full service marina, boat and motor and pontoon rentals, tackle shop, live bait, licenses. 62 site RV park. Open April through October.
Charming mountain chalet rental on wooded 1/2 acre lot. 2 large bedrooms and 1 bath. Sleeps 6. Fully furnished, full kitchen. Washer & dryer. Two queen beds and one trundle bed. Located 4 miles West of Bryson City.
Tired of boring hotel rooms and rundown log cabins? Then come and spend a night with us in your very own yurt! Five available in different sizes, all have private in-yurt bathrooms, central heat/air, private decks, gas grills, and fire pits. No minimum night stay and pets welcome.
Tuckasegee River/handcrafted log home, relax on your own private river bank. Enjoy swimming, fly fishing, sunset views. Cozy lodge furnishings, 2-wood burning Fireplaces, Chefs kitchen, 2 baths/indoor spa tub, 3 private bedrooms. All amenities & full caretaking staff provided. An ideal destination for an elegant romantic getaway or an outrageous family retreat.
Smoky Mountain cabins offers fully equipped Western North Carolina Cabin Rentals just outside of the cool and pristine Great Smoky Mountains National Park. With your choice of Hot Tubs, Pet-Friendly, Secluded, Riverside, Lakeview, and Motorcycle-Accessible Cabins, you will find many Mountain Vacation Deals on our website.
Falling Waters has two options for two distinct types of travelers. The Group Lodge is an economical, convenient option for up to 44 people. Bunk bed sleeping in six rooms each with a shower, toilet and vanity. Rental kitchen available. The Yurt Village has 8 Yurt Cabins that sleep up to 4, includes small refrigerators, coffee makers, shared but private bathrooms, a hot tub for Yurt guests. On site of the Nantahala Gorge Canopy Tours. Non-smoking, No Pets.
At Smoky Mountain Country Club, you will stay in one of our luxurious two or three-bedroom condominiums or houses. Each condominium or house contains the following for your comfort and enjoyment: full kitchen, dining area, living room with gas fireplace, washer & dryer, large view deck with barbecue. From mid-April to October, enjoy our large community pool and hot tub at no additional cost!
We'll help you find your perfect mountain getaway – whether it's mountain top, creek front, a romantic weekend, family adventure, or group reunion. TripAdvisor.com has awarded us "Excellent" because of guest reviews and considers us a Top Rental Manager. Online Booking 24-7. Check in as late as you need directly at the cabin.
We are Located in Bryson City, NC on 12 Acres that are surrounded on three sides by 600 Acres of Nantahala National Forest. Bald Eagles and other Wildlife Sightings are Common. Atmospheric Changes on Fontana Lake and the GSMN Park create a Masterpiece Daily. We are Convenient to Numerous Local Attractions. This is An Experience Like No Other. With Exclusive Panoramic Views of Fontana Lake and the GSMN Park.
Bryson City. Log cabin and chalet rentals. 24-7 online availability and reservations. Spectacular views! Located less than 1 mile from The Great Smoky Mountains National Park. Completely furnished , hot tubs, fireplaces, and satellite TV. One to three bedrooms. Pet friendly and Wireless internet in all cabins. No cleaning fees. Open year round. Weekly, monthly and seasonal specials. Like us on Facebook for a chance to win a free weekend getaway. 2013 Tripadvisor Certificate of Excellence winner.
Fully furnished vacation lodging rentals in the scenic Nantahala George area. 12 lodging units range from simple cabins to large vacation homes. 1-5 Bedroom units. Fully equipped kitchens, Charcoal grills, AC, Satellite TV, Washer/Dryer. Fireplaces available. Convenient to all area attractions.
Falling Waters cabin boasts a secluded location with breathtaking views only 10 minutes from the Nantahala Outdoor Center. With its luxurious decor, big screen satellite TV, full kitchen, hot tub, fireplace, and more, this cabin makes a great getaway retreat. Open year round. Non-smoking only.
Great location with 7 rental homes on 200 acres including a historic log cabin from the 1800's. Homes are separated for privacy in a wooded setting. Individual homes accommodate 4-10 people, and the entire property can accommodate 44 people. Super clean, fully equipped kitchens with linens provided. We are rated super hosts year after year. Easy access, free WIFI, on site hiking trail, awesome views, safe, family owned.
Woodland Cabins provides seclusion, comfort, and all the amenities you're looking for during your stay. A five-minute drive gets you to Bryson City, a small town brimming with restaurants, shopping, breweries, premier fly fishing, and scenic Deep Creek. A short drive will take you to the Nantahala Gorge, home to kayaking, whitewater rafting, and zip lining, and fifteen minutes in the opposite direction will treat you to all that the Cherokee Indian Reservation has to offer.
Enjoy a beautiful and quiet country setting with the unique attraction of the merging of the Oconaluftee and Tuckaseegee Rivers on our grounds. Central to the Great Smoky Mountains National Park and the many other local attractions and activities in the region. Cabins have full access to all Lodge amenities, including the swimming pool and river-side park.
Log cabins, fully furnished with telephone, TV, VCR, Satellite, central heat/air, hot tubs, picnic table. Two floors with bedroom downstairs and attractive loft bedroom. Also, cabins have Full or Queen size sleeper sofas.
The Watershed Resort is a 50-acre property at the gateway to the Nantahala Gorge, convenient to Cherokee, Bryson City, the Nantahala River, Fontana Lake and more. The resort-like property features amenities such as a common area we call "the Yard" with a bocce ball court and other yard games as well as our "log-zebo" bedswing that is perched perfectly overlooking the Nantahala Gorge to the west for awesome sunsets. Hiking trails on the property lead to the playground area and our waterfall area with trout pond (feeding only, no fishing) We can host weddings and corporate events.
Located near the Great Smoky Mountains National Park, Bryson City, and Deep Creek, there are many activities that can be done. Tubing, fishing, hiking, and shopping are just few that are very close to the cabins. These cabins are fully equipped for family to come and just enjoy what Bryson City has to offer.
Located on the border of the Great Smoky Mountains National Park, Galbreath Creek Cabins offers a perfect secluded experience for both couples and families. Offering six one to three bedroom units including three pet friendly units. Take a short hike to Deep Creek to tube, fish, or picnic or a ten minute drive to Bryson City for an afternoon downtown or day on the Great Smoky Mountains Railroad.
"An elevated place to decelerate your pace." Four two bedroom, two bath loft apartments, loft retreats perched in Bryson City in the heart of the Great Smoky Mountains. Each loft has dining and efficiency kitchen, full bath, and spacious open floor plans. Located downtown on the Tuckasegee River within walking distance to shops, activities and restaurants. If you're looking for total luxury in the mountains - look no further!
Completely furnished luxury log cabins and cottages with hot tubs, fireplaces, outdoor fire pits, granite or corian countertops, designer linens, Bose stereo systems, VCR/DVD, game rooms, etc. Long range panoramic views - some lake views. Close to Nantahala River, Tsali Recreation Area, Bryson City and other attractions.
The Sabbath House is not your ordinary rental cabin! The lodge was designed for family reunions, small group gatherings and retreats, and small weddings. With 8 bedrooms; each with their own private bath, large gathering spaces, well equipped kitchen, open decks and covered porches with rocking chairs; The Sabbath House is an ideal place for your Great Smoky mountain getaway or special event.
The BCDC Hideaway is a new clean studio with private entrance, queen bed, leather couch, kitchen and bath with shower. Great location in safe/friendly neighborhood, one mile to Bryson City, 1.5 miles to the Great Smoky Mountain National Park. Enjoy a large back patio with grill and a fire pit.
Inspired by travels through the Swiss Alps, the newly built and upscale "Wengen Chalet" has an expansive mountain view, hot tub, screened porch, fire pit, internet, Nintendo Wii, and satellite HD TVs. Sleeps six with a king bed in the master, queen in the second bedroom and a queen air dream mattress in the loft. Pets okay. No motorcycle access.
All of our unique rentals are one of a kind with thoughtful touches throughout. We have a modern tiny home on wheels, 1965 restored vintage camper, Mountain View Shabby Shack, an extremely adorable vintage Caboose Camper coming soon and rustic cottage rentals, all offered at great prices and with exceptional service. We also offer a large family cabin that was featured on HGTV's show log cabin living, and all rentals come equipped with an outdoor fire pit.
Brand new 1, 2, and 3 bedroom luxury creekside cabins in town with all the amenities you're looking for; hot tubs, gas fireplaces, large decks with outdoor seating, gas grills, and high speed WIFI. Historic home on site for rental as well. With a total accommodation number of 78, Bryson Village is the perfect location for family reunions, weddings, and other events. Conveniently located in downtown Bryson City within a 5 minute walk of shopping, restaurants, and the Great Smoky Mountains Railroad.
With accommodations for up to 122 people, NOC's hostel-style Basecamp lodging is the ideal location for families, large groups and retreats! Enjoy immediate access to outdoor adventures including whitewater rafting on the Nantahala River, kayaking, zip lining, biking, and more! Plus, onsite shopping and dining are all within walking distance.
A genuinely unique mountain experience featuring 19 cabins in a variety of creek-side and ridge top settings. Individual cabins accommodate 2-14 people, entire property accommodates 125. Relax and enjoy the serenity of 80 private acres bordering the Great Smoky Mountain National Park with on-site fishing and hiking trails. Family owned and operated. Free WiFi. Ranked #1 on Trip Advisor.
Several Cabins are located in a hidden cove, completely secluded, but minutes from town and 1/2 mile to the park. One, two, three and four bedroom cabins available, all on a creek with trout fishing, all have fireplaces and hot tubs. AC/Heat, ceiling fans, fully furnished, barbeque grills, TV, pets allowed. Open all year. Can accommodate groups of up to 100. Internet access available.
Fish a stocked trout stream or quietly escape the hassles of everyday life at this charming getaway in the Smokey Mountains. Creekside Cottage is nestled at an elevation of 2500 ft directly on Alarka Creek near Bryson City with easy paved road access. Fish from a private platform. Motorcycle friendly. Non-smoking
This cozy home sits between the surrounding mountains offering a breathtaking view from the large deck. Minutes from a variety of activities for the family or a romantic getaway for just the two of you. Come and enjoy the beauty and solitude.
Your vacation is a simple click away with our 24-7 online reservation system. Make your vacation planning quick, easy, and hassle free by using our new guest services program – from stocked pantries to discount attraction tickets. Internet access available in some cabins and at our office. Locally owned and operated-serving our area since 1995.
Lodging Choices from Romantic Cabins to Group Lodges
Bryson City has plenty of vacation rentals — from one-bedroom romantic hideaways to group lodges and even yurts.
You might stay in a lodge, a log cabin, an in-town loft, or a golf course condo. Some rentals are remote, some are at campgrounds, some at resorts.
You might be beside a babbling creek, in a peaceful mountain valley, on a mountain top, or in the quiet woods. You might be next door to the Great Smoky Mountains National Park or near Fontana Lake or the Nantahala River Gorge.
Some rentals are open year-round, some seasonally. Some are handicap accessible.
IN OUR BLOG…
Learn about ten out-of-the-ordinary lodging accommodations in Bryson City