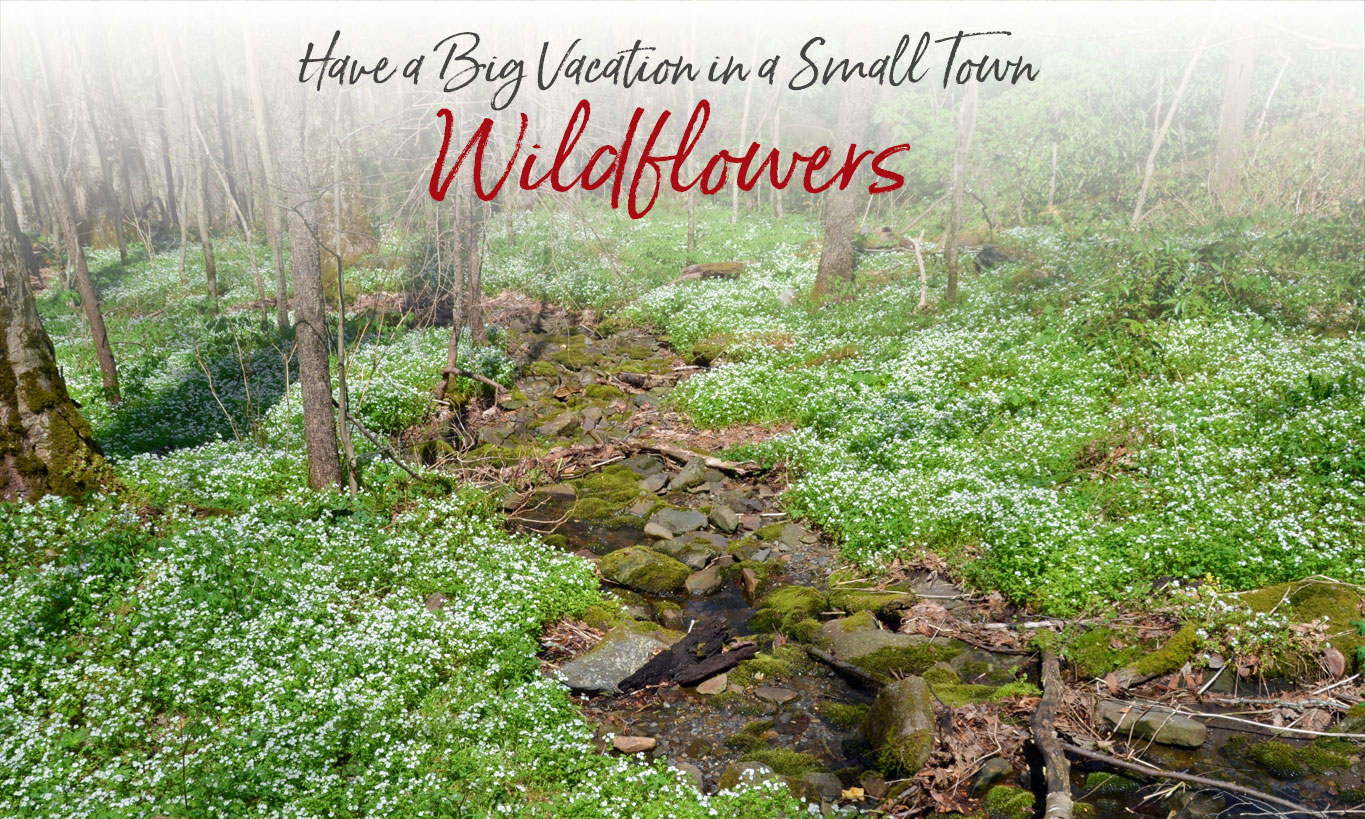 The Wildflower National Park
More than 1500 species of wildflowers are native to the Great Smoky Mountains National Park, more than any other national park. The park is so well-known for its diverse flowering plants that it's sometimes called "Wildflower National Park."
Wildflowers bloom from late February thru September. However, the peak wildflower season is mid-to-late April when the spring ephemerals make their appearance.
Two good walking trails for viewing wildflowers are the Deep Creek trails and the River Trail at the Oconaluftee Visitor Center in Cherokee. If you would like a guided wildflower walk with plant identification, contact Bigelow's Botanical Excursions.
This blooming calendar gives the approximate emergence of the most popular species. The schedule is also subject to changes in weather and altitude. If in doubt, call the Park Visitor Center for current conditions. Printable Wildflower Blooming Calendar (pdf)
March
Blood Root
Buttercups
Columbine
Dutchman's Breeches
Hepatica
Jack-in-the Pulpit
Mayapple
Pepper Root
Red Maple
Spice Bush
Spring Beauty
Squirrel Corn
Trout Lily
Violets
Wild Plum
Wind Flower
Yellow-Root
April
Arbutus
Black Haw
Bleeding Heart
Blue Sage
Bluets
Brook Lettuce
Buttercups
Columbine
Crested Dwarf Iris
Cucumber Tree
Dogwood
Dutchman's Breeches
Fire Pink
Foam Flower
Fringed Phacelia
Golden Ragwort
Indian Paintbrush
Ironwood
Jack-in-the-Pulpit
Large Flowered
Bellwort
Mayapple
Meadow Rue
    (early)
Phlox
Redbud
Service Tree
Silverbell
Solomon's Seal
Spring Beauty
     (uplands)
Squirrel Corn
Stone Crop
Trailing Trillium
    (various)
Trout Lily
Tulip Poplar
Violets
Virginia Bluebell
Wild Geranium
Wild Mustard
Wood Sorrel
May
Bleeding Heart
Bluets
Brook Lettuce 
Calycanthus
Columbine
Crested Dwarf Iris 
Cucumber Tree
Flame Azalea
Foam Flower 
Hobble Bush
Indian Paintbrush
Large Flowered
    Bellwort
Magnolia
Mountain Laurel
Painted Trillium
Service Tree 
    (uplands)
Silverbell 
    (uplands)
Solomon's Seal
Stone Crop 
White Azalea
Wild Crab
Wild Geranium
Wild Iris
Wild Orchids (incl. 
    Ladies Slipper)
June
Allegheny Myrtle
Beard Tongue
Black Snakeroot
Brook Lettuce 
Butterfly Weed
Catawba
Common Elder
Field Daisy
Flame Azalea
    (uplands)
Galax
Goats Rue
Hydrangea
Magnolia
Mountain Laurel
Mountain Oxalis
Mountain Stewartis
New Jersey Tea
Rhododendron
Spiderwort
Yellow Ragwort
July
Bergamot
Black-eyed Susan
Coreopsis
Dutchman's Pipe Vine
Flowering Raspberry
Hercules Club
Indian Pipe
Jewel-weed
Mountain Stewartia
Ox-eye Daisy
Partridge Berry
Passion Flower
Phlox
    (summer)
Purple-fringed Orchid
Queen Anne's Lace
Rhododendron 
    (white)
Sourwood
Star Grass
Trumpet Creeper
Wild Lilies
August
Bee Balm
   ( Oswego Tea)
Betony 
    (smooth)
Cardinal Lobelia
Clematis
Evening Primrose
Goldenrod
Hercules Clu
Jewel Weed
Joe Pye Weed
Meadow Beauty
Monkshood
Mountain Mints
St. Johns Wort
Turtle Head
Wild Asters
    (early species)
Yellow-fringed Orchid
September
Asters 
    ( various)
Blue Gentians
Bonset
Fleabane
Gerardia
Golden Aster
Goldenrod
Ironweed
Lobelias
Sunflowers
Yarrow
Bryson City - Swain County
Chamber of Commerce
210 Main Street
P.O. Box 509
Bryson City, NC 28713
Karen Proctor
Executive Director
828-488-3681
877-472-1681
Free Travel Guide to the Smokies — Includes the Official All Aboard for the Great Smoky Mountains Railroad.
Sign up for our monthly travel news