Plan Your Smokies Getaway
Seven Day Vacation
A Full Week of Activities
In the Bryson City area there's more to do than you can possibly cram into a week. But you can try…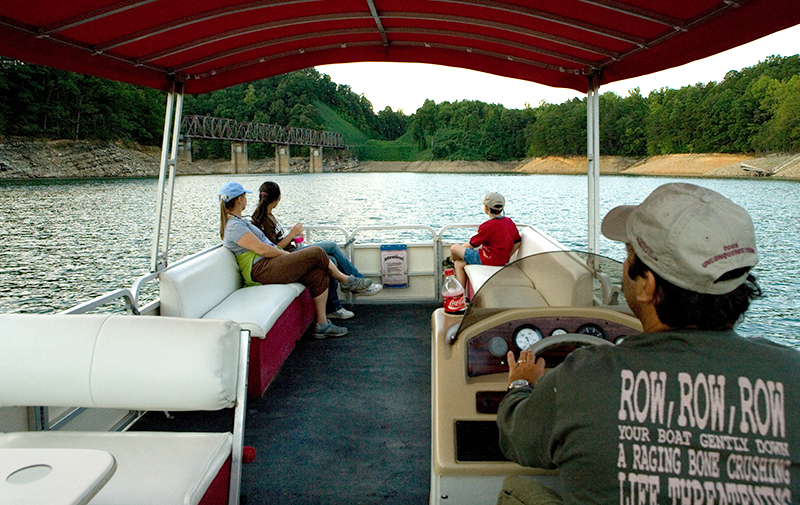 1 DAY ONE – Start the day at the entrance to the Great Smoky Mountains National Park in Cherokee where you'll find Mingus Mill; the Oconaluftee River walking trail; National Park Visitor Center; and the mountain farm museum, which portrays mountain life in the the late 19th century. Check out Mingus Mill and look for elk in the late afternoon at the visitor center fields and along the road to the top. Continue on with a drive to Clingmans Dome at the very peak of the Smokies; and Newfound Gap where you can stand with one foot in Tennessee and the other in North Carolina! Be sure and take a picnic so you can enjoy the great overlooks along the way.
2 DAY TWO – Experience five beautiful waterfalls. In the morning, visit the Deep Creek area of the Great Smoky Mountains National Park just two miles north of Bryson City. In about an hour, you can see Juneywhank Falls, Tom Branch Falls and Indian Creek Falls (you might stick around awhile and enjoy tubing, fishing and a picnic). Then after lunch, take a short drive over to the Cherokee Indian Reservation where you'll find two beautiful waterfalls — Soco Falls, a double waterfall near the Blue Ridge Parkway, and the 150-foot Mingo Falls, just off Big Cove Road.
3 DAY THREE – View the Smokies by rail. Book a scenic excursion on the Great Smoky Mountains Railroad. Leaving from the Bryson City depot, you can take the scenic Lake Fontana/Nantahala River trip or the trip along the Tuckasegee River to Dillsboro. Check the train calendar for special excursions including 'BBQ and Brews' and themed events for families.
4 DAY FOUR – Ride the Nantahala by air and water. In the morning, take a zip line tour above the gorge and through the treetop canopies. Then after lunch, go whitewater rafting down the Nantahala. Share a guided 7-man raft or go solo in an inflatable funyak. The eight-mile venue is both scenic and exciting.
5 DAY FIVE – Begin with mountain biking – Explore the world-renown Tsali Bike Trails. Rent a mountain bike in town and see the Smokies the two-wheeled way! Return to Bryson City for the afternoon. Enjoy a small town with a nice variety of clothing shops, art and craft galleries, gift shops and book stores, ice cream shops, bakeries and other eateries. You can sample the beers at Nantahala Brewing Company, and on summer weekends, you can always find live music at the brewery, train depot or a local tavern.
6 DAY SIX – Spend a day on Fontana Lake. Pack a picnic lunch, grab the cooler, rent a pontoon boat and embark on a self-guided tour of the most beautiful lake in the mountains. Fish, or explore the lake by paddleboard or on a kayaking tour. With more than 90% of the surrounding land owned by the National Park & Forest Services, there's very little commercial development to spoil the spectacular views.
7 DAY SEVEN – Learn the history of the Smokies. Visit the Museum of the Cherokee Indian and the Artisans Co-op. Mid-April thru October, tour the Oconaluftee Indian Village, a re-creation of Cherokee life in the 18th century. In summer, enjoy the 'Unto These Hills' outdoor pageant, a reenactment of the events leading up to the tragic Trail of Tears. Enjoy a stroll on Island Park, dip your toes in the water or fish for trout. On summer weekends, stop at the bonfire for tales and legends of the Cherokees. Learn more