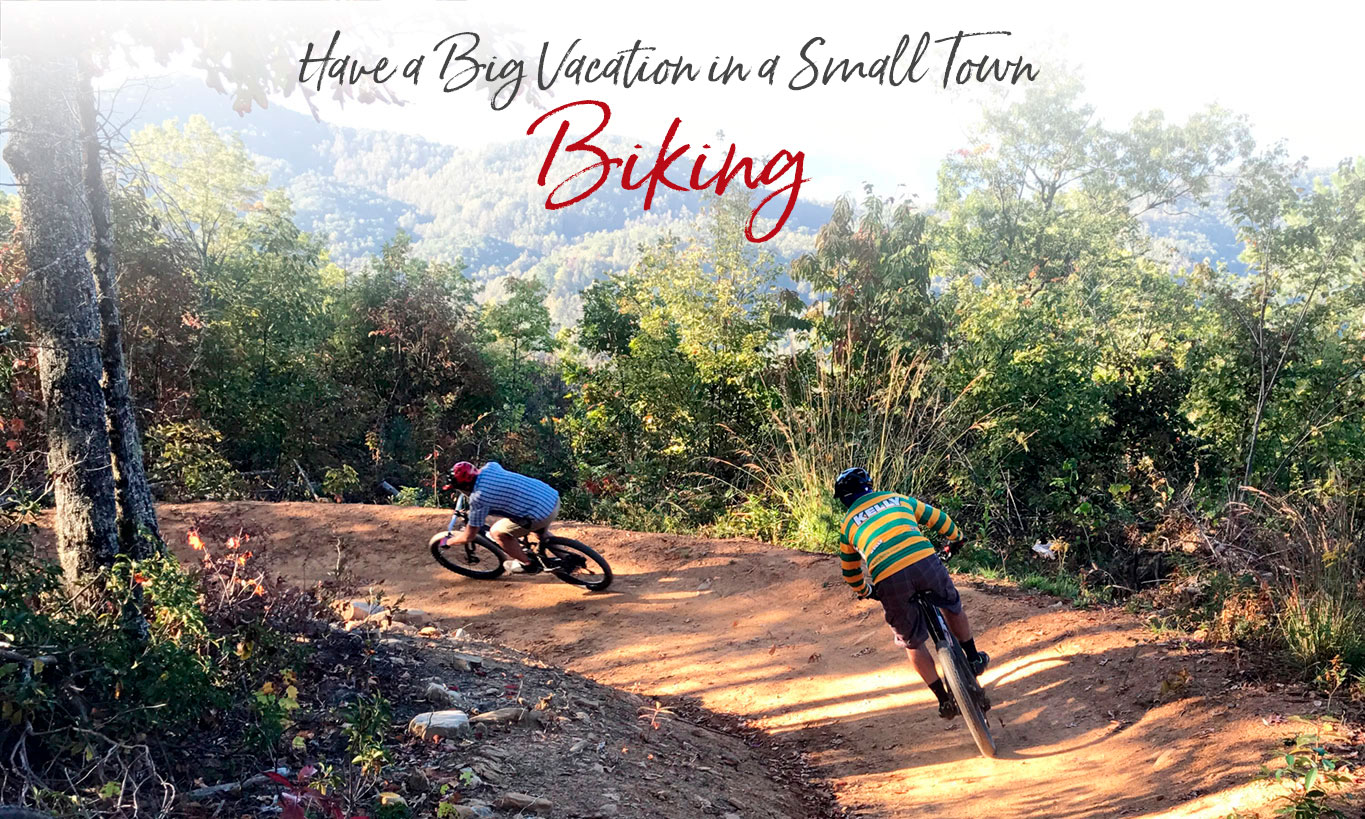 WNC has Great Road Cycling and Off-road Mountain Biking
In the Western North Carolina mountains, the word "flat" is seldom used to describe our landscape. So, needless to say, biking these hills can be a challenge for road bikers and off-road bikers alike.
Bryson City is centrally located to ride sixteen great trails in the mountains. Whether you are a beginner, an adventure racer or somewhere in between, off-road bicycling in far western North Carolina offers something for everyone. PDF of Area Trails
No bike? No problem. Bryson City bike shops have rentals (and do repairs).
New: Parking tags are required to park in the Great Smoky Mountains National Park. Tags can be purchased online or on-site. $5/day, $15/week or $40/year. Parking Info
Check out our "Think Outside the Gym" 2-day vacation itinerary that includes biking on area trails.
IN OUR BLOG…
With our "new normal," how do we stay six feet apart from others on trails and while pursuing our favorite sports?
Mountain Biking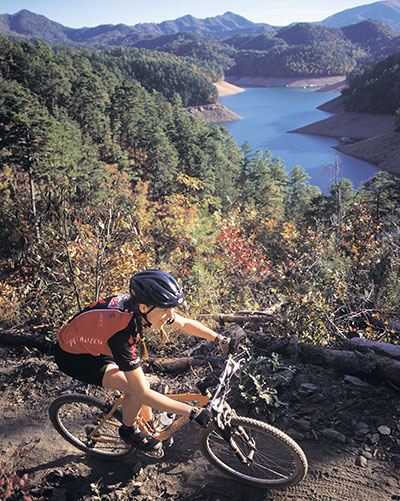 Tsali – Each year, Swain County attracts thousands of mountain bikers to the world-famous Tsali Recreation Area Trail System, 15 miles west of Bryson City. Pronounced "SAH-lee" and named after the 19th century Cherokee Indian martyr, the 42-mile network of multi-use trails is consistently rated one of the top ten riding destinations in the United States. The 'flowy' four-loop system offers a variety of landscapes and trail types from single track to old logging roads. Hikers may use the trails any day of the week, but mountain bikers and horseback riders are kept separated by alternating use of the trails. There are signs at the trailheads that clearly list which trails are available. Tsali trails schedule.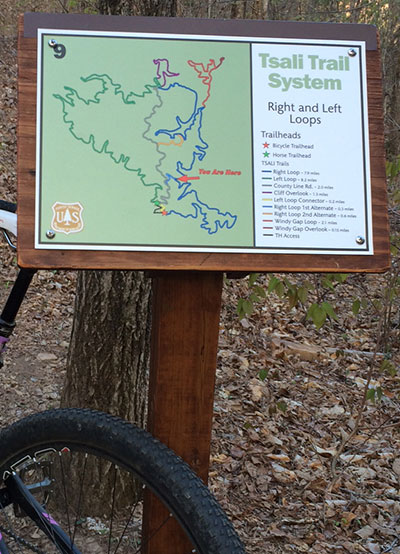 There are also color trail map signs at each trail intersection to help with navigation and emergency response. In addition to a "You Are Here" designation, each map has a unique number that can be used by rescue and Forest Service personnel to pinpoint location.
Deep Creek / Great Smoky Mountains National Park, Bryson City. Bicycles are allowed on the Deep Creek and Indian Creek trails only. There are no loops to ride; these trails are out and back only – perfect for families as well as more experienced riders. Deep Creek area trail map (pdf). Deep Creek Trail may be ridden from the parking lot to the fourth bridge (at the Loop Trail); this is about 1.7 miles each way (1 mile beyond the junction with Indian Creek Trail). Indian Creek Trail may be ridden from Deep Creek Trail to the intersection with the Deeplow Gap Trail; this is about 2.9 miles each way.
Oconaluftee River Trail / Great Smoky Mountains National Park, Cherokee. This flat, wide 1.5 mile (3-mile out and back) trail meanders along the river. It has a gentle terrain excellent for beginners and children. Advanced riders will enjoy it as well. Park at the Great Smoky Mountains National Park Visitor Center on in Cherokee at the Transit lot on the left just as you leave the Reservation.
Fire Mountain Trail System, Cherokee. 10.5 miles of smooth, machine-cut trail with sections ranging from beginner to advanced. Solid climbs are rewarded with curvy, flowing descents. Mixed-use trail for walking or riding. Trailhead is at the Oconaluftee Indian Village. More info
Other trails close by include: Flint Ridge, Jackrabbit, Hanging Dog, Stecoah Gap, Fontana Village, Santeetlah Lake Trail, Meeting House Mountain, Cheoah Bald, Upper Shell Stand, Calf Pen Gap, Western Carolina University Trails, Moses Creek and Panthertown.
Road Biking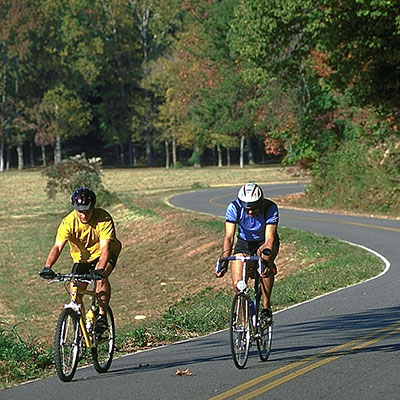 There are many miles of uncrowded country roads for biking in Bryson City and throughout Swain County, many designated as bike routes. Lakeview Drive (a.k.a. "Road to Nowhere") is a lightly traveled road that winds six miles into the Great Smoky Mountains National Park, north of Bryson City. It is a moderate to strenuous ride with views of Fontana Lake. Just west of Bryson City, bike trails include two moderate loops offer a variety of landscapes on lightly traveled roads. The 13-mile Lower Alarka Loop offers views of Lake Fontana and the Tuckasegee River, while the 15-mile Upper Alarka Loop offers a mixture of scenic flat farmland and steep mountain grades.
Rent a bike and hit the trails in the Nantahala Gorge! NOC offers an array of industry leading Specialized bikes for rent, from entry-level to high-end. If you're looking for the best local rides, from family-friendly to heart pounding, just ask one of NOC's expert guides! Enjoy NOC's onsite Flint Ridge trail or venture out to the famous Tsali Recreation area.
Guided Mountain Biking for beginners or intermediate riders includes bikes and outdoor gear.  We'll pick a ride based on your desired exertion level and physical fitness.  For beginners, we'll meet you at the trailhead with the bikes and take you on a gentle and fun ride.  For riders with some more experience, we'll guide you at one of the top rated mountain bike areas in the country which is right here in our own back yard!
Tsali Cycles is a family friendly, full service bike shop offering everything from expert repairs, trail info, bike rentals, and custom bike rebuilds to retail gear and bike sales. Join one of our weekly group rides, open to all skill levels, and after your ride enjoy one of our six local craft beers on tap in our taproom. Or take a break from pedaling and relax in one of our professionally led yoga classes; visit our website for our weekly schedule.
Maps for Biking
Deep Creek / Great Smoky Mountains National Park. Bicycles are allowed on the Deep Creek and Indian Creek trails only. There are no loops to ride; these trails are out and back only – perfect for families as well as more experienced riders. Deep Creek area trail map (pdf).
Maps of Tsali Trails and Cherokee Fire Mountain Trails are available at Tsali Cycles on Slope Street in downtown Bryson City and at the Nantahala Outdoor Center in Nantahala Gorge.