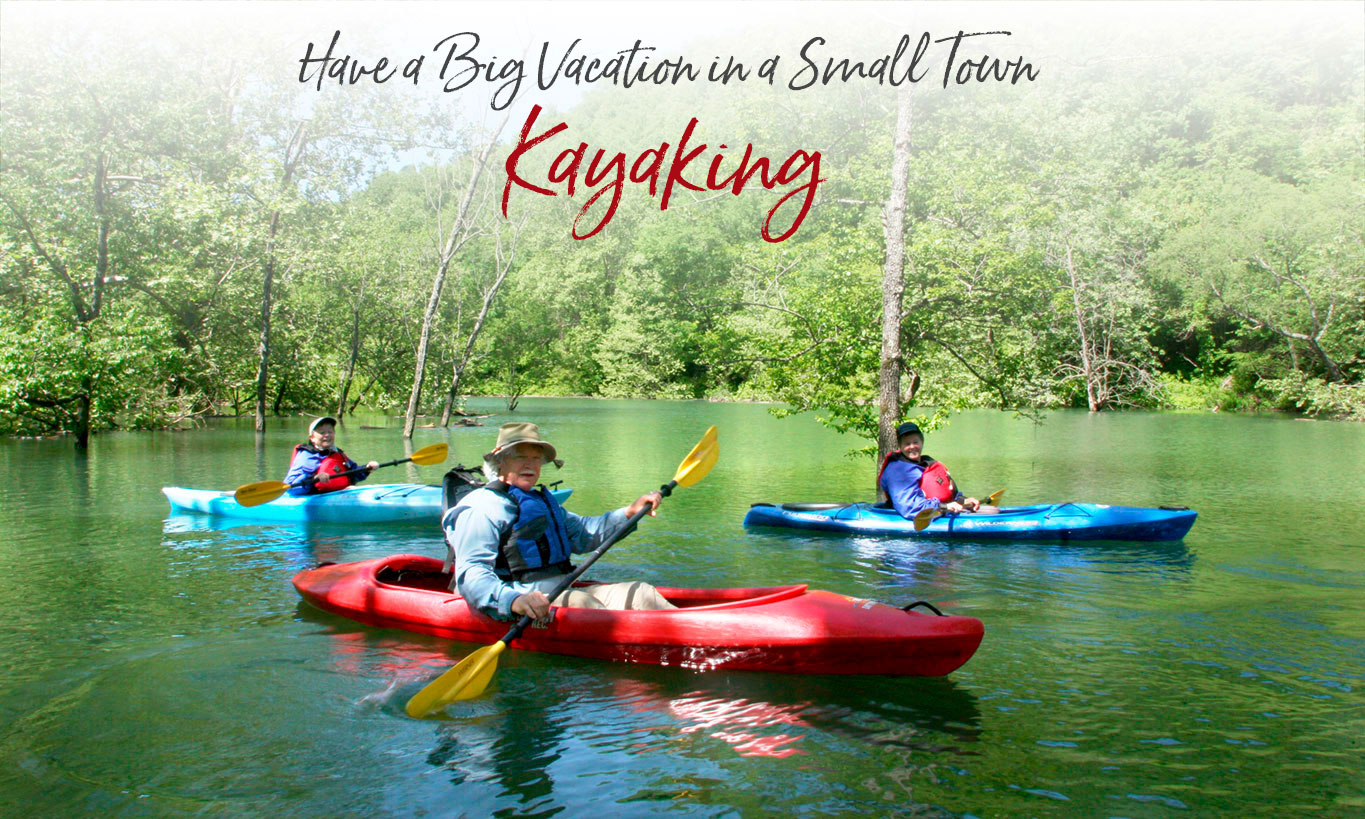 A Choice of Whitewater Or Flat Water Kayaking
Western North Carolina is home to hundreds of miles of whitewater rivers and mountain lakes making it a favorite destination for kayakers.
For whitewater enthusiasts the variety of rivers from Class I to Class V, offers great options for kayak instruction for all skill levels. You will find adventure seekers, families learning to kayak together and Olympic-bound athletes all enjoying the rivers and lakes of our area. 
For outdoor enthusiasts seeking beautiful scenery and glimpses of wildlife, the flat water trails through the mountain lakes of western North Carolina offer all that and more. The rivers and lakes and the availability of quality kayak instruction are what has given Bryson City the title of "the Whitewater Capital."
The book "101 Best Outdoor Towns" named Bryson City the nation's third best whitewater paddling town. "If you can't find something exciting to do in Bryson City, you're not breathing," it says.
Paddler Magazine named Bryson City one of the "best paddling towns" in the US. Along with the multiple spots for great paddling, they focus on Tsali mountain bike trails, area adventure races and canoe camping on Fontana Lake.
Check out our "Think Outside the Gym" 2-day vacation itinerary that includes kayaking.
Click or tap for more fun activities on the water near Bryson City.
Nantahala Outdoor Center's main campus is located at the intersection of the Appalachian Trail and the Nantahala River, just outside Great Smoky Mountains National Park. A mecca for outdoor enthusiasts since 1972, NOC's 500-acre adventure campus boasts plenty of excitement to keep your entire group happy and active, whether you spend the day or a week! Whitewater raft, zipline, mountain bike and hike, and explore Lake Fontana in a rental kayak or SUP. In between adventures, check out NOC's two riverfront restaurants, onsite shopping, and spend the night in a cozy trailside cabin!
Nantahala River Gorge – Home of the 2013 World Freestyle Kayak Championships
Video recap of the championship finals
Swain County's Nantahala River Gorge has secured its reputation as a world-class whitewater venue by hosting the 2013 ICF Canoe Freestyle World Championships. The Gorge was selected by the International Canoe Federation, the sanctioning body for all world championship and Olympic canoe and kayak events.
The Championship Wave feature on the Nantahala River (created for the World Championships) is attracting kayakers and spectators alike. Stop by the River for a look at the wave feature in action. And for kayakers, it's a free park and play area.
Bryson City - Swain County
Chamber of Commerce
210 Main Street
P.O. Box 509
Bryson City, NC 28713
Karen Proctor
Executive Director
828-488-3681
877-472-1681
Free 2020 Travel Guide to the Smokies — Includes the Official 2020 All Aboard for the Great Smoky Mountains Railroad.
Sign up for our monthly travel news