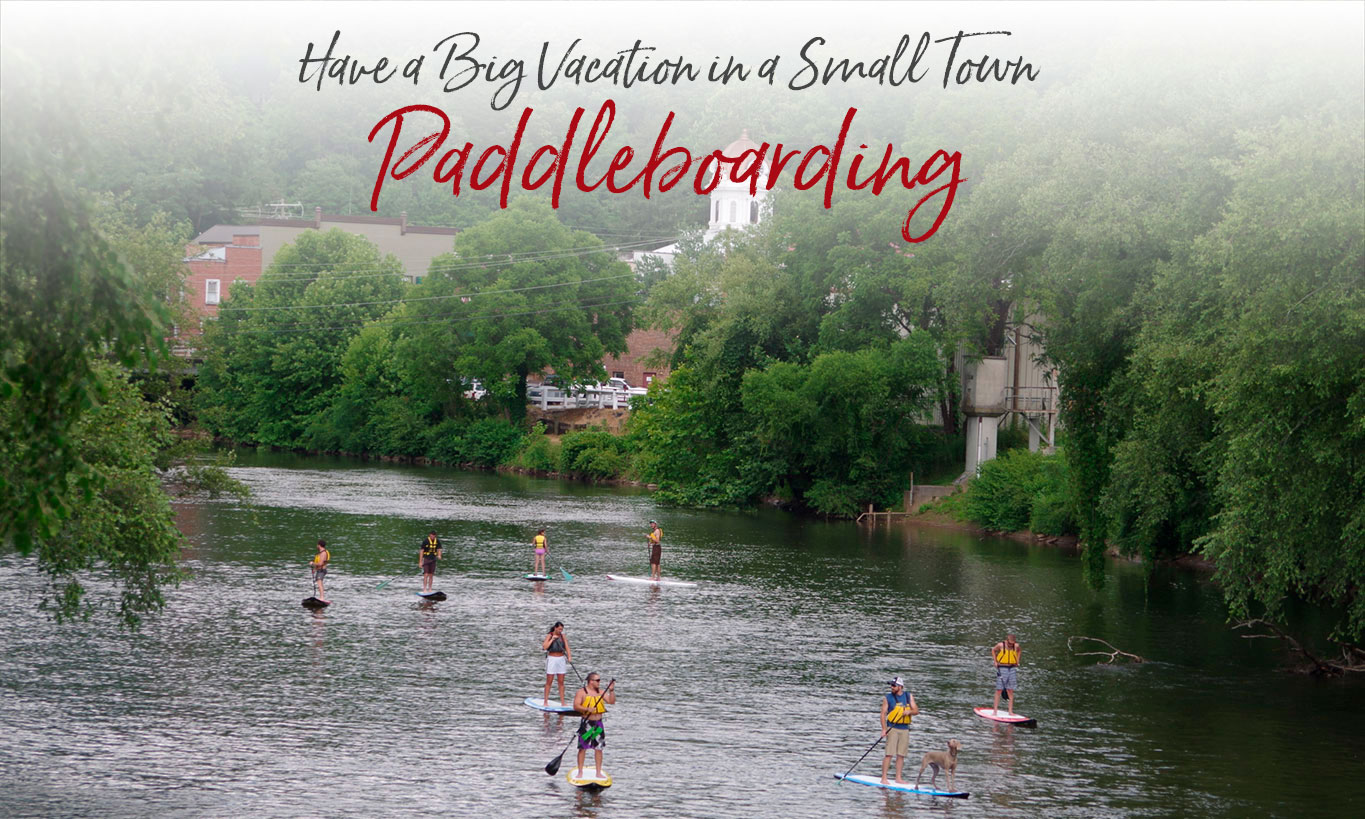 Stand-Up Paddle Boarding – A Unique Way to Play on Water In the Smokies
Stand-Up paddleboarding (SUP), similar to canoeing, involves an oversized surf-style board and a long handled paddle, which you use to propel and steer through the water. Different boards types, shapes and sizes are used depending on the body of water you SUP. 
Here in the Smoky Mountains of Western North Carolina we paddle board the Tuckasegee River in downtown Bryson City, and the placid water of Fontana Lake. A favorite spot – the finger lake area – is easy to access and there are no boats around to send wakes your way.
More fun activities on the water near Bryson City.
Contact Name:
Brett Hackshaw or Ben King
Address:
169 Main Street
Bryson City
NC
28713
Rent a paddleboard in downtown Bryson City on the river or nearby on Fontana Lake! Our paddleboards are very beginner friendly and our knowledgeable staff can help anyone stand up on a paddleboard. Guided tours also available. Great fun for the whole family, call today to book your trip!
What to wear
All rentals include board, paddle and approved life jacket. It's advisable to be barefoot and to wear a bathing suit or shorts and tee shirt. Watches and loose jewelry should be left behind. And eyeglasses should be secured with a head strap. You should also bring towels and a change of dry clothes.
Bryson City - Swain County
Chamber of Commerce
210 Main Street
P.O. Box 509
Bryson City, NC 28713
Karen Proctor Wilmot
Executive Director
800-867-9246 toll-free
828-488-3681 local
828-488-6858 fax
Free 2019 Travel Guide to the Smokies — Includes the Official 2019 All Aboard for the Great Smoky Mountains Railroad.