Plan Your Smokies Getaway
Dog Friendly Vacation
Dogs – and people – welcome here!
Bryson City welcomes pet-lovers on vacation. We've got outdoor activities, live music and restaurants with outside seating. In summer, many downtown businesses have water bowls on the sidewalk. You'll also find homemade dog biscuits on sale as a donation to PAWS, our no-kill animal shelter.
Need a to board your pet, or to have a pet sitter visit your lodging? Learn more
You can find more than 100 pet-friendly accommodations by choosing the "pets allowed" amenity on our lodging pages.
Please keep your dogs in check, clean up after them, and do not leave them unattended in vehicles or RVs.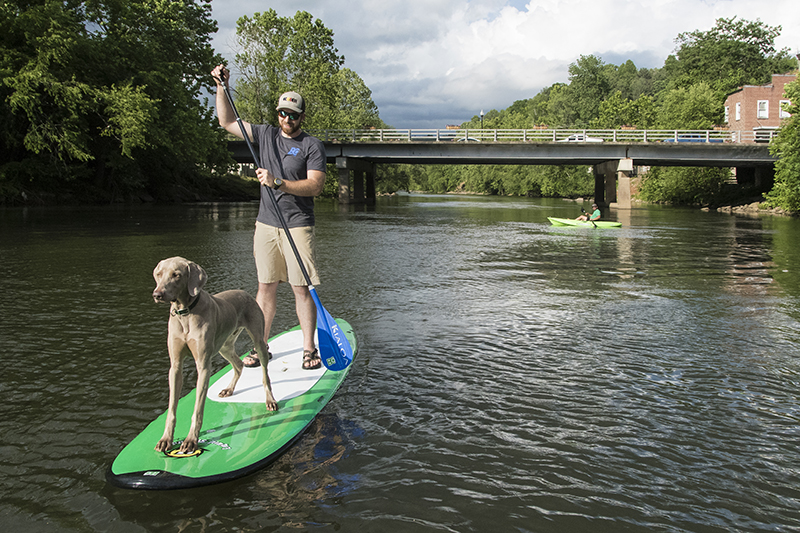 Activities
Paddleboarding on the Tuckasegee River in downtown Bryson City, or on Fontana Lake.
Pontooning on Fontana Lake – all 3 marinas have some pontoon boats that are dog friendly.
Watch family movies on a outdoor screen every Friday night at dusk, May – August behind the red caboose in Bryson City.
Hiking
Great Smoky Mountains National Park
Pets are NOT allowed on hiking trails in the Great Smoky Mountains National Park, except for the Oconaluftee River Trail, a 1.5 mile one way shaded path with beautiful views of the river. It begins at the Park Visitor Center in Cherokee. Deep Creek (Great Smoky Mountains National Park). Dogs are allowed in Deep Creek campground, picnic areas, and along roads (NOT on National Park trails), but must be kept on a leash (no more than 6 feet long) at all times.
Bring the dog, the kids and a picnic to Island Park, located in the center of downtown Bryson City on the Tuckasegee River. The fishing is great there too. Take Everett St. to Bryson St. Cross the bridge to the park at the end of Bryson St.
Recreation Park — There is a walking trail in the Swain County Recreation Park just outside of downtown Bryson City. Take Everett St. to Depot St., then follow West Deep Road to the Park.
Trails in the Nantahala National Forest are pet friendly. One paved trail is the Nantahala River Bike Trail TR368. A nice flat trail that begins at the rafting launch site (Off Hwy 74, south of the NOC, turn left on Wayah Road). Park at the launch site and take the bridge across the river. The trail follows the river for about 1.5 miles (one way).
Printable Pet Friendly Activities, Hikes and Walks pdf.
Dining With Your Pet
Bryson City has a number of eateries with outdoor seating where dogs are generally allowed (note: some may allow smoking). Restaurants include:
Bryson City - Swain County
Chamber of Commerce
210 Main Street
P.O. Box 509
Bryson City, NC 28713
Karen Proctor Wilmot
Executive Director
800-867-9246 toll-free
828-488-3681 local
828-488-6858 fax
Free 2019 Travel Guide to the Smokies — Includes the Official 2019 All Aboard for the Great Smoky Mountains Railroad.