Plan Your Smokies Getaway
A Day in the NC Smokies
A 1-Day Trip Itinerary for Bryson City
If you only have a day in Bryson City, here are some suggested activities and dining options — a sample one-day itinerary to inspire your next getaway. Once you explore all Bryson City has to offer, however, you'll find you're gonna need a longer vacation!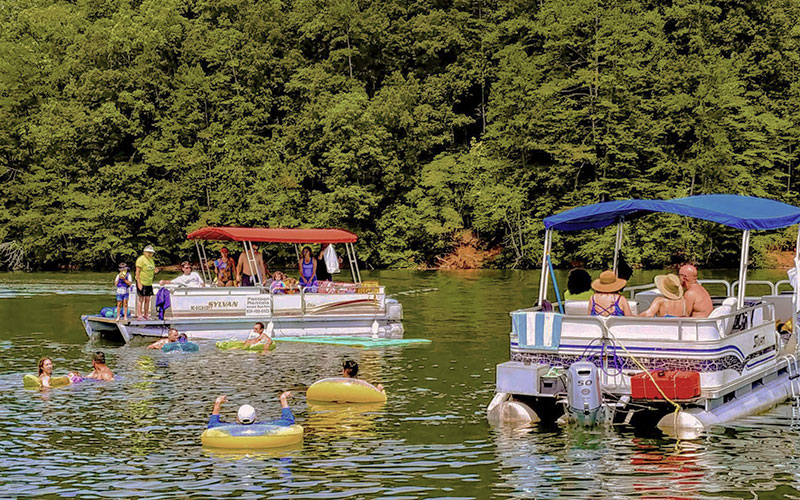 Morning
Start your day in downtown Bryson City where the locals eat – The Everett Street Diner. You'll find fluffy pancakes, sausage, eggs cooked just right, and scrumptious homemade biscuits with gravy. And friendly servers that make you feel like a local, too. 
Morning Activities
Just 5 minutes from town, you find the Deep Creek Recreation Area of the Great Smoky Mountains National Park – known for waterfalls, trails, swimming, tubing, and fly fishing. The Waterfall Loop Trail is 2.5 miles of easy hiking, with 2 miles on an old logging road. The Park has no fee, but summer tube rentals are $7 for a whole day of play on the water. If you've packed a lunch, you'll find a perfect picnic spot on the creek.
Lunch
Back in town look for Mountain Perks Espresso Bar & Cafe across from the train depot for the Great Smoky Mountains Railroad. They specialize in vegetarian friendly, vegan and gluten free options. They also offer bagel sandwiches, wraps, quiches, plenty of homemade desserts, and great coffee drinks.
Afternoon Activities
For a different way to see the Smokies, rent a pontoon boat from a marina or take a guided lake tour with Carolina Bound Adventures for the afternoon (or at sunset) and look up at the mountains from the surface of Fontana Lake, home of the largest dam east of the Rockies. Minimal shoreline development means unobstructed views and easy cruising. Look for eagles and other wildlife; tie off and take a swim.

Dinner
Check out Anthony's Restaurant and Derailed Bar, for great meals in a fun atmosphere. Enjoy the covered deck or inside dining. Pets are allowed on the patio.

Bryson City is just one hour west of Asheville; two hours from Knoxville and Greenville/Spartanburg; and three hours from Atlanta, Charlotte and Chattanooga.