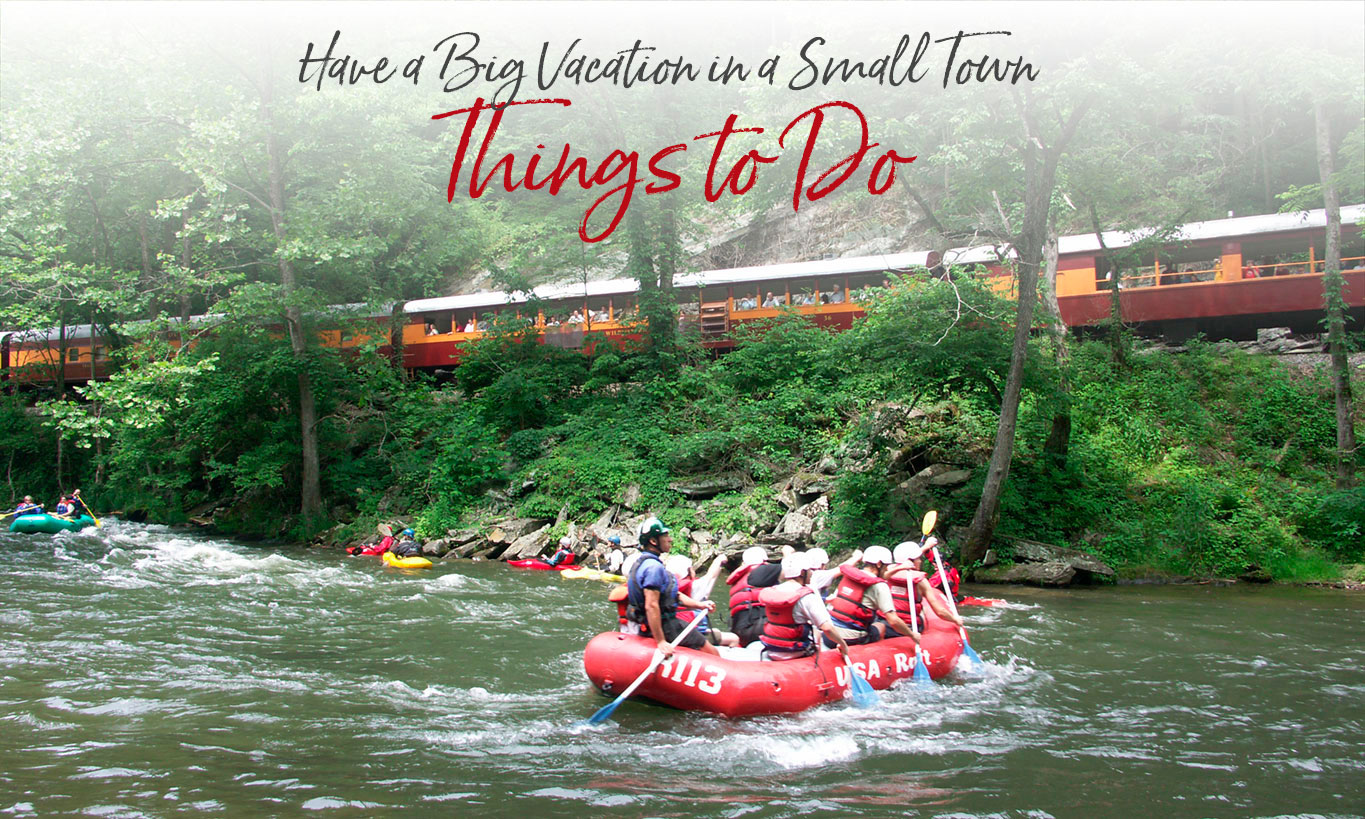 The Smoky Mountains Playground
Blue Ridge Outdoors magazine said it best – "With the Great Smoky Mountains National Park and world-class whitewater at its doorstep, Bryson City is the perfect base camp for big adventure. The Tuck flows right through town, and the Appalachian Trail, Nantahala River, Fontana Lake and Tsali singletrack are just a stone's throw away."
Bryson City is centrally located in the middle of Western North Carolina's vast outdoor playground, a great spot for dozens of fabulous day trips. Area attractions.
IN OUR BLOG…
Learn more about the five most popular things to do in Bryson City.
What to do for fun in the NC Smokies
Click or tap below for more information
Great Reasons To Visit The North Carolina Smokies
The Great Smoky Mountains National Park info
Unique shops and galleries info
Lots of special events info
Spectacular mountain views info
Whitewater rafting on the Nantahala River info
Mountain biking at Tsali info
Boating and fishing on Lake Fontana info
Legendary trout streams info
Cherokee Indian Reservation info
The Blue Ridge Parkway info
Curvy roads at the Deal's Gap "Dragon" info
Great Smoky Mountains Railroad info
Crystal waterfalls info
Hiking trails info
Great restaurants info
Wineries & breweries info
Bryson City - Swain County
Chamber of Commerce
210 Main Street
P.O. Box 509
Bryson City, NC 28713
Karen Proctor
Executive Director
828-488-3681
877-472-1681
Free Travel Guide to the Smokies — Includes the Official All Aboard for the Great Smoky Mountains Railroad.
Sign up for our monthly travel news