Great Smoky Mountains National Park
The  Road to Nowhere
A Road to Somewhere Special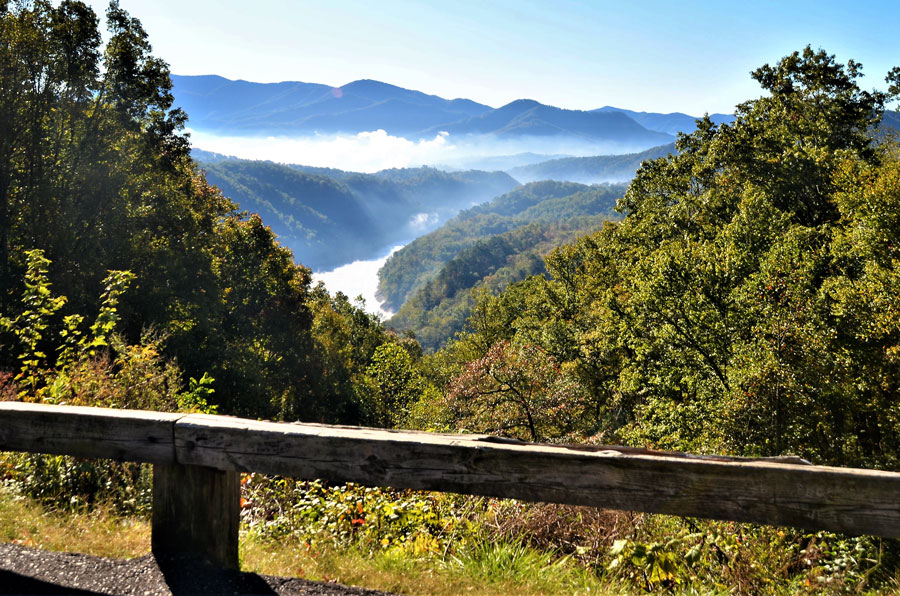 With so much to see and do in the Bryson City area, it is hard to imagine a day when you might have nowhere to go. But should that happen, there is always The Road to Nowhere, a scenic mountain highway that takes you six miles into the Great Smoky Mountains National Park and ends at the mouth of a tunnel. On the map, it is called Lakeview Drive, but to the citizens of Swain County it is "The Road to Nowhere — A Broken Promise."
Lakeview Drive is a beautiful drive or strenuous bike ride – particularly in the Fall. It provides an overlook of Fontana Lake and access to a number of hiking trails. About a half-mile before the tunnel at the end of the road, you'll find great hiking and trout fishing on the Noland Creek Trail.
Walking through the quarter-mile-long tunnel takes you to Goldmine Loop, Forney Creek (great trout fishing), Lakeshore Trail and other connecting trails. There is a tunnel bypass trail. If you plan to walk through the tunnel you might want a flashlight; and be aware horseback riders use the tunnel.
Trails and Directions (pdf)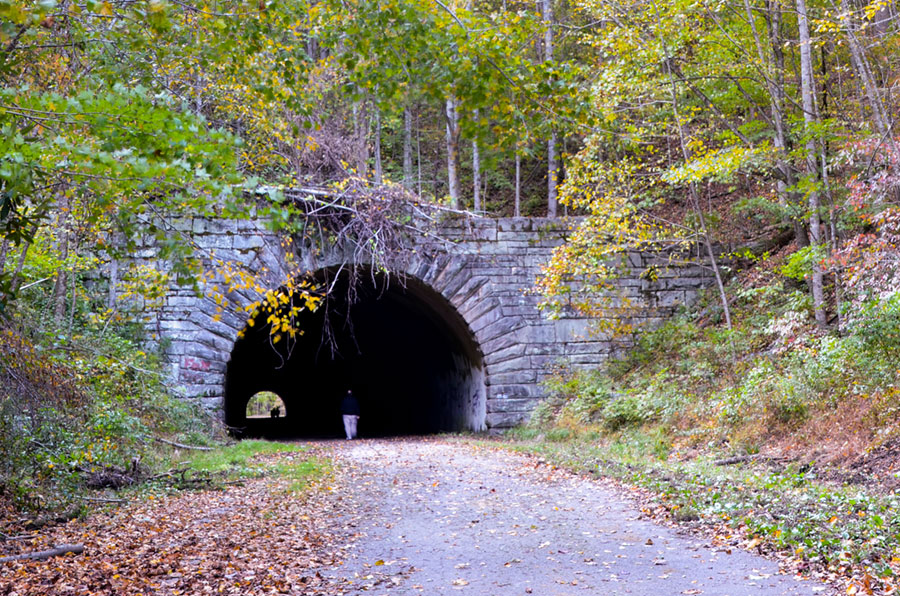 The Story Behind "The Road to Nowhere"
In the 1930s and 1940s, Swain County gave up the majority of its private land to the Federal Government for the creation of Fontana Lake and the Great Smoky Mountains National Park. Fontana Lake is actually a reservoir for Fontana Dam, which was built as a TVA project during World War II to produce electricity for ALCOA aluminum plants in Tennessee as well as for Oak Ridge National Laboratory's Manhattan Project. Hundreds of people were forced to leave the small Smoky Mountain communities that had been their homes for generations. With the creation of the Park, their homes were gone, and so was Old Highway 288 the road to those communities. The old road was buried beneath the deep waters of Fontana Lake. Fontana Dam Facts and History
The Federal government promised to replace Highway 288 with a new road. Lakeview Drive was to have stretched along the north shore of Fontana Lake, from Bryson City to Fontana, 30 miles to the west. And, of special importance to those displaced residents, it was to have provided access to the old family cemeteries where generations of ancestors remained behind.
But Lakeview Drive fell victim to an environmental issue and construction was stopped, with the road ending at a tunnel, about six miles into the park. The environmental issue was eventually deemed too expensive and the roadwork was never resumed. And Swain County's citizens gave the unfinished Lakeview Drive its popular, albeit unofficial name "The Road To Nowhere."
IN OUR BLOG…

Each Winter, when the TVA lowers the water level, Fontana Lake reveals some of its fascinating history.
On weekends throughout the summer, the Park Service still ferries groups of Swain County residents across Fontana Lake to visit their old family cemeteries for Decoration Days and family reunions.
The legal issue of whether to build the road was finally resolved in February, 2010 when the US Department of Interior signed a settlement agreement to pay Swain County $52 million in lieu of building the road. In 2018, the last payment was made in the settlement. The State of North Carolina manages the principal and the County receives the interest each year.
Download pdf brochure with directions to the Road To Nowhere, hiking trails, Decoration Days and even more information.