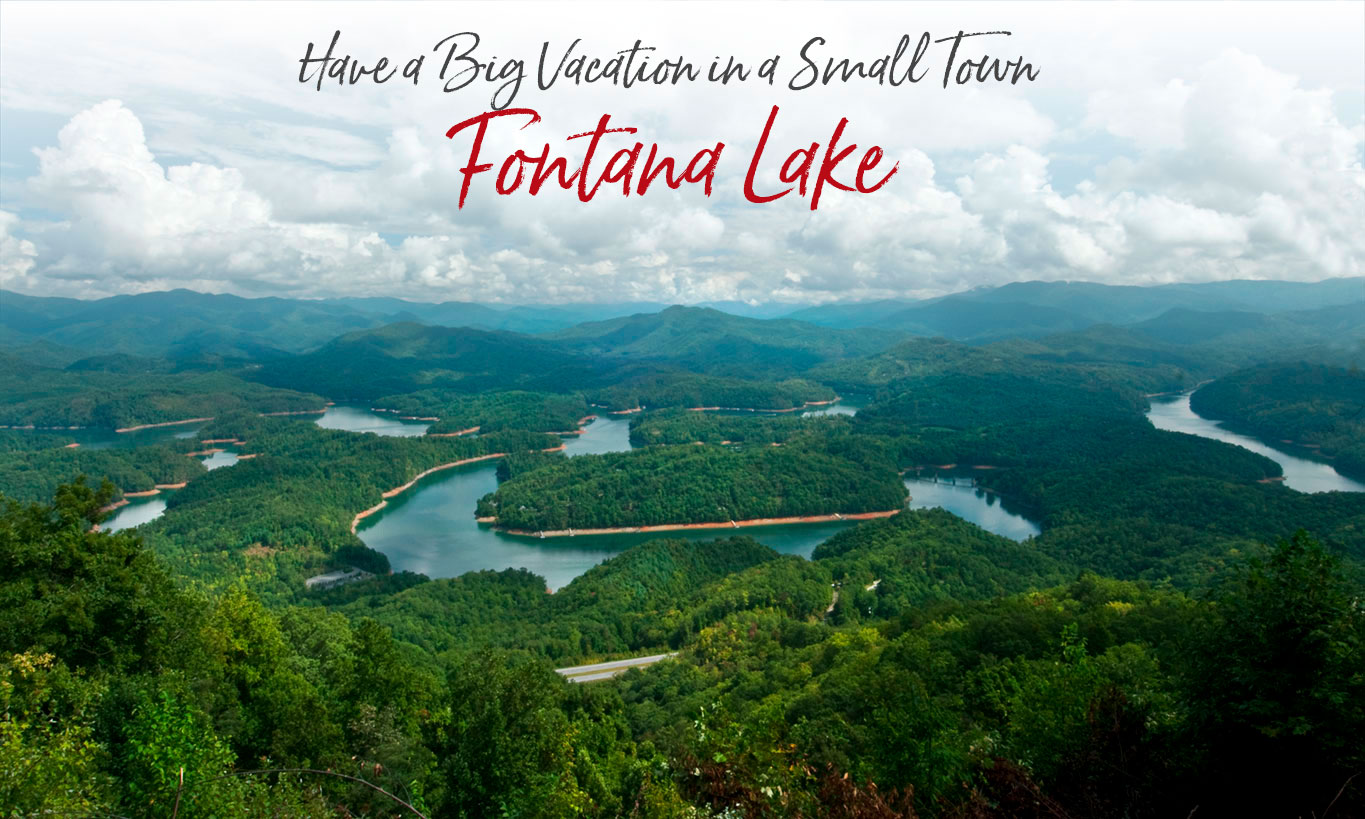 Fontana Lake Has Been Called the Best-kept Secret in the Mountains
The 29-mile long, 10,230-acre Tennessee Valley Authority (TVA) lake has more than 240 miles of shoreline. And its deep, cold waters provide the ideal habitat for a variety of fish. In fact, record size muskie and walleye have been pulled from its depths. And many believe it's one of the best smallmouth bass fishing lakes in the country, including the Fisherman's Bass Tournament Circuit, which has held a Hall of Fame Classic at Fontana.
Fontana Lake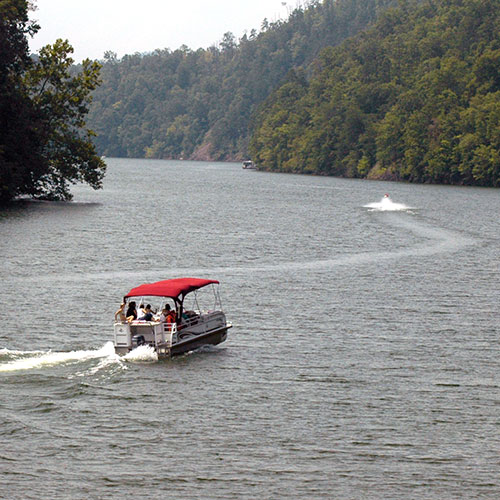 Fontana Lake is unique in many ways. Unlike most lakes in the area, shoreline development has been kept to a minimum. More than 90 percent of the land around the Lake is owned by either the National Park Service or the US Forest Service. Maps of the Lake are available at local fishing stores.
Those fortunate enough to go boating on Fontana Lake have a unique perspective of the Great Smoky Mountains National Park. At places the view is unobstructed from the lake level to the top of towering Clingmans Dome, the Park's highest peak.
There are a number of private marinas where you can rent a boat, or put your own boat on the lake. You'll find knowledgeable staff, and plenty of boating and fishing supplies. Shuttle service is offered to Eagle Creek and Hazel Creek – two north shore locations where you can spend time fishing, hiking, exploring and camping in the National Park.
Also enjoy canoeing, kayaking & standup paddleboarding at various locations on the lake.
Fontana Dam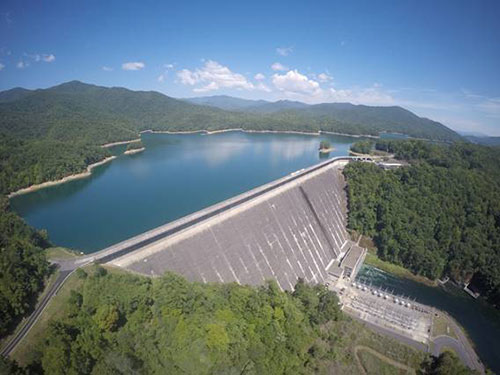 Fontana Dam itself is an engineering marvel. In January 1945, when water first came through the dam to produce electricity for WWII industries, the 480-foot-high dam became the highest in the Eastern United States and the fourth highest in the nation. The dam was built to provide power to Oak Ridge, TN, as part of J. Robert Oppenheimer's Manhattan Project. The story of its origin is effectively portrayed at the Fontana Dam Visitor Center (Open mid-April to November, 9 am – 7 pm, daily).
The 2,147-mile Appalachian Trail crosses Fontana Dam providing a beautiful view of the lake and powerhouse. Learn more about the AT.
Annual Drawdown —Fontana is a man-made lake with lake levels controlled by the Tennessee Valley Authority (TVA). From September – November TVA lowers lake levels 60-feet to allow for winter snows and spring rains. Fontana is a very deep lake, so even with lowered lake levels fishing is not compromised and public access ramps are open all year.
Learn all about Fontana's history in Lance Holland's book, "Fontana: a Pocket History of Appalachia". Website
For a quick read, download this Fontana PDF.
IN OUR BLOG…
Fontana's Finger Lakes Area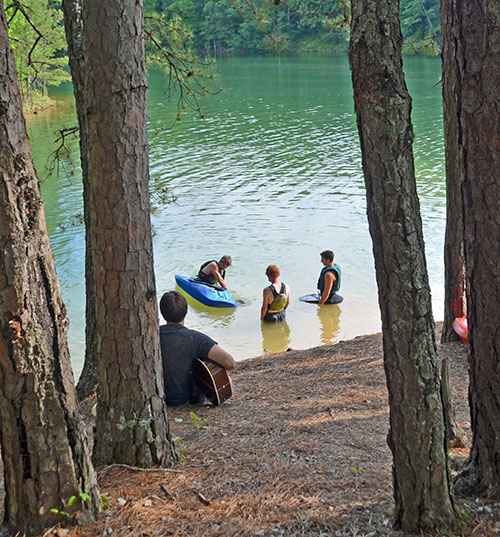 In the mountains, most river and lake banks are simply too steep and too rocky to serve as a beach. One exception is the Finger Lakes Day Use Area of Fontana Lake where you'll find a small park with picnic tables, public restrooms and a swimming area. Since there are no life guards, you naturally swim at your own risk.
Finger Lakes is also a popular access area for canoes, kayaks, paddle boards and other non-motorized boats.
Cheoah's Dam is Famous But Trout and Muskie Are The Main Attractions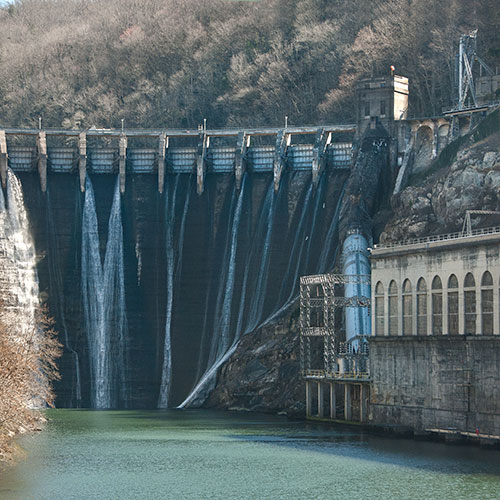 Cheoah Lake was formed in 1919 and has the oldest dam on the Little Tennessee River.  At the time it was built, it was the world's tallest overflow dam at 225 feet and had the largest turbines in the world. Cheoah Dam was made famous in the 1993 movie "The Fugitive" in which Harrison Ford "jumped" from the top of the dam to avoid capture by Tommy Lee Jones. Today the dam is referred to as the "Fugitive Dam".
Cheoah Lake is 9.5 miles long and largely undeveloped. It is fed largely by the tailrace of Fontana Dam, which provides a constant flow of clear, cold water that remains at consistent temperatures year around. Rainbow, brown, and brook trout call Cheoah home, with some trout reaching several pounds. Rainbows and muskie are stocked by the state of North Carolina. With plenty of trout to feed upon, the muskie are growing at rapid rates.
Bordered by the Great Smoky Mountains National Park and Forest Service, Cheoah Lake's shores remain undeveloped and pristine. There is only one boat access ramp – Llewellyn Branch – at the upstream end of the lake, just below Fontana Dam. This ramp and adjacent fishing pier are both handicapped accessible. Because the lake is fairly narrow you won't see much in the way of pleasure boat or jet ski traffic, only the occasional fisherman in search of trout and muskie.