Congratulations! You've volunteered to plan this years's family reunion. Your only job is to make your relatives happy with the destination, the budget, the activities and the lodging. No big deal, right? Before you lose your mind with internet searches, let us make it easy for you with these ten tips to help you plan a successful and memorable family gathering in the Smokies.
1. Choose a destination that won't bust your budget.
Southern Living has called Bryson City "One of the South's Best Budget-Friendly Getaways"; Trip Advisor says it's "One of 15 Affordable Summer Cabin Getaways Across America" and Yahoo Finance ranked Bryson City #1 for Affordable and Remote Locations in the US Worth a Visit."
2. Choose a central location with minimal drive time for everyone.
Bryson City is an easily accessible location for families throughout the southeast. It's just three hours from Atlanta, Chattanooga and Charlotte; and five hours from Birmingham, Nashville, and Roanoke.
3. Choose a month with the most vacation offerings.
In Swain County, there's plenty to do year around, but the peak seasons, summer and fall, offer the most. The summer season is rich with outdoor activities — whitewater rafting, kayaking, paddle boarding, boating, fishing and hiking — while the fall is highlighted by the colorful changing of leaves. Options for active and casual activities.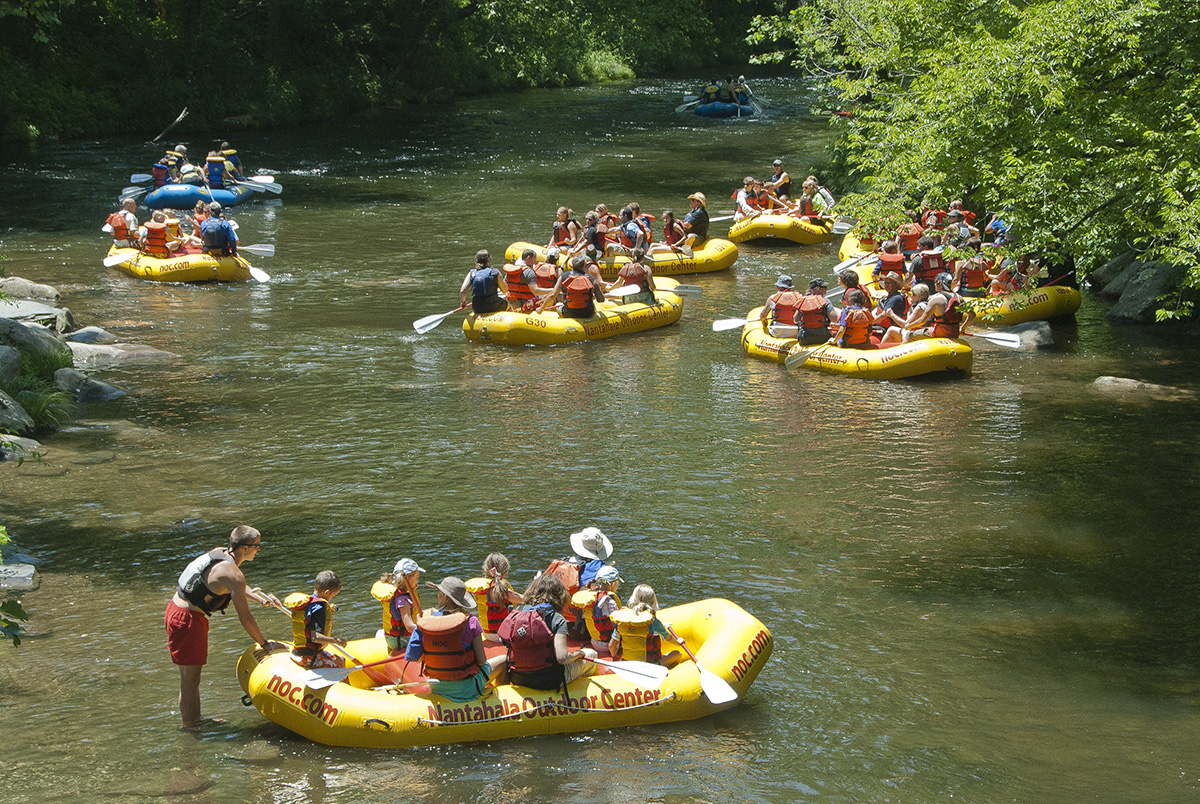 A large group at the outset of their 7 mile trip down the Nantahala River.

Large group on a guided mountain biking tour
4. Choose activities for the entire group.
Take a group excursion on the Great Smoky Mountains Railroad. For groups of 20 or more, GSMR has special offerings with a variety of options. 
Rent the train caboose for a railroad excursion – the best value for groups and private parties up to 15 passengers. The charter fee includes a platter of cheeses with crackers and an assortment of Coca-Cola products. You can also bring your own food and drink. Rental info
Unto These Hills outdoor drama, the tragic and triumphant story of the Cherokee from the years before the heartbreaking Trail of Tears all the way up to the present day. May 27 thru August 19, 2023. Two hours, evenings except Sundays. Drama Tickets
Guided hikes in the Great Smoky Mountains National Park. Guides are available for groups of up to 22 people. Larger groups may have two guides. A Walk in the Woods and Carolina Bound Adventures. 
Nantahala Gorge. Most outfitters on the Nantahala river offer group bookings for kayaking and rafting. 
5. Choose alternate activities for various ages and interests.
Active things to do include tubing, whitewater rafting, zip lining and golfing while more casual activities include walking to waterfalls, elk watching, gem mining and shopping.  All activities
The Appalachian Rivers Aquarium, which features native fish and amphibian species found in our Appalachian region is fun for any age. Aquarium info. 
We're a very pet friendly town. Find  'Woof Worthy' restaurants and activities for you and yours on our special vacation page for pet owners.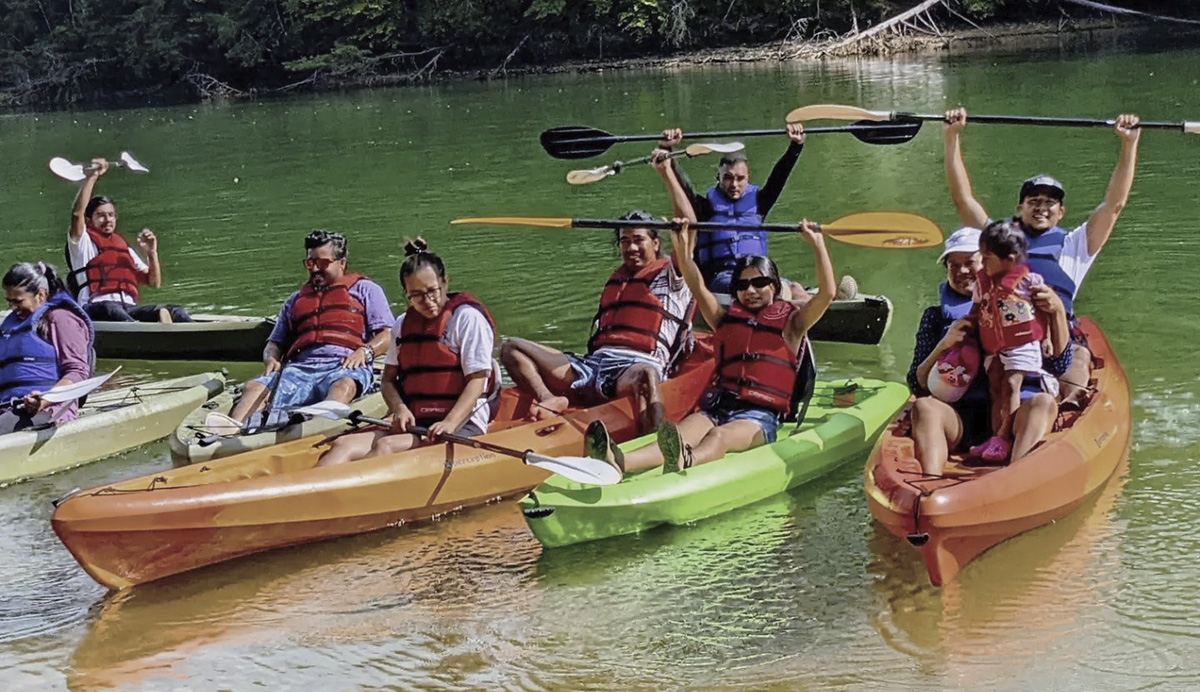 Kayaking group on Fontana Lake
6. Choose lodging that's perfect for groups. Three stand out:
Lands Creek Log Cabins, has 20 cabins including The Lodge, a 6-bedroom cabin for groups up to 14 with covered porch, sun deck and game room. Lands Creek also has Harmony Hall with kitchen and indoor table seating for 40-50 indoors plus more outside.  
Bryson Village is walking distance from downtown and has 15 homes and cabins, plus the Historic Bryson House, which can sleep 10. The entire village can sleep 78 people and has fire pits and picnic tables. Pet friendly.  
Watershed Resort is a 50-acre parcel with 17 luxury rentals and amenities including an on-site hiking trail and kids playground. The Resort 'Yard' common area has a group fire pit, corn hole boards, bocce ball and beautiful views of the mountains.
7. Choose alternate meal solutions.
For those times when you would rather have someone else prepare a meal for the group, here are some options:
Full dinners from Pasqualino's Italian Restaurant or Granny's Kitchen.
Sandwiches from High Test Deli – or Subway – or Mountain Perks (also quiches).
8. Reserve a Group Pavilion.
Deep Creek Pavilion in the Great Smoky Mountains National Park
This well-kept picnic pavilion offers room for up to 70 people and 15 covered picnic tables. There is no electricity at the site, but four elevated charcoal grills just outside the pavilion, make cooking for a crowd convenient. Restrooms in picnic area nearby. Each car will need a parking pass ($5/day). The pavilion may be reserved by calling (877) 444-6777 or visiting Recreation.gov  
Morgan Pavilion at Swain County Recreation Park has covered space for up to 75 people with two stone fireplaces and picnic tables. 828-488-6159 OR 6292. RecPark@swaincountync.gov
Riverfront Park in downtown Bryson City. 4 picnic tables, 2 restrooms, large lawn. Free. Reservations required. Reservations
9. Don't forget your reunion keepsakes
T-shirts and other branded mementos available from local print shops.
Professional group photos available on location from local photographers.
10. Do more research.
These tips just touch on all the things there are to do in the Bryson City area. Spending some time on our Travel Guide to Bryson City and the Great Smoky Mountains will unearth even more ways your family can have a Big Family Reunion in our Small Town.
—
Bike, kayak and family photo courtesy Carolina Bound Adventures