Whether you are purchasing a painting for your home or for a gift, it means more when you've met the artist and understand the inspiration – and passion – for their art. These three local artists love the opportunity to discuss their work. (photo: Elizabeth Ellison studio)
Ashley Hackshaw
One Twenty Main
LilBlueBoo.com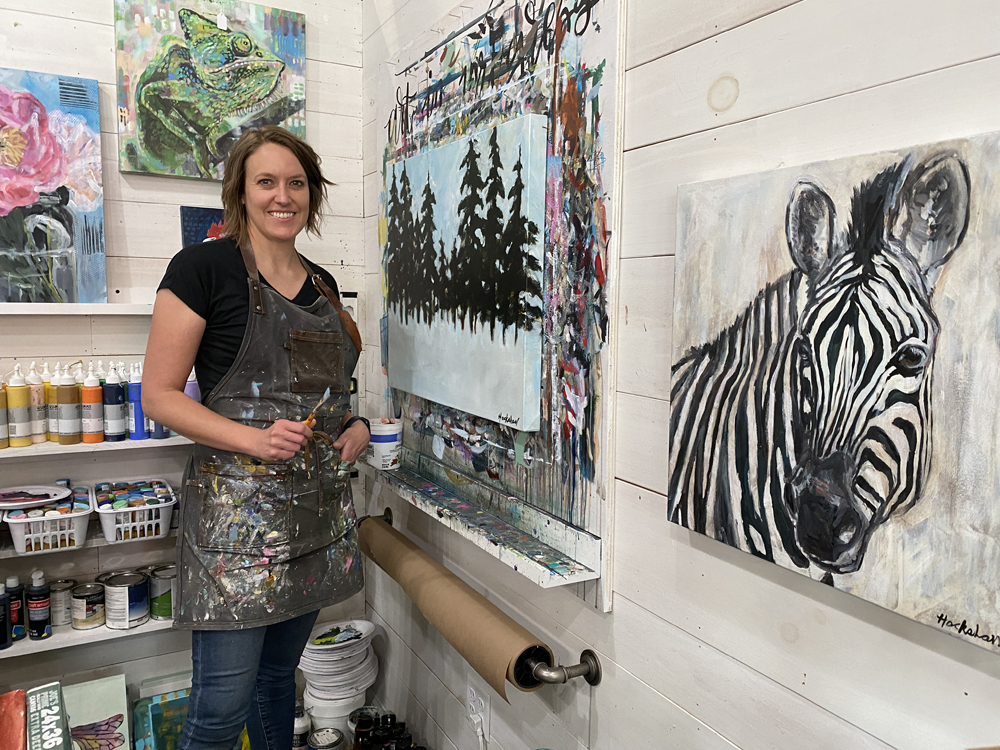 A North Carolina native, Ashley and her family moved to Bryson City in 2014 to find a simpler life in the Great Smoky Mountains. Embracing small town life, they have renovated several buildings in town, including the 1919 building that houses her studio/shop, One Twenty Main.
"I call myself a wandering artist because I never know what I am going to paint on any given day. I am just messy and loose – that's my style.
"The reason I don't have set hours for myself in the shop is because I'm an artist and when I am inspired, that is when I want to paint. Other times I will work the retail side. Definitely, the retail space keeps me in one place, and so I tend to focus on painting more. People love coming in and seeing the process. And sometimes at the end of the day, they come back to see the finished work. They also enjoy watching the time-lapse videos I have put online."
In addition to what is in the store, you can find Ashley's work in the community: two quilt squares, the quilted fish sculpture, and the mural in Bryson City Outdoor's MRKT on the Square.
Angela Warf
AngelaWarf@icloud.com
828-736-0012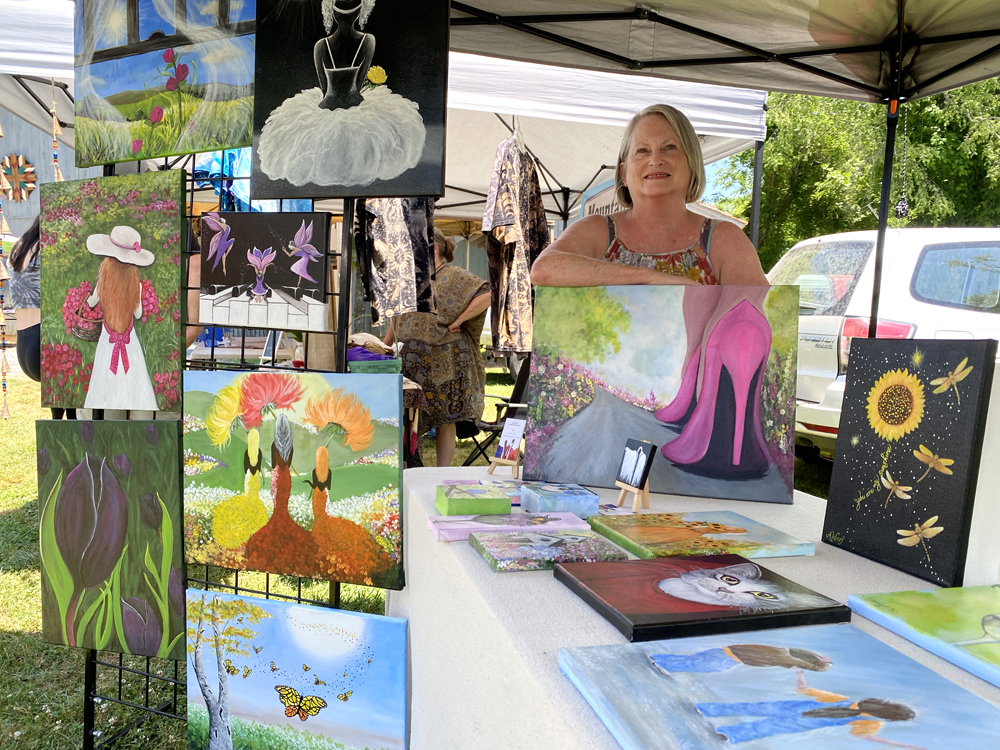 A native of Bryson City families with deep roots in the community, Angela is a self-taught artist who as she puts it, is always learning. She grew up with a love of many forms of artistic expression: drawing, calligraphy and sewing. After retiring in 2020, she started painting. To her, "painting is relaxing, therapeutic and just something I enjoy, which is why I love being down here at the farmers market so I can display my paintings and talk to people about them.
"I really like to do anything that is whimsical or fun. I enjoy painting birds and other animals, and creating pet portraits. I also enjoy different styles of painting like the impressionistic style that is not as fine-tuned as other approaches. I paint what I see, what inspires me, and what is fun. I look for inspiration from others, learning perspective and brush techniques and then making it my own."
Angela and her latest art may be found at the Swain County Farmers and Artisans Market, 117 Island Street, May through October, Fridays and Saturdays, 9am – 2pm; or by phone or email.
Elizabeth Ellison
Elizabeth Ellison Gallery 
155 Main Street
828-788-1541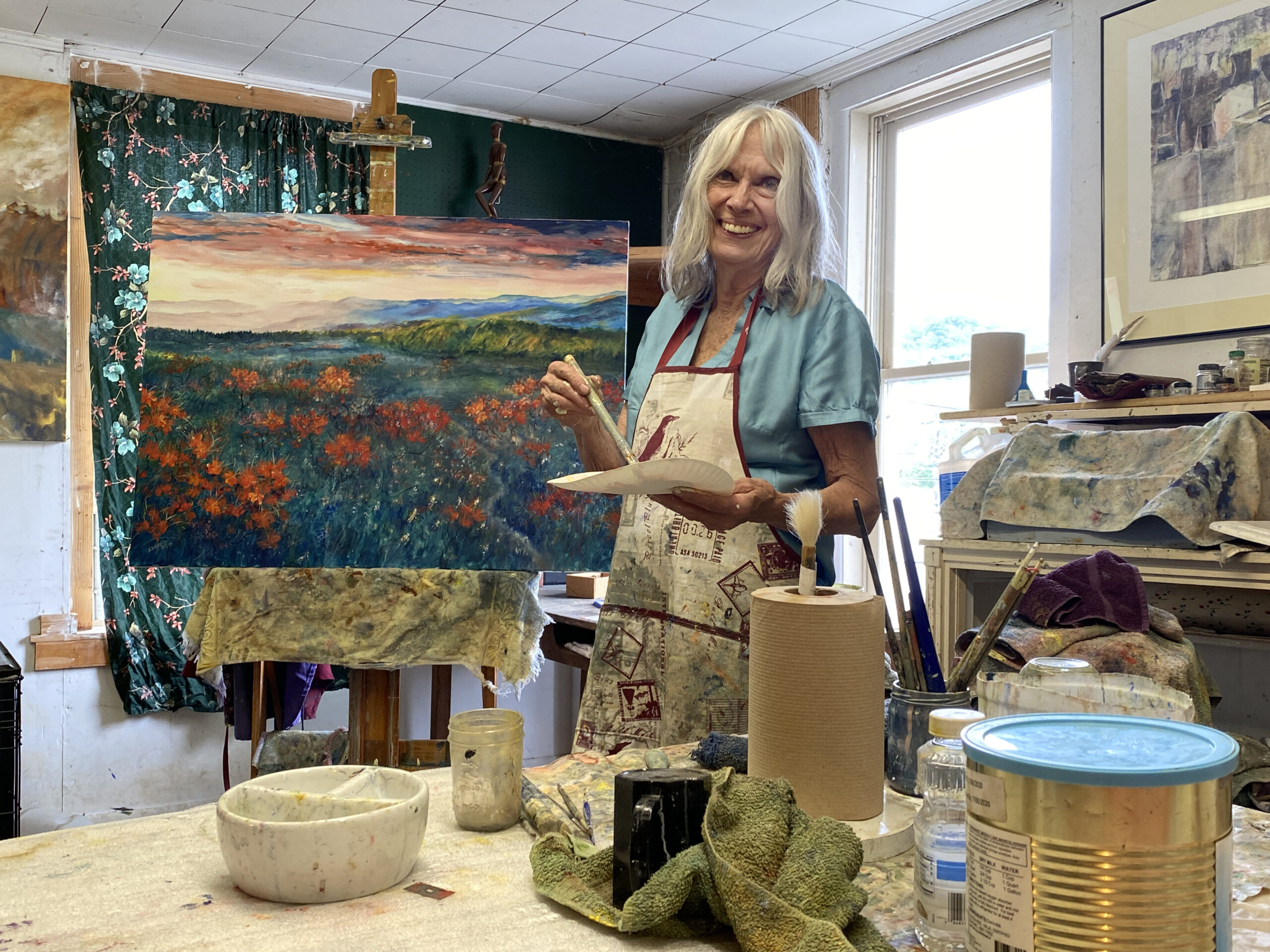 Painter and papermaker Elizabeth Ellison's studio/gallery is in the old Clampitt Hardware building on the town square in Bryson City. While visiting the Smoky Mountains in the early 1970s, she and her husband George discovered a small cove with a creek surrounded on three sides by the Great Smoky Mountains National Park, where they still live in their "Permanent Camp" and sanctuary.
"To me, my work is about expressing how I feel about these mountains and what it means to have all this beauty around us. When I paint, the subject matter has generally been in my mind for a while and once I think I am ready for the journey, I hardly ever hesitate. I feel as if I am not in control; that a spirit is there, filling the canvas or paper with color, shapes, feeling and I am only an active observer."
Elizabeth often uses some of the earth and sand from streams in the paintings, and frequently gathers and processes native Appalachian plants to make the handmade papers she uses in her paintings. The land has nurtured her creativity, and to honor it the Ellisons have set up a private conservation easement to protect their watershed the best they can.
Subscribe to Stories From The Smokies
Every few weeks, you'll receive an email previewing our latest blog post and a link to the online story. We hope you'll enjoy our stories, but you can unsubscribe at any time.