Fall exploration will lead you to the Bryson City area of North Carolina, including "The Road to Nowhere."
Tucked in iconic mountains, Bryson City, NC has a vibrant fall leaf viewing season, which you can enjoy while hiking, fishing, biking or riding the rails. It's a subtle switch that sets off fall's brilliance. In early October, temperatures at Western North Carolina's highest elevations start dropping, breaking down the green chlorophyll in leaves. Encouraged by less daylight, the foliage turns brilliant colors, from the yellows of birches to the deep reds of oaks and dogwoods. The colors cascade down the mountains, following the falling temperatures to the valley floors by early November. Watch the entire show unfold in cozy Bryson City, located in Swain County, tucked between Great Smoky Mountains National Park and Nantahala National Forest.
Enjoy leaf peeping throughout Great Smoky Mountains National Park, including the popular overlook at Newfound Gap. At 5,046 feet, the gap is the lowest drivable pass across the mountains – 3,000 feet above Bryson City. And due to Newfound Gap's nearly mile-high elevation, temperatures can be 10 degrees or more cooler than the surrounding lowlands. The thrills increase on The Dragon, where motorcycle and sports-car enthusiasts are drawn to the 318 curves along this 11-mile stretch of U.S. Highway 129. Driving it takes concentration, so pull over for the views. The Blue Ridge Parkway, which begins in nearby Cherokee, offers equally beautiful fall scenery along a gentler path.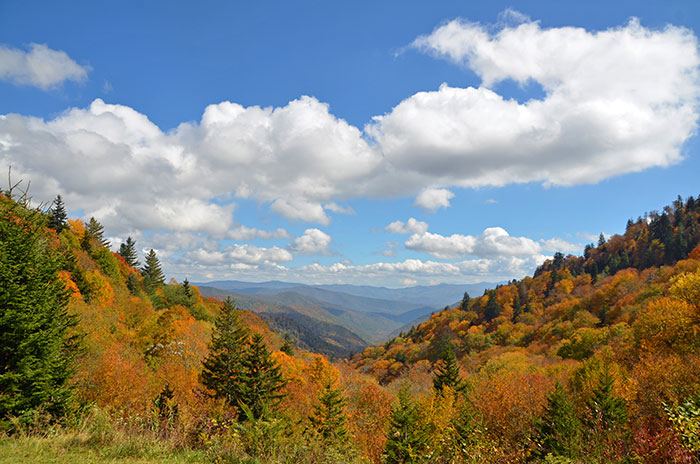 Discover amazing views, such as the scene from Oconaluftee Valley Overlook on Newfound Gap Road (US 441)
Fall foliage in the National Park includes blooming wildflowers such as wide-leaved sunflowers and asters. Those, along with leaves and other sights, are best seen on foot. Follow Deep Creek Recreation Area trails to three waterfalls, ranging from 25 to 90 feet tall. Lakeview Drive takes you to the Road to Nowhere. Bring a flashlight to explore the tunnel on this relic from the park's construction. Walk through more history at Oconaluftee Visitor Center and adjacent Mountain Farm Museum, where a chestnut-log home that was moved from near Bryson City is part of a collection of century-old buildings. Watch for grazing elk in surrounding fields. While fall colors shine bright, there's plenty more to catch your eye in and around Bryson City.
Feed your sense of adventure on the Nantahala River, which has hosted whitewater rafting for decades. Get your paddling feet wet on an 8-mile stretch of Class I and II rapids that finishes with Class III Nantahala Falls. Outfitters offer trips through the end of October, when a wetsuit will keep you warm. Two outfitters also offer zip line tours. Soar through about a half-mile of colorful treetops on Nantahala Gorge Canopy Tours' 13 lines and eight sky bridges. Glide between ridgelines on Nantahala Outdoor Center's Mountaintop Zip Line Tour, whose half-mile mega zip is the region's longest. Its Zip Line Adventure Park has 16 aerial elements and a 600-foot dual zip line.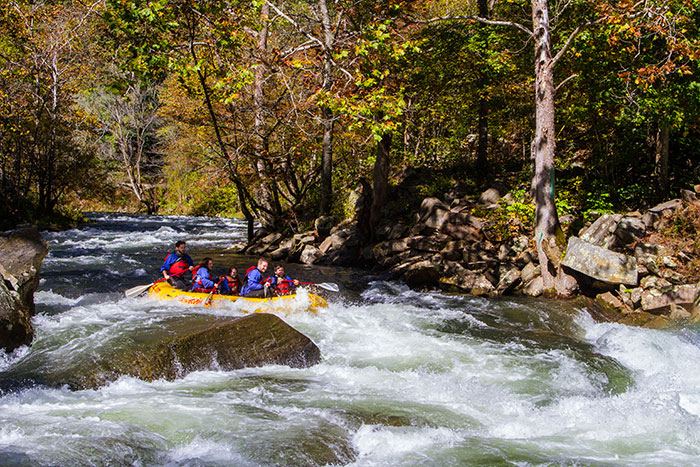 Nantahala River ranks among the most popular whitewater rafting rivers in the country.
Mountain bikers flock to Tsali Recreation Area single-track trails, including 13.9-mile Right Loop, the longest. Each day, some of the trails are dedicated to horseback riding; check the schedule, posted online and onsite, to see which allow biking when you're there. They're all fast, so periodically tap your brakes and enjoy the sprawling lake and forest views. There's also camping, boating and fishing here. There's plenty to do at family-run Darnell Farms. Visit for the annual Plow Day and Harvest Festival, which adds bluegrass music, food, crafts and farming demonstrations to its autumnal standbys – corn maze, hay rides and pumpkin picking. Much of its wide selection of produce, which starts with springtime strawberries, is grown on its 100 acres, where you'll also find picnic tables, swings and riverside fishing.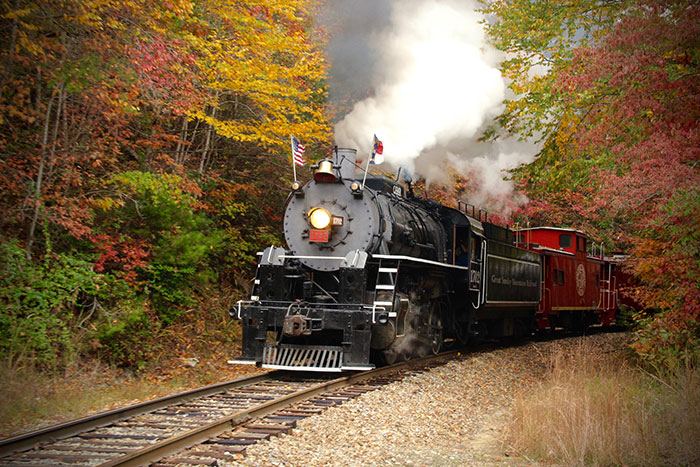 Take a scenic tour of fall on the Great Smoky Mountains Railroad.
The Bryson City depot is where you'll catch Great Smoky Mountains Railroad. Watch fall scenery roll by from open-air or climate-controlled cars pulled by a diesel or historic steam locomotive, while friendly guides and talented musicians share stories and songs. Families can join Charlie Brown's gang for pumpkin picking on one of its specialty excursions. The two regularly scheduled trips each take about four hours, including a 90-minute layover to explore the area. One goes through tunnels and past a movie set for 1993's The Fugitive to historic Dillsboro. The other trip stops at Nantahala Outdoor Center after crossing Fontana Lake, the state's deepest at more than 400 feet.
Swain County is a fisherman's paradise, with four rivers and dozens of mountain streams attracting anglers year-round. Fall is an excellent time to partake, and you won't have to go far from the area's other attractions when you set out on the Delayed Harvest waters. Designated by the N.C. Wildlife Resources Commission, this 2.2-mile section of the Tuckasegee River flows through downtown Bryson City, and has one of the highest trout counts in the Southeast, namely brown and rainbow trout. The Tuck is also home to a wide variety of other fish, including smallmouth and spotted bass, crappie, walleye and yellow perch.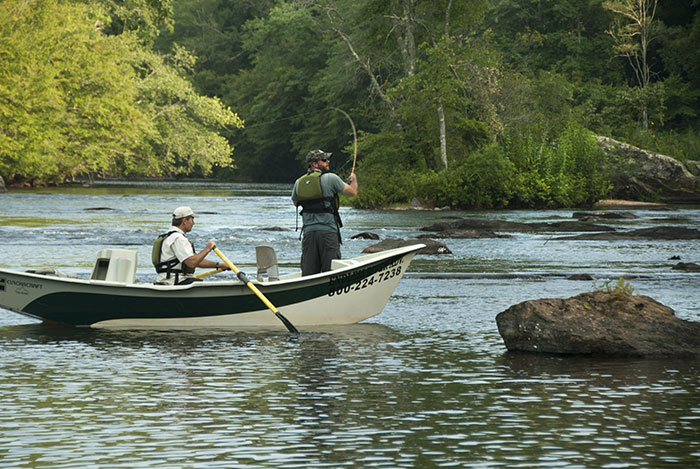 A float trip is one of several ways to enjoy fishing on the Tuckasegee River.
Deepen your appreciation for angling at the Fly Fishing Museum of the Southern Appalachians and get to know the legends of the sport, referred to as "Stream Blazers." Exhibits take you through the evolution of fly fishing gear, including an antique drift boat. Best of all it's close to many lodging options, including cabins, bed and breakfasts, national brand hotels and campgrounds. There's plenty more to do in Bryson City's walkable downtown, including shopping, local art galleries and restaurants. Enjoy a beer on Mountain Layers Brewing Co.'s rooftop patio or at Nantahala Brewing Co., which brews more than 50 kinds each year. Truly relish the flavors of fall.
Written by Pete M. Anderson for VisitNC.com, in partnership with Bryson City / Swain County Chamber of Commerce.
Subscribe to Stories From The Smokies
Every few weeks, you'll receive an email previewing our latest blog post and a link to the online story. We hope you'll enjoy our stories, but you can unsubscribe at any time.