Great Smoky Mountains National Park
Bryson City Visitor Center
New: Parking Fees
Parking tags are required in the Great Smoky Mountains National Park. Three tag durations will be available for purchase for all vehicle sizes and types: Daily, $5; Weekly, $15; or Annual, $40. Tags may be purchased online, or on-site. Parking tags will NOT be required for motorists who pass through the area or who park for less than 15 minutes, or while parked at their designated campsite. Parking Program Info
Visitor Center for National Park & Bryson City Area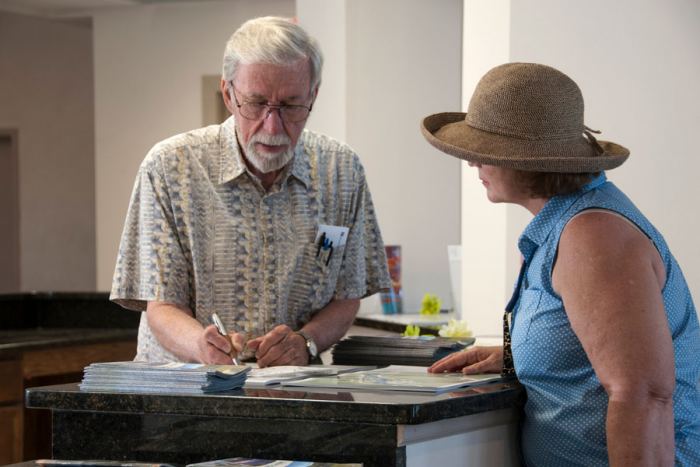 The 1908 historic courthouse in downtown Bryson City is now a visitor center and heritage museum. It is one of four GSMNP Information Centers in communities outside the Park. It is manned by Swain County Tourism Development Authority staff who are ready to assist you with directions, maps, brochures and helpful tips about visiting the area. Additional information is available in the Great Smoky Mountains Association bookstore, also on the first floor.
The Visitor Center is open daily, except for Thanksgiving Day and Christmas Day.  Hours are: April – December: Monday thru Saturday, 9 am – 5 pm. Sunday, 10 am – 4 pm.; January – March: Monday thru Saturday, 10 am – 5 pm. Sunday, 10 am – 4 pm.
Free parking behind the courthouse. Take a virtual tour
Swain County Heritage Museum
On the second floor of the old courthouse, the Swain County Heritage Museum tells the story of the County and its people. Through photos, exhibits and video you will learn about the life of early settlers; and how the creation of the Great Smoky Mountains National Park and Fontana Dam rewrote the landscape and changed lives. You will enjoy seeing the restored log cabin porch, the 1887 church organ and one-room schoolhouse desks, and children's activity area among other items. Free admission. Free parking behind the courthouse. The hours are the same as the Visitor Center. Learn more about the Heritage Museum.

GSMA Official Park Store
Located in the Swain County Visitor Center, the Great Smoky Mountains Association (GSMA) bookstore helps provide funding to the National Park. A non-profit organization, GSMA has provided more than $32 million to the park during its 60-year history. Funds are generated through retails sales to park visitors and a membership program.
In the Bryson City location, you will find a great children's selection of activity books, stuffed animals, wooden toys, puzzles, t-shirts, and ranger vests and hats. You'll also find guide books, cookbooks, CDs, DVDs, tote bags, clothing, foods, mugs and more.