A visit to Bryson City's Appalachian Rivers Aquarium my be your only opportunity to see a reclusive hellbender. They've been around for 6 million years, yet there are people who have spent their entire life in these mountains and have never seen one. The aquarium has two of the protected salamanders under federal and state permits.
Unlike some brightly-colored salamanders, you might never call a hellbender 'pretty'. With blotchy brown skin, a shapeless flattened body, short legs, small eyes and a row of thick folds on each side, hellbenders are truly 'special'. They can grow up to two feet in length making them the largest salamander in North America. Our hellbenders are at least 10 years old –about a third of their life expectancy– and are growing about an inch a year.
Even though hellbenders are classified as amphibians, they're fully aquatic, never leaving the spring-fed rivers and streams they call home. The adults have no gills; as water flows over their body, the hellbender absorbs oxygen from the water through capillaries in its side folds.
They have a rudder-like tail but seldom swim. Instead, they walk slowly along the stream bottom and spend most of their time hiding under large flat rocks on the bottom. They may spend days under a favorite rock, coming out at night in search of food. They're known to eat small fish and aquatic insects, but overwhelmingly prefer crayfish.
The hellbender tank is just one of the freshwater tanks in the Appalachian Rivers Aquarium. You'll get up close and personal with such inhabitants of our Appalachian waters as Spotted, Red, Blackberry and Shovel Nose Salamanders; Brown and Rainbow Trout; Mudcats; Channel Catfish, Yellow Perch; Bluegill; and a collection of local toads, frogs, turtles and crayfish.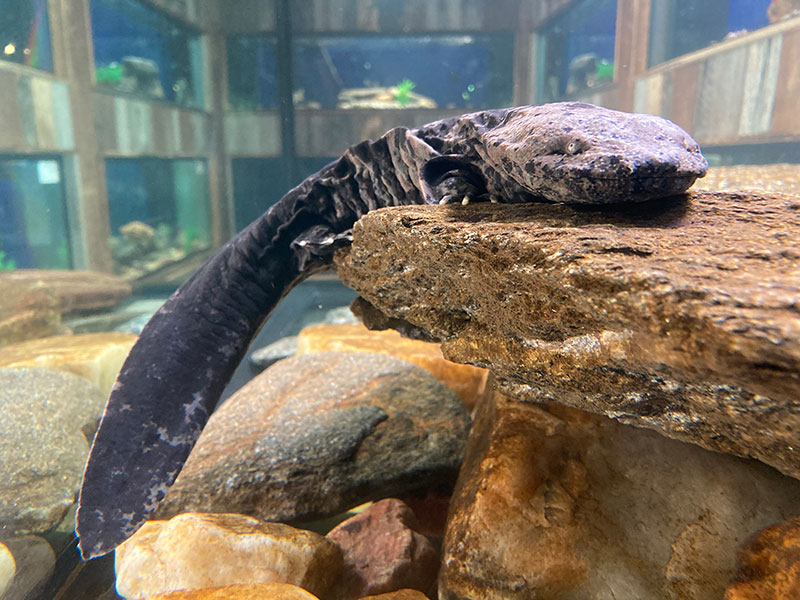 A Hellbender by any other name might be a Snot Otter, Ol' Lasagna Sides, Devil Dog, Grampus, Allegheny Alligator, Hell Cat, Thunder Lizard, Mud Devil, Water Dog, Walking Catfish, Spotted Water Gecko or a Leverian Water Newt.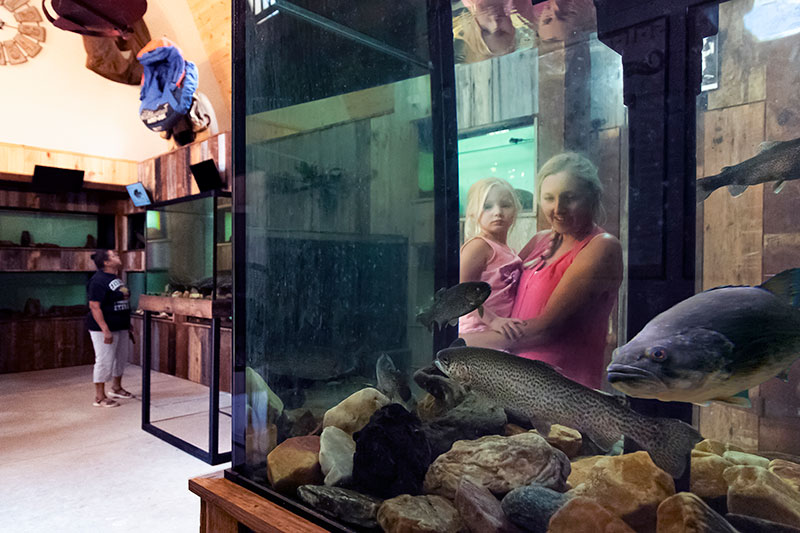 The Appalachian Rivers Aquarium, part of the Fly Fishing Museum of the Southern Appalachians, is at 117 Island Street at the Farmer's Market. Open Thursday and Friday, 9 am – 5 pm, and Saturdays, 10 am – 4 pm. Winter hours vary. Admission is free, donations are welcome.
Subscribe to Stories From The Smokies
Every few weeks, you'll receive an email previewing our latest blog post and a link to the online story. We hope you'll enjoy our stories, but you can unsubscribe at any time.