Scenic Mountain Drives
Cherohala Skyway
A Day Trip Along The Cherohala Skyway
The spectacular 51-mile skyway connects Hwy. 143 in Robbinsville, NC to Hwy.165 in Tellico Plains, TN, traveling through the Cherokee and Nantahala National Forests. The name comes from a combination of these two forests.
The road was opened in 1996 and is a National Scenic Byway with beautiful overlooks, hiking trails and a beautiful waterfall. The road is quite curvy so please maintain the 40 & 45 mph posted speed limits. Note, there are no restrooms, gas stations or places to eat on the Skyway.
Enjoy Beautiful Overlooks on the Skyway
Enjoy the view from 15 scenic overlooks or picnic areas. The highest point is the Santeetlah Overlook at 5,390 feet, which rivals the Blue Ridge Parkway elevations. A popular quarter-mile trail will take you to Hooper Bald; and a beautiful waterfall may be found close to the end in Tennessee: 90-foot Bald River Falls is about 5 miles off the Skyway (Forest Service Rd. 210 / Tellico River Road). More info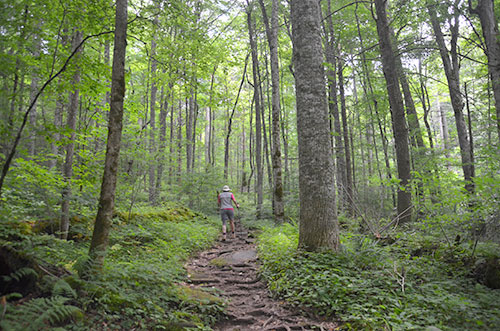 Cherohala side trip: The Joyce Kilmer Memorial Forest in NC. Turn off Hwy 143 at Santeetlah Gap junction, just before the start of the Skyway Road. It's about 2.5 miles to the entrance. The forest is home to large stands of virgin poplar trees – some more than 20 feet in circumference and 100 feet tall. A 2-mile trail loops through the giant trees. A restroom and picnic tables are located at the trailhead. More info
From Bryson City head west on US 74 to pick up NC Hwy 28 North. Look for a left turn on to NC 143 just past the Stecoah Community. Hwy 143 passes through Robbinsville and becomes the Skyway road. Approximate travel time from Bryson City to the start of the Skyway Road is approximately 1 hour.
There are several spots for lunch in Telleco Plains TN. The easiest return to Bryson City is to take the Skyway retracing your steps.