Cherokee Indian Reservation
Fishing
Trophy-size Trout
There are 30 miles of freestone streams on the Cherokee Indian Reservation that are privately stocked using the Tribe's own fish hatchery. No license is required to fish in Cherokee Reservation waters, however a tribal permit is required for each person 12 years of age and over, for streams and ponds.
Trophy Waters — A 2.2-mile portion of Raven Fork is set aside for catch-and-release fishing. This stretch, which runs north from where the Blue Ridge Parkway crosses Raven Fork, offers deep, inviting pools alongside riffles, runs, and pocket waters. A special permit is required.
The Tribe sponsors 4 tagged fish tournaments throughout the year, plus the popular Rumble in the Rhododendron fly fishing tournament in late fall. There is also an annual Children's Trout Derby held the first weekend in August.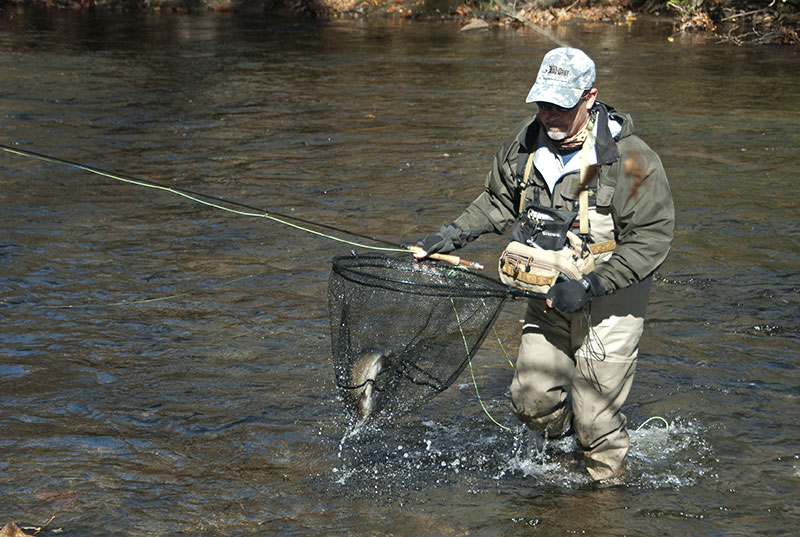 Oconaluftee & Raven Fork
The Oconaluftee River in Cherokee is a large-size freestone creek featuring brown trout, rainbows, brookies and palominos. It is stocked twice each week by the Tribe's hatchery. There is easy access along the entire length of the river. Cherokee maintains areas from which to access the river to fish, including an island park, handicap access locations, and numerous access points with ample parking.
Raven Fork as it flows through the Qualla Boundary is stocked twice each week with rainbow, brown and brook trout, Donaldson strain rainbow trout, and palomino trout. There is great roadside access and easy wading.
The Raven Fork / Trophy Trout Fly Fishing Only Section is home to the biggest trout in the Smokies. You can expect to catch rainbow, and brown trout that exceed 20 inches, some measuring in the mid-30-inch range. Oftentimes anglers fishing this section will catch the trout of a lifetime. Access is great, and wading is easy to moderate.
Permits
Regular Permit — No license is required to fish in Cherokee Reservation waters, however a tribal permit is required for each person 12 years of age and over, for streams and ponds. No other fishing permit or license is accepted. Children under 12 are allowed to fish when accompanied by a permitted adult. The cost is $10 per day; $17 for 2-day, $27 for 3-day, $47 for 5-day. A single season's permit is available for $250.
Catch-and-Release Special Use Permit for Trophy Waters — $25 for a 1-3 day permit, or $75 per year, with the purchase of a general tribal fishing permit. The Special Use Permit allows use of the catch-and-release area designated on Raven Fork. All general fishing regulations apply to this permit, as do the following Special Use Regulations within the catch-and-release area:
• Tackle is limited to fly rods, reels, and line with a maximum of 18 feet of leader material or mono-filament line attached.
• Only artificial flies and streamers constructed of natural or synthetic material on a single, barbless hook are permitted.
Only one single-hook fly per line is permitted.
Fishing with multiple flies attached to a single line (droppers) is permitted.
Click here for more information or to purchase a permit online.
Bryson City - Swain County
Chamber of Commerce
210 Main Street
P.O. Box 509
Bryson City, NC 28713
Karen Proctor
Executive Director
828-488-3681
877-472-1681
Free Travel Guide to the Smokies — Includes the Official All Aboard for the Great Smoky Mountains Railroad.
Sign up for our monthly travel news