Great Smoky Mountains National Park
Clingmans Dome
New: Parking Fees
Parking tags are required in the Great Smoky Mountains National Park. Three tag durations will be available for purchase for all vehicle sizes and types: Daily, $5; Weekly, $15; or Annual, $40. Tags may be purchased online, or on-site. Parking tags will NOT be required for motorists who pass through the area or who park for less than 15 minutes, or while parked at their designated campsite. Parking Program Info
Views From the Top of Old Smoky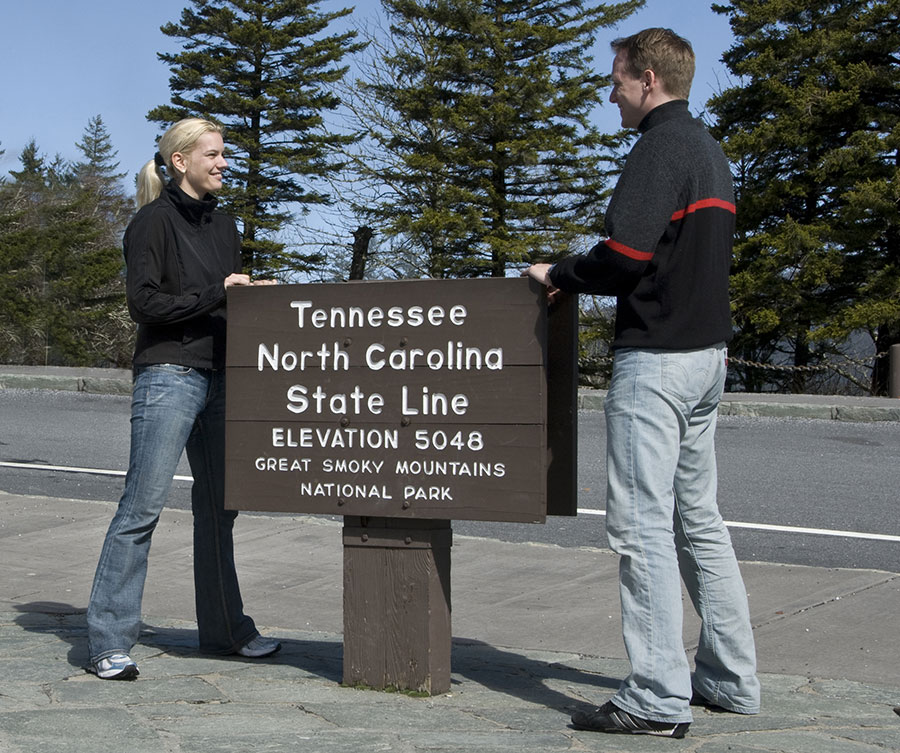 A visit to the Great Smoky Mountains National Park is not complete without a drive to the park's highest elevations, at Newfound Gap and Clingmans Dome.
The Newfound Gap overlook is on US 441 at the North Carolina – Tennessee state line. At 5,046 feet, the gap is the lowest driveable pass across the mountains – 3,000 above Bryson City and Cherokee. The drive from Cherokee is roughly 18 miles.
The centerpiece of the overlook is the Rockefeller Memorial, honoring a $5 million donation from the Rockefeller Foundation – funding which helped bring about the creation of the Great Smoky Mountains National Park in the '30s. Speaking from the monument, President Franklin Delano Roosevelt officially dedicated the park in 1940.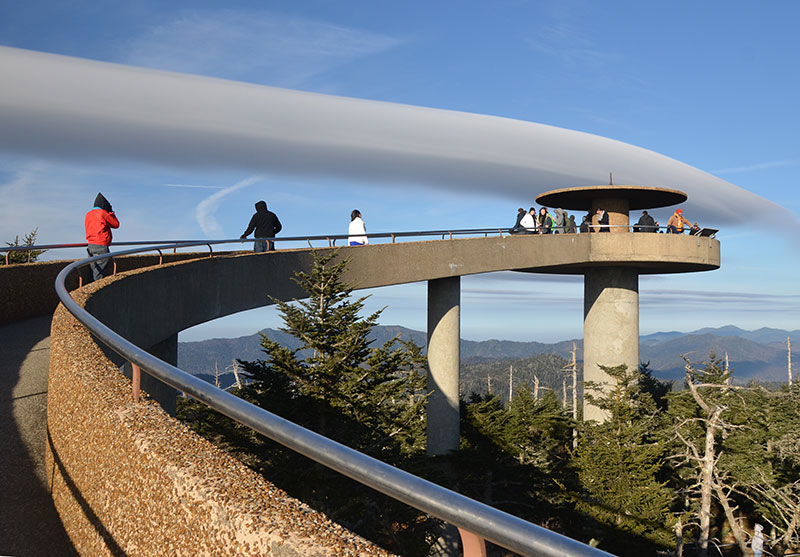 The Smokies' Highest Peak – Clingmans Dome
At 6,643 feet, Clingmans Dome is the highest peak in the Smokies and the third highest east of the Mississippi. From the parking lot, seven miles west of Newfound Gap, walk the steep half-mile path to the 54-foot observation tower for a 360-degree view of the Park. Sunrises and sunsets are spectacular. The Appalachian Trail crosses Clingmans Dome, marking the highest point along its 2,144-mile journey. The road to Clingmans Dome is normally closed from December 1 until April 1. Video
There is a Park Visitor Center and restrooms at the Clingmans Dome parking area. The trail to the tower is too steep to be wheelchair accessible. Pets and bicycles are not permitted on this or any other trails in the area.
Besides the trail to the summit, there are several trails that start on Clingmans Dome Road and parking area. The Appalachian Trail (AT) crosses Clingmans Dome, marking the highest point along its journey from Georgia to Maine. The Forney Ridge Trail leads to Andrews Bald, a high-elevation grassy bald.
Directions: Turn off Newfound Gap Road 0.1 mile south of Newfound Gap and follow the 7-mile-long Clingmans Dome Road to the large parking area at the end.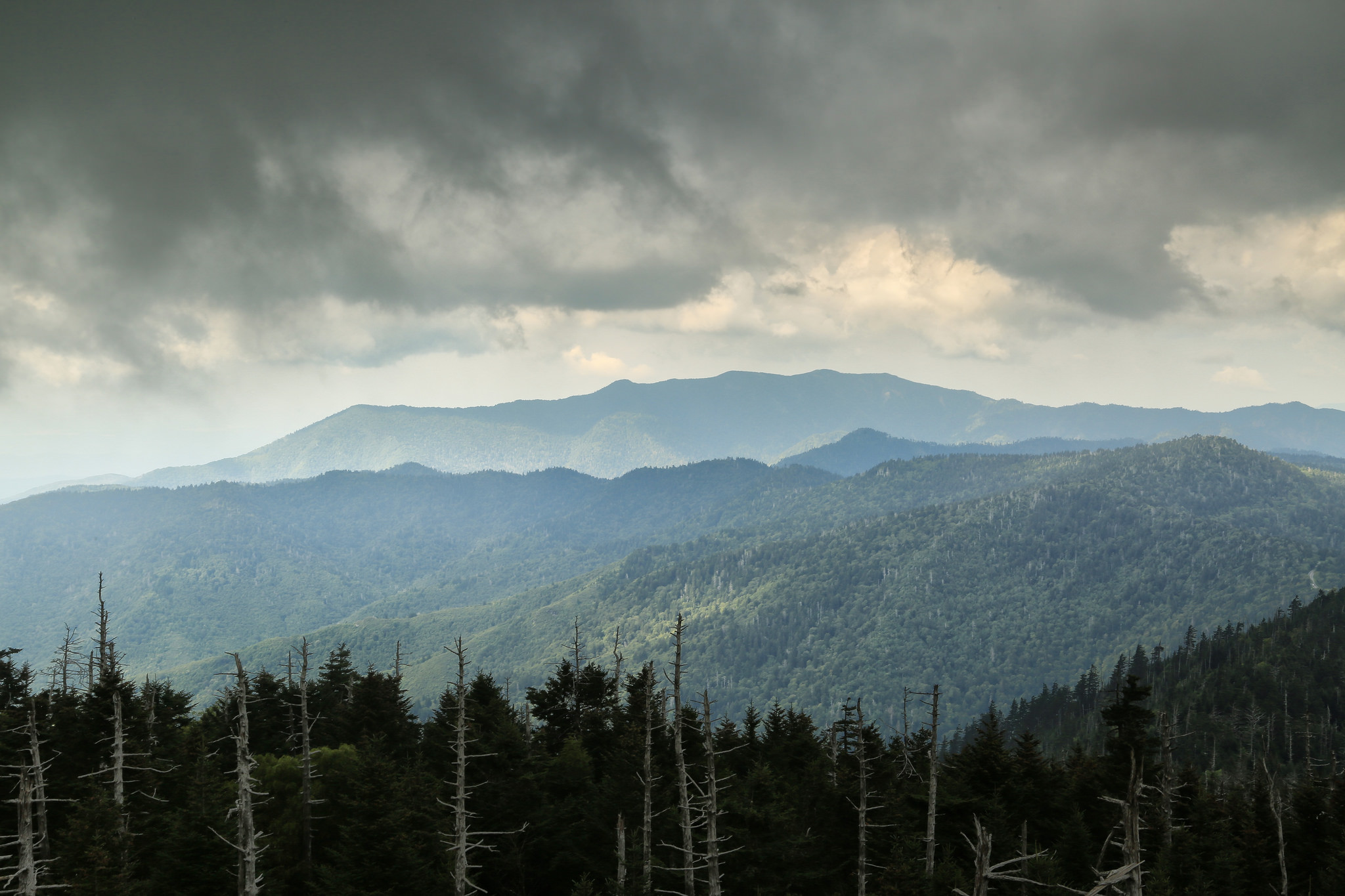 Clouds, precipitation, and cold temperatures are common at the highest elevations of the Smokies. Temperatures at Clingmans Dome can be 10–20 degrees Fahrenheit cooler than in the surrounding lowlands. In fact, the cool, wet conditions on the dome's summit make the spruce-fir forest that grows there a coniferous rainforest. Dress in layers and be sure to bring a jacket, even in summer.