Traveling is fun, but where you stay is just as important. In the Great Smoky Mountains of Bryson City, NC, there are a few places to spend the night that really stand out. You can sleep in a vintage camper, or a yurt or tiny house on a creek. If you like your stay served with a slice of unique, here are some of our favorite one-of-a-kind places to spend the night and create great memories for road trips and family vacations:
Gina's Great Getaways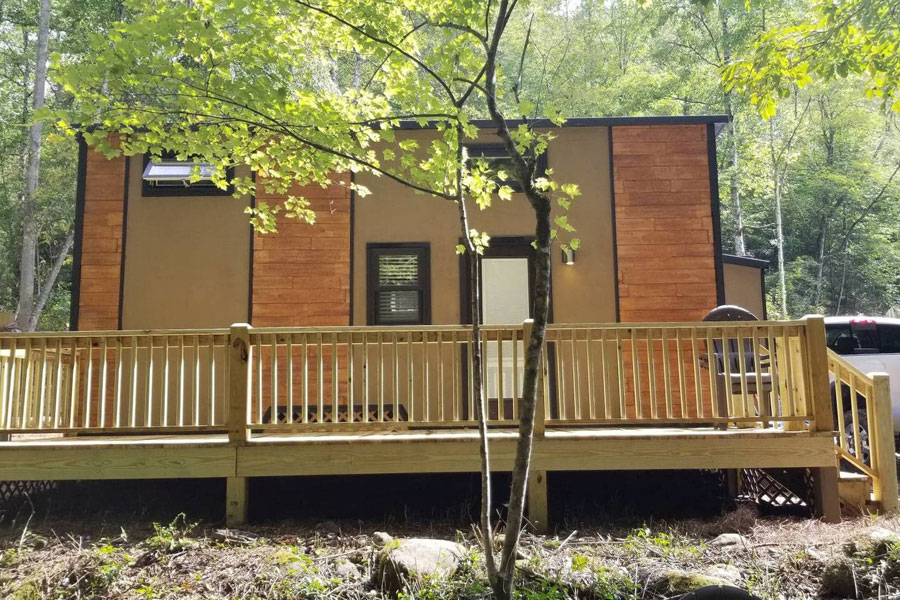 1965 Restored Vintage Camper (top) – Step back in time in this completely restored vintage camper with an added full bathroom that includes shower/tub and toilet. This camper has big charm for a small space, including the original light fixtures and cabinets. Have tea or coffee on the porch in the morning or relax in the hot tub.
Tiny Home (above) – A very welcoming vibe can make this guesthouse hard to leave! This modern tiny home has all the rare essentials normally not seen in a tiny home, including a hot tub, full size refrigerator, washer and dryer, bathroom with full size shower, queen-size bed and a convertible chaise/bed. This home is in a tranquil spot, just steps to a creek. It's only a mile from downtown Bryson City, and less than a mile from the entrance to the Great Smoky Mountains National Park and the Road to Nowhere!
Gorgeous Stays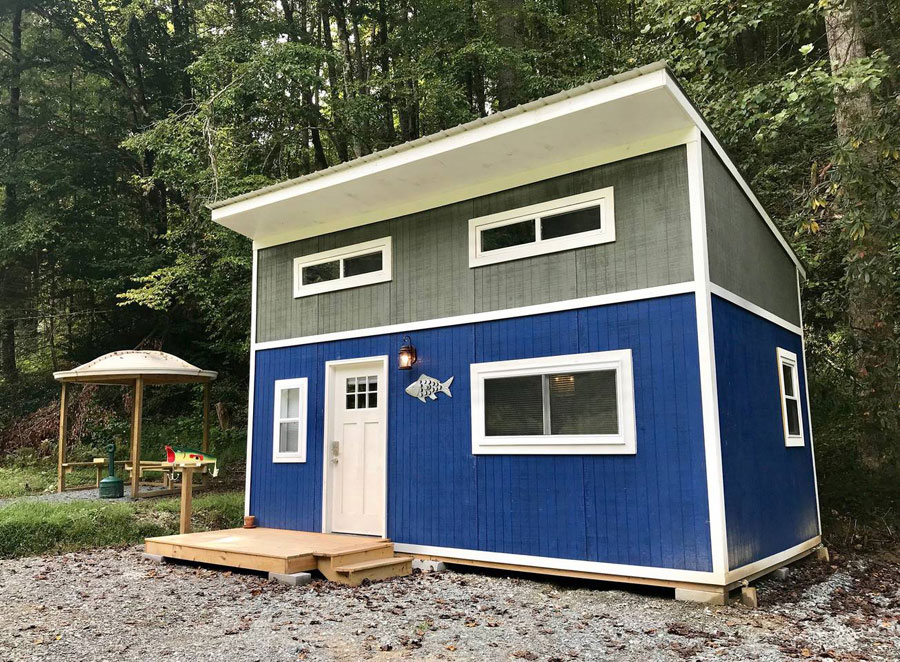 The tiny homes and glamping tents at Gorgeous Stays were inspired by the tiny house movement and the adventure of the great outdoors. Each of the individually themed accommodations are a cross between quirky and homey, and carefully crafted for comfort and uniqueness. This is a small retreat, so you'll never be overwhelmed by crowds. At night, cozy up by the community firepit, kick back and watch for shooting stars—or head into downtown Bryson City to listen to rising ones at various music venues.
Nantahala Tiny Homes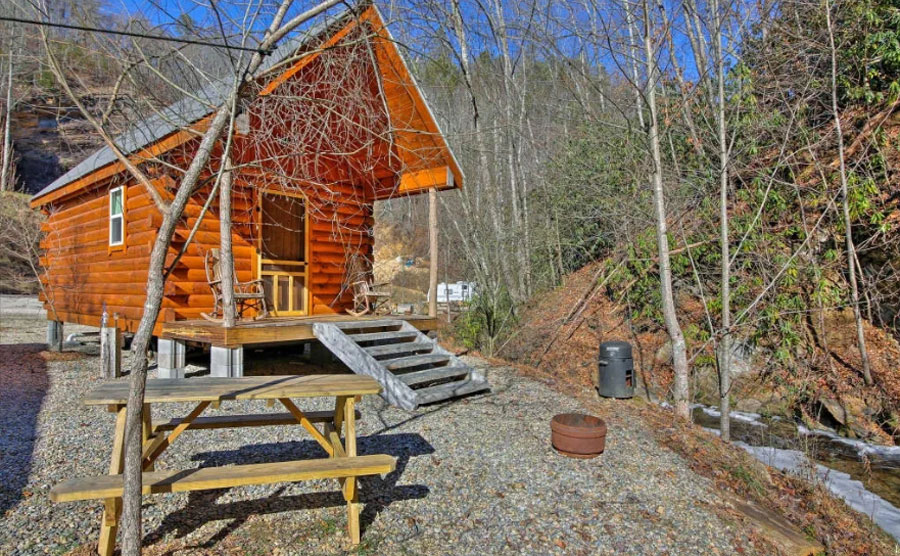 Wake up and fall asleep to the sounds of rushing water right outside the door of this pet-friendly tiny house. Cozy up at the fire pit and make s'mores for the ultimate creekside glamping experience. Soak up the sun and head to the nearby Nantahala Gorge for whitewater rafting, zipline, and riverside dining. 
Yurts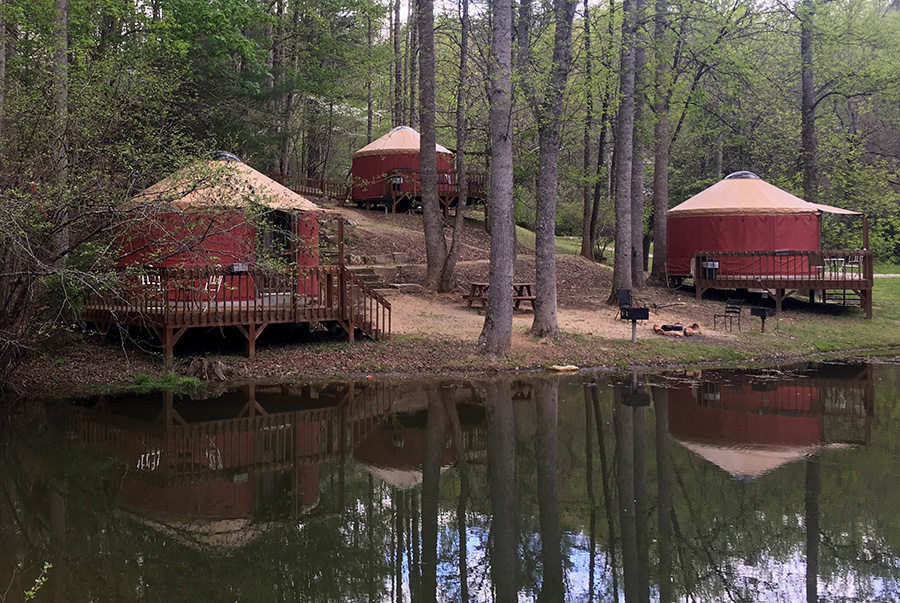 Glamping is made easy with a stay in Wildwater's Falling Waters Yurt Village. Eight yurts are scattered across 22 acres in the scenic mountains of Western North Carolina. Enjoy your private deck, comfy bed, and domed skylight to watch the stars. Relax to the sound of running water on the waterfall deck, enjoy the outdoor seating looking over the pond, and gather around the picnic tables, where you can plan your next adventure.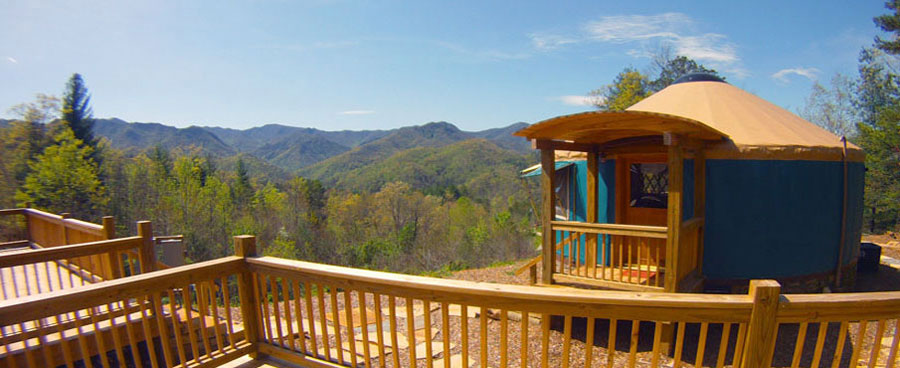 Make yourself at home at Sky Ridge Yurts, which are equipped with kitchens, comfy beds, central heat and air, slate walk-in showers, cable tv's, free Wi-Fi, and stunning mountain views from your own private deck. You may never even make it to any of the numerous area attractions!
You'll find more Bryson City lodging options in the Great Smokies lodging directory.
Subscribe to Stories From The Smokies
Every few weeks, you'll receive an email previewing our latest blog post and a link to the online story. We hope you'll enjoy our stories, but you can unsubscribe at any time.