Once the holidays have passed, Bryson City has the perfect remedy for those dreaded winter doldrums — a weekend escape to the North Carolina Smokies. And even though you may assume it's the 'off-season', Bryson City offers many ways to enjoy your Smoky Mountain getaway. Here are eight suggestions.
Tom Branch Falls – one of three beautiful waterfalls in the Deep Creek area of the Great Smoky Mountains National Park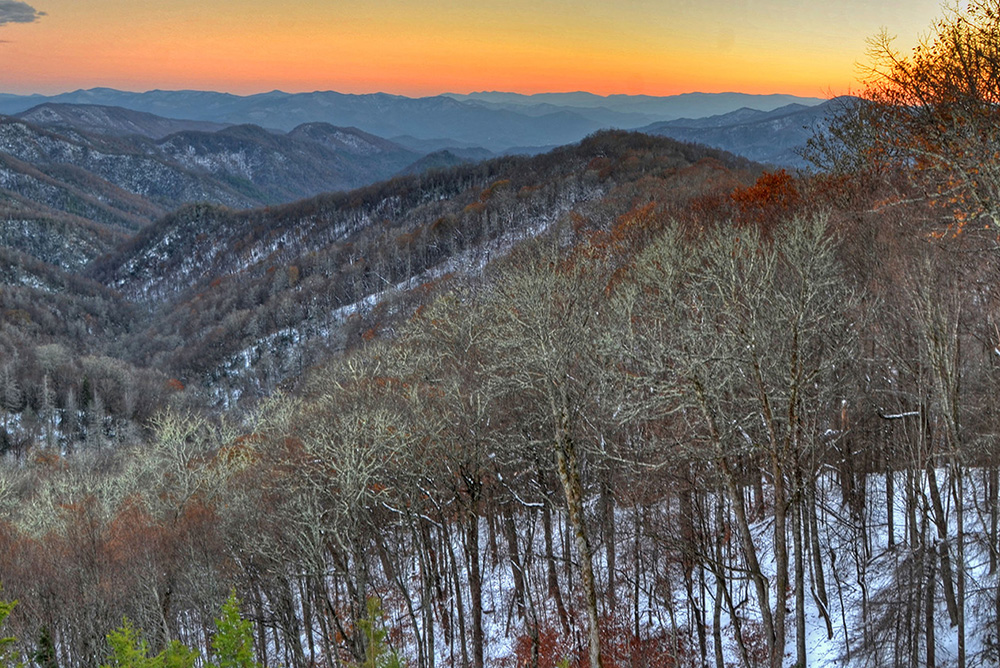 There are lots of scenic drives to choose from. Some follow waterways through rolling countryside while others take you to mountain peaks, like Newfound Gap in the Great Smoky Mountains National Park.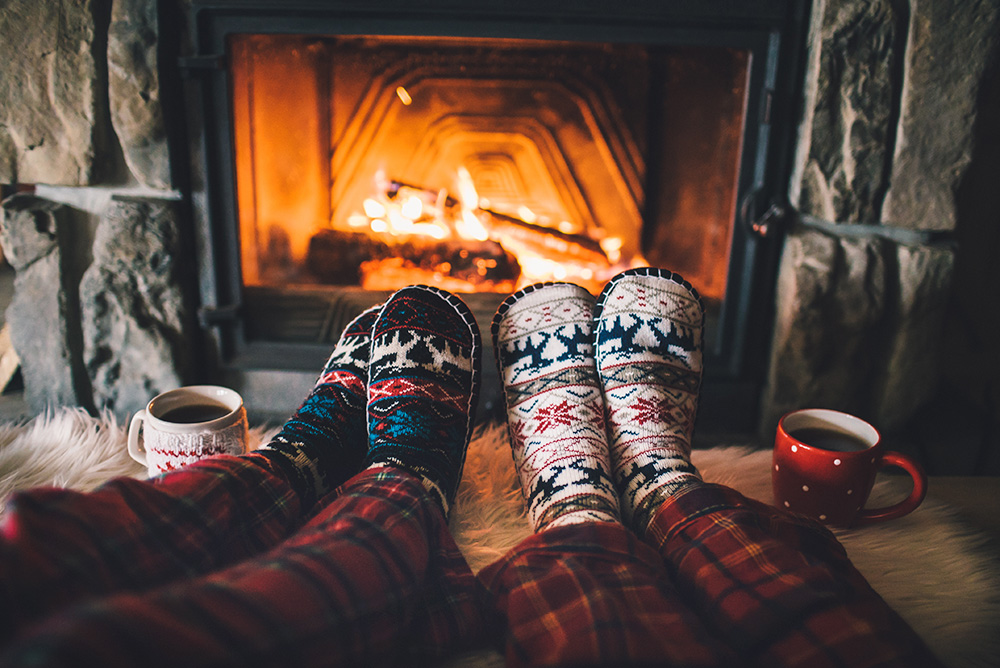 If your ideal mountain getaway is a romantic cottage or cabin with a fireplace and hot tub, our online lodging directory has dozens to choose from. You'll also find bed and breakfasts, hotels, motels, condos and lofts.
They're all described here
.
1 – Waterfall viewing – For starters, take a tour of Deep Creek's three gorgeous waterfalls. It's an easy 2.5 hike in the Great Smoky Mountains National Park just outside Bryson City. For two more nearby waterfalls, Cherokee's Mingo Falls and Soco Falls round out a great afternoon of natural beauty in the Smokies. Want more? Our regional waterfall tour will take you to some of the area's most beautiful cascades. You'll find waterfalls info and maps here. 
2. – Mountain Biking – The Bryson City area offers two all-season trail systems for off-road biking: The 42-mile network of single track trails at Tsali Recreation area and the newer 10.5 Fire Mountain Trails at nearby Cherokee. Maps and information are available at Bryson City bike shops and outfitters. 
3 – Hiking – You'll love winter hiking in the Smokies. There are fewer people on the trails, better views thru the leafless trees, and no bugs. Suggested lower elevation hikes include the Oconaluftee River Trail, Deep Creek, and the Goldmine Loop Trail where the Road to Nowhere ends. Higher elevation hikes include Kephart Prong, Charlies Bunion and the Noland Divide Trail to Lonesome Pine Overlook. Learn more about Bryson City hiking. 
4 – Bryson City's breweries and tap rooms offer indoor relaxation all winter, and are also within walking distance of each other. Mountain Layers Brewery has a winterized outdoor deck for mild afternoons overlooking downtown, and they frequently have a food truck onsite. Burger+Bar, Nantahala Brewing Company's own brewpub has dining options. Tsali Cycles and Bryson City Outdoors are outfitters with brewpubs. BCO has heated outdoor seating overlooking the crossroads of downtown, and they frequently bring in a food truck. More about Bryson City brews and breweries. 
5 – Family attractions in Bryson City are all within walking distance of each other. Three free options include the Fly Fishing Museum of the Southern Appalachians, the Swain County Heritage Museum and  our newest attraction – the  Appalachian Rivers Aquarium, which features native fish and amphibian species from our area.The Smoky Mountains Train Museum has limited hours, so call ahead if you plan to visit (800-872-4681 x 215).   Also take the 20-minute drive to Cherokee and visit the Museum of the Cherokee Indian where you can learn about their heroic efforts to preserve their land and culture. More about Bryson City museums and family attractions. 
6 – Dining – From mountain trout to freshly made pizza to delectable burgers and riverside dining with a view, Bryson City offers many options. Winter hours may vary so call first. When you're in town, stop by the Visitor Center in the old Swain County Courthouse (at the corner of Main and Everett Streets) which is open daily, and the staff will know which restaurants to recommend. Or visit our directory of Bryson City restaurants.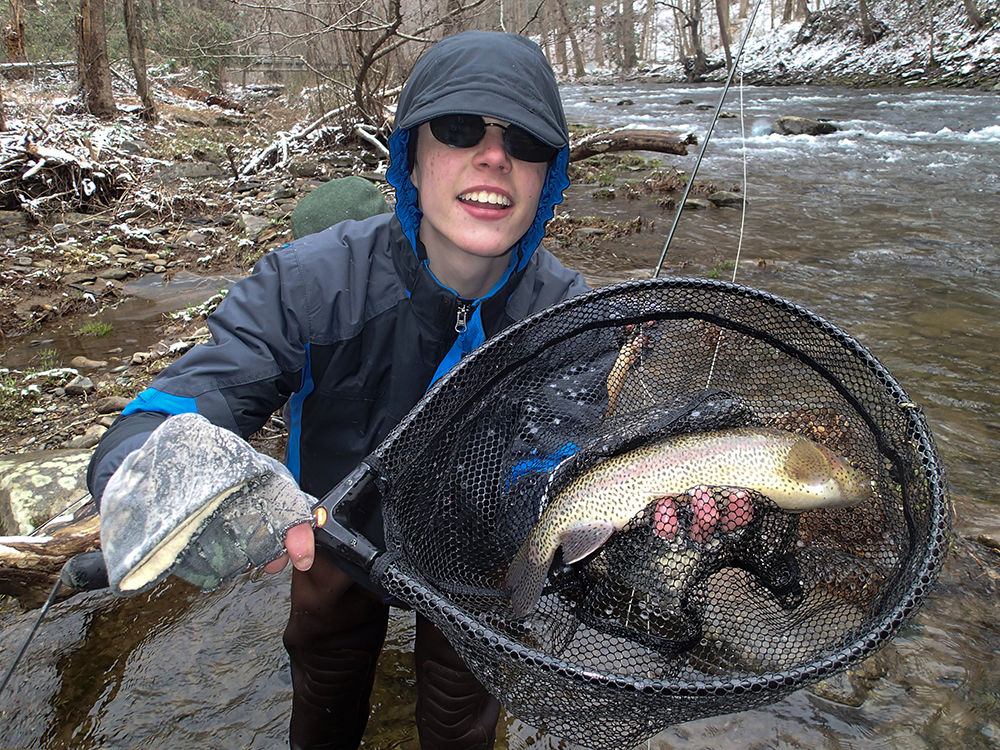 The fish are just as hungry in the winter.
7 – Fishing – 2.2 miles of the Tuckasegee River in downtown Bryson City is designated Delayed Harvest trout waters, and because DH winter fishing is mandated catch and release, the fish are just feeding and growing larger. Learn all about Bryson City fishing, and for added motivation, read our blog post The Sublime Pleasure of Winter Trout Fishing. 
8 – Scenic drives
Newfound Gap Road (U.S. 441) meanders through the Great Smoky Mountains National Park from Cherokee, NC to Gatlinburg, TN, with scenic overlooks, picnic areas, and hiking trailheads along the way.  This road is usually open all winter long, and you can

check its status here.



A drive along US-74 west will take you to the Nantahala River Gorge where you'll find riverside overlooks, outfitters, and the Nantahala Outdoor Center. Make a stop here for lunch or dinner at Rivers End Restaurant.

The "Hellbender 28" – There are few drives in America that can equal the views as you travel this beautiful byway along Fontana and Cheoah lakes, from Stecoah, NC to Deals Gap. Make sure to stop at Fontana Dam which you can drive or walk across. At 480 feet high, Fontana is the tallest dam east of the Rockies and has impressive views of both Fontana Lake and the Great Smoky Mountains National Park.

Drive the mile-high Cherohala Skyway, one of the most scenic drives in Blue Ridge Mountains. Many people compare it to the Blue Ridge Parkway, only with less traffic. Countless overlooks, hikes and picnic areas on this National Scenic Byway make this a must-see. Combine this drive with the Hellbender 28 by connecting via U.S. 129.

The Blue Ridge Parkway is located near the Cherokee entrance to the Great Smoky Mountains National Park. All or portions of "America's Favorite Drive" are often closed during the winter months, but will occasionally open if the weather stays consistently warm.

Check this real time map

.

Click or tap for more information on all

Bryson City area scenic drives.
Subscribe to Stories From The Smokies
Every few weeks, you'll receive an email previewing our latest blog post and a link to the online story. We hope you'll enjoy our stories, but you can unsubscribe at any time.