Great Smoky Mountains National Park
Mountain Farm Museum
New: Parking Fees
Parking tags are required in the Great Smoky Mountains National Park. Three tag durations will be available for purchase for all vehicle sizes and types: Daily, $5; Weekly, $15; or Annual, $40. Tags may be purchased online, or on-site. Parking tags will NOT be required for motorists who pass through the area or who park for less than 15 minutes, or while parked at their designated campsite. Parking Program Info
Historic Smoky Mountain Farm Museum
In a field behind the Oconaluftee Visitors Center and along the Oconaluftee River, the Park Service has recreated a late 19th century mountain farm with authentic log structures moved from their original locations throughout the National Park. One of the buildings, the John E. Davis farmhouse (shown), originally stood in the Indian Creek/Thomas Divide area north of Bryson City.
Other buildings include a barn, apple house, spring house, and a working blacksmith shop. To get a sense of how families may have lived 100 years ago, the farm also demonstrates historic gardening and agricultural practices, including livestock. The Park has a 30-minute self-guided walking tour audio guide for rental that covers keeping bees, vegetable gardening, and aspects of social life in the mountains.
You might spot some elk in the fields at the visitor center. Mid-late afternoons are the best times.
The easy, 1.5 mile (one-way) Oconaluftee River Trail begins at the mountain farm. It is stroller-accessible, bike and pet-friendly and follows the river to Cherokee, N.C.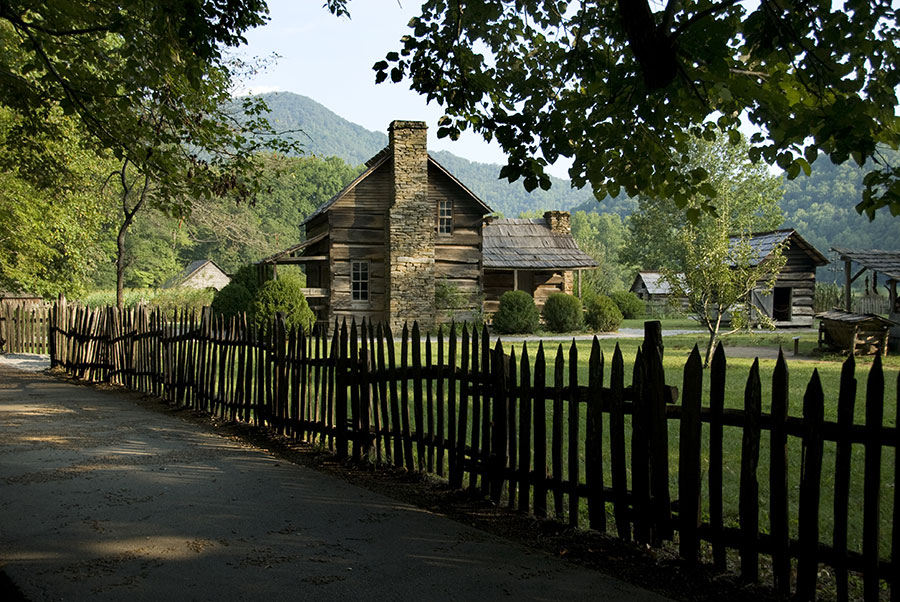 Watch this 9-minute video from the Great Smoky Mountains Association
Nearby Attractions
Two other popular Park attractions are nearby —
Elk Viewing
Elk can be seen almost any time of the year, grazing in the fields around the Oconaluftee Visitor Center and the Mountain Farm Museum. Best viewing is in the early morning and late afternoon, summer thru fall. Winter viewing is unpredictable.
Learn more about elk viewing in the Smokies on our 'Elk Watching' page