Great Smoky Mountains National Park
Oconaluftee Visitor Center
Oconaluftee Visitor Center
Located on US 441 two miles north of Cherokee at the Park entrance, the Oconaluftee Visitor Center is the Park's main welcome and information center for the North Carolina side. The center is staffed daily (except Christmas) by knowledgeable, helpful park rangers and volunteers.
A museum recounts the history of life in the Smokies from native Americans and early European settlement time periods through the creation of the National Park.
Also in the visitor center, you'll find maps, mechandise and helpful publications in the Great Smoky Mountains Association's bookstore and shop.
You might spot some elk in the fields at the visitor center. Mid-late afternoons are the best times.
The Park's Elk Herd
For years following the herd's 2001 reintroduction into the Great Smoky Mountains National Park, elk watching meant driving deep into the Cataloochee area of the park, about 1.5 hours from Bryson City. But these days, you're just as likely to see elk grazing in the fields next to the Oconaluftee Visitor Center or in the lowland fields along US 441 in the National Park or in the Job Corps Civilian Conservation Center just north of the visitor center. Mid to late afternoons are the best times.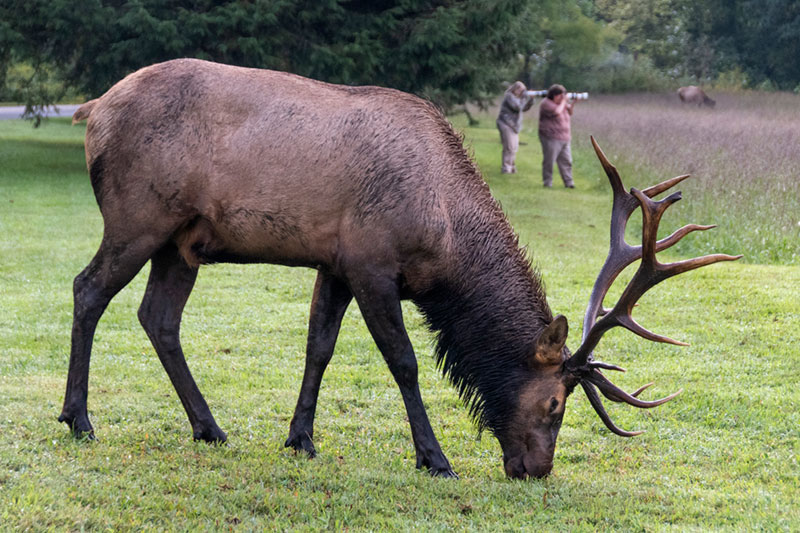 The Fall Rut
Hearing a bull elk's bugling during the fall rutting season is a memorable experience… that comes with a caution. While the animals are not frightened by humans, they are wild and potentially dangerous, particularly during mating season when the males aggressively guard their harems. Observers should stay at least 50 yards away and use binoculars or telephoto lens for a closer view.
River Trail
The easy, 1.5 mile (one-way) Oconaluftee River Trail begins near the rear of the visitor center. It is stroller-accessible, bike and pet-friendly and follows the river to Cherokee, N.C.
Educational Programs in the National Park
Oconaluftee Visitor Center The National Park has some great educational and fun programs, from spring through fall. Some are part of the Junior Ranger program, but many are for the whole family.
In summer there are daily programs for Junior Rangers, historic tours, night hikes, river rambles, guided waterfall hikes, wagon rides, storytelling and more.
Bryson City - Swain County
Chamber of Commerce
210 Main Street
P.O. Box 509
Bryson City, NC 28713
Karen Proctor Wilmot
Executive Director
800-867-9246 toll-free
828-488-3681 local
828-488-6858 fax
Free 2018 Travel Guide to the Smokies — Includes the Official 2018 All Aboard for the Great Smoky Mountains Railroad.