Great Smoky Mountains National Park
Oconaluftee Visitor Center
New: Parking Fees
Parking tags are required in the Great Smoky Mountains National Park. Three tag durations will be available for purchase for all vehicle sizes and types: Daily, $5; Weekly, $15; or Annual, $40. Tags may be purchased online, or on-site. Parking tags will NOT be required for motorists who pass through the area or who park for less than 15 minutes, or while parked at their designated campsite. Parking Program Info
Oconaluftee Visitor Center
Located on US 441 two miles north of Cherokee at the Park entrance, the Oconaluftee Visitor Center is the Park's main welcome and information center for the North Carolina side. The center is staffed daily (except Christmas) by knowledgeable, helpful park rangers and volunteers.
A museum recounts the history of life in the Smokies from native Americans and early European settlement time periods through the creation of the National Park.
Also in the visitor center, you'll find maps, merchandise and helpful publications in the Great Smoky Mountains Association's bookstore and shop.
You might spot some elk in the fields at the visitor center. Mid-late afternoons are the best times.
Elk Viewing
Elk can be seen almost any time of the year, grazing in the fields around the Oconaluftee Visitor Center and the Mountain Farm Museum. Best viewing is in the early morning and late afternoon, summer thru fall. Winter viewing is unpredictable.
Learn more about elk viewing in the Smokies on our 'Elk Watching' page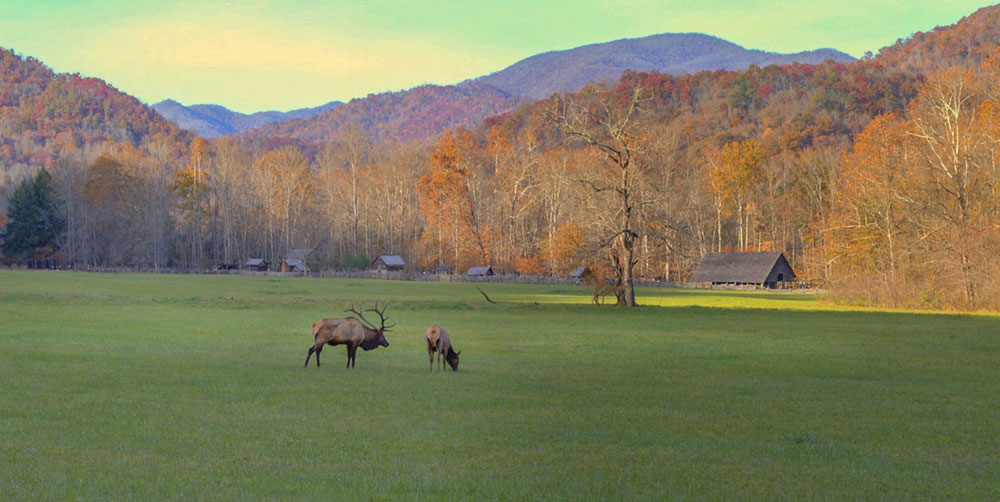 River Trail
The easy, 1.5 mile (one-way) Oconaluftee River Trail begins near the rear of the visitor center. It is stroller-accessible, bike and pet-friendly and follows the river to Cherokee, N.C.
Educational Programs in the National Park
Oconaluftee Visitor Center The National Park has some great educational and fun programs, from spring through fall. Some are part of the Junior Ranger program, but many are for the whole family.
In summer there are daily programs for Junior Rangers, historic tours, night hikes, river rambles, guided waterfall hikes, wagon rides, storytelling and more.