Great Smoky Mountains National Park
Smokemont
New: Parking Fees
Parking tags are required in the Great Smoky Mountains National Park. Three tag durations will be available for purchase for all vehicle sizes and types: Daily, $5; Weekly, $15; or Annual, $40. Tags may be purchased online, or on-site. Parking tags will NOT be required for motorists who pass through the area or who park for less than 15 minutes, or while parked at their designated campsite. Parking Program Info
The Old Lufty Baptist Church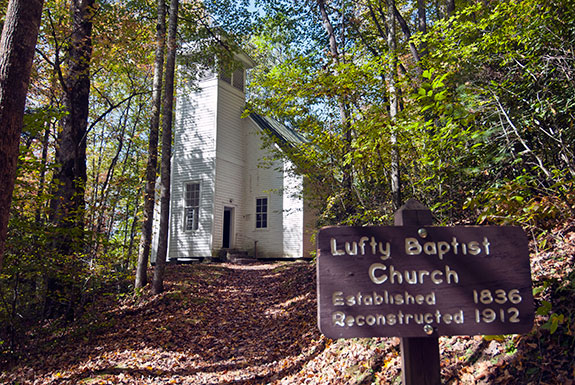 Three and a half miles north of the Oconaluftee Visitor Center,
a right turn into Smokemont will lead to a campground and horseback riding stables. But hidden in the trees there's also a white chapel, the lone remaining structure from a once-thriving Smokemont community. The Baptist church, sometimes referring to as Lufty Church (short for Oconaluftee) was formed around 1829, but the current building was erected in 1896. Like all of the Park's surviving old buildings, the church's doors are always open.
Originally called Bradleytown, the town of Smokemont became the headquarters for Champion Fibre Company's massive logging and sawmill operation in the early 1900s. At the time, Champion ran the world's largest paper mill in Canton, North Carolina, a mill that's still running today. Smokemont had homes, businesses, a school, the logging mill, commissary, a club house, and even a hotel. In the early 1920s, the sawmill produced 45,000 feet of lumber and pulp wood per day.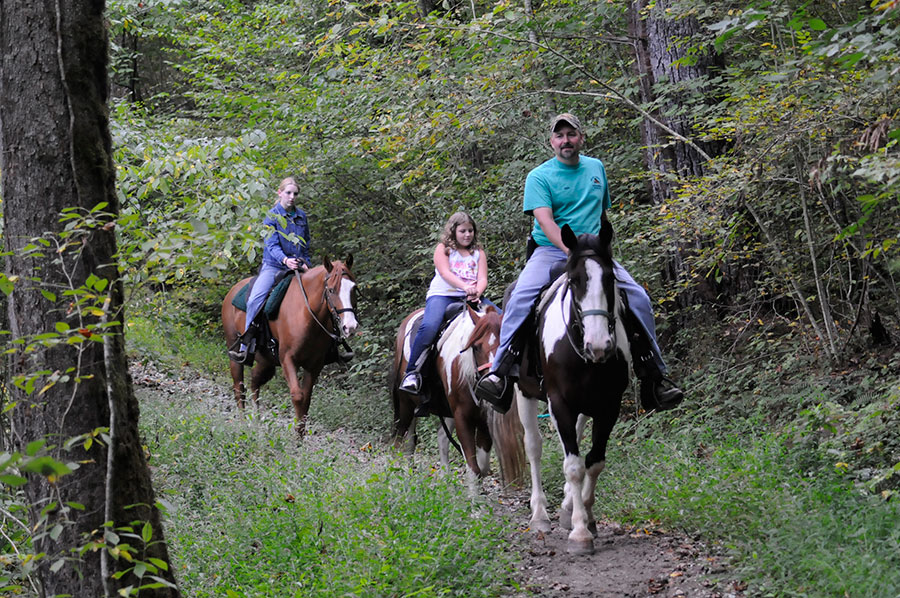 Smokemont Camping, Fishing, Hiking and Horseback Riding
The Smokemont area of the National Park includes a campground, hiking trails and horseback riding stables. The Oconaluftee River and Bradley Fork converge within the campground area, creating an oasis for trout fishing, swimming & more. At 2,200 feet, Smokemont provides a moderate climate, characterized by mild winters and hot, humid summers.
Campground –  a great outdoor experience with the added convenience of flush toilets, drinking water and sinks. There are campsites for tents as well as RVs available, and tent pads, grills and fire rings are provided. There is also a flat, grassy area that is perfect for group activities like football, volleyball, or simply soaking up the sun. A&B loops are open year round; May 15 – October 31, all sites are open by reservation.
Hiking / Fishing – along Bradley Fork Trail as it follows Bradley Fork for just over 1 mile. For even more water fun, take the Chasteen Creek Trail for 0.4 mile up to Chasteen Creek Cascades.
Horseback Riding – along trails in the National Park. Smokemont Riding Stable offers hourly and 4-hour rides, a waterfall ride and even wagon rides for the youngsters. More info