Like most national parks, Great Smoky Mountains NP has a kids 'Junior Ranger' program with activities and experiences unique to the Smokes. Dating back to the 1930s, Junior Rangers is a nationwide program where kids can learn about a park through self guided interactive activity booklets. The booklets contain information that helps them discover the importance of our parks including areas they might otherwise miss. After completing the specified activities, a child is awarded a patch, badge and/or certificate, unique to each park.
For kids and families visiting the Smokies, the Great Smoky Mountains Association recently published its new Junior Ranger Activity Guide, a 32-page interactive workbook packed full of fun activities designed to introduce kids of all ages to the Smokies. After completing at least five activities and five experiences outlined in the guide (with help from a parent or guardian), kids can be officially sworn in as Junior Rangers at any park visitor center.
Learning About The Park From The Park
"Junior Ranger books are a great way for visitors of all ages to learn about a park," said Jeanine Ferrence, Great Smoky Mountains National Park Cades Cove Resource Education Ranger. "We wanted this book to be a little different and tried to develop it to encourage visitors to not only explore the park, but have fun learning with and from each other at the same time. We hope it not only helps them discover something new about the Smokies, but also helps them create wonderful memories during their trip."
The Junior Ranger program helps kids of all ages gain a deeper appreciation of the national park through observation, learning and participation. Above: a field trip to Purchase Knob.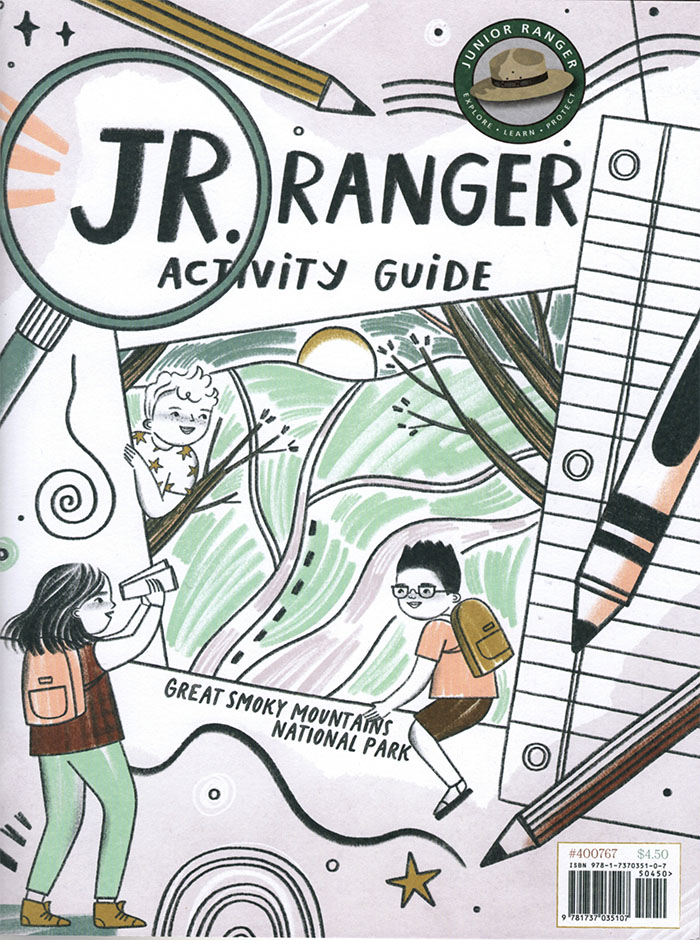 Activities and experiences outlined in the book include stargazing, making s'mores, taking a closer look at insects along the trail and finding a checklist of patterns in nature — from tree rings to moss-covered rocks. One page prompts children to listen to their surroundings and map out the forest's soundscape, and another offers a scavenger-hunt-style list of items to find while visiting the park's historic structures. Each activity offers a different educational, hands-on opportunity to engage with the many scientific, historical or cultural lessons to be learned in the park.
You're Never Too Old To Be a Junior Ranger
"We decided early on that we wanted our book to immerse visitors in exploring the park," Ferrence said. "We didn't want them to read about the Smokies; we wanted them to get busy looking and thinking and playing in the Smokies — and we wanted them to enjoy doing that with their family and friends. We were imagining intergenerational groups working on the book together and learning as much from each other as they did from the book. We don't want this book to be just for kids. If a visitor wants to learn about the park, we want them to have fun participating in the program. We want to swear them in as Junior Rangers when they're done. There's no age limit on learning."
Connecting Future Junior Rangers Through Digital Activities
In response to the COVID-19 pandemic, the Great Smoky Mountains National Park expanded its Junior Rangers program to include the SmokiEEEs @ Home educational website. Through dozens of videos, the site connects students to the park from their own homes and communities. The site includes Park Ranger-led adventures, virtual experiences at Great Smoky Mountains Institute at Tremont, educational resources and fun activities from park partner programs and GSMNP's Parks As Classrooms.
Featuring illustrations by Jesse White, the 9-by-12-inch Junior Ranger Activity Guide was developed by National Park Service staff at Great Smoky Mountains National Park with support from Great Smoky Mountains Association and assistance from the Eastern Band of Cherokee Indians Cherokee Speakers Council. It serves as the official guide to the Junior Ranger program at Great Smoky Mountains National Park. The book is available for $4.50 in the park's visitor center bookstores and at GSMA's online store at smokiesinformation.org.