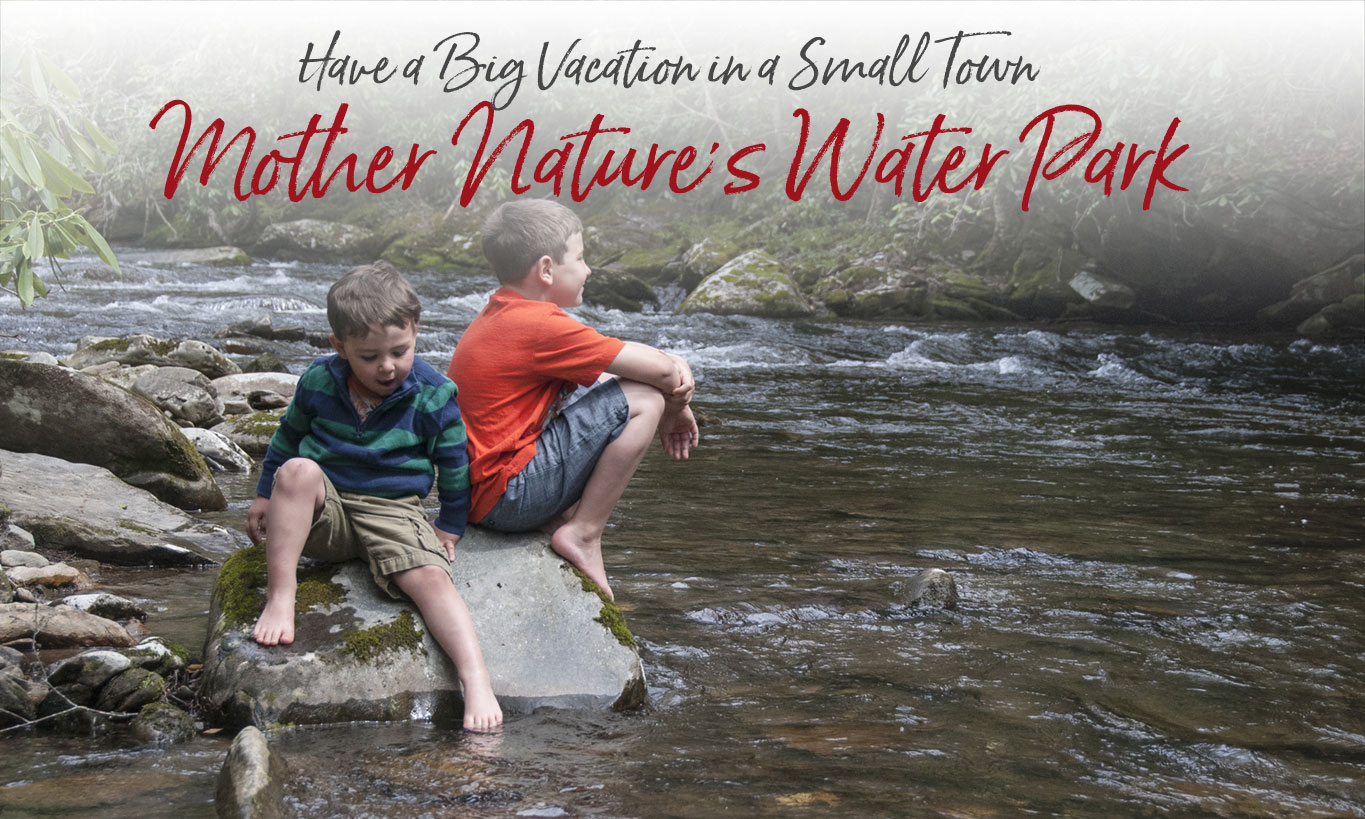 Nowhere Else in the Smokies Will You Find
As Many Ways To Enjoy Water
With our above average annual rainfall, the Great Smoky Mountains enjoys an abundance of water. Throughout the area, you'll find picturesque mountain streams, creeks, rivers and waterfalls.
But only around Bryson City NC will you find everything from mountain cascades to whitewater rivers to the mighty Fontana Lake, and all the activities related to each — fishing, tubing, swimming, rafting, kayaking, boating, paddleboarding or simply enjoying the beauty from a mountain trail.
Here's just a sampling of affordable family vacation ideas for enjoying Mother Nature's Water Park – all around Bryson City, North Carolina.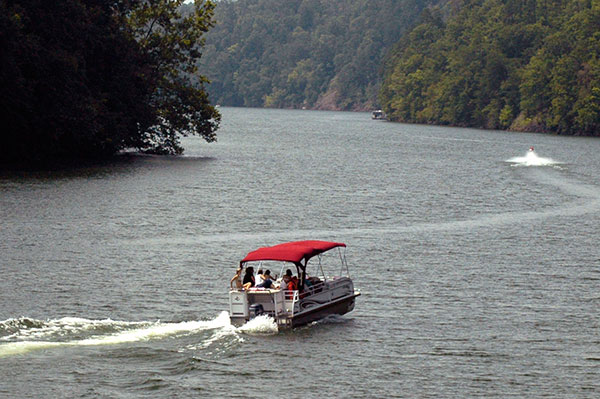 Boating
— Fontana Lake has been called the 'best-kept secret" in the Smokies, a 35-mile long lake, largely undeveloped because much of its shoreline is either National Forest or the Great Smoky Mountains National Park. Boat rentals are available at several marinas, and public boat ramps are available for boat owners. For more information, visit our
Boating
page.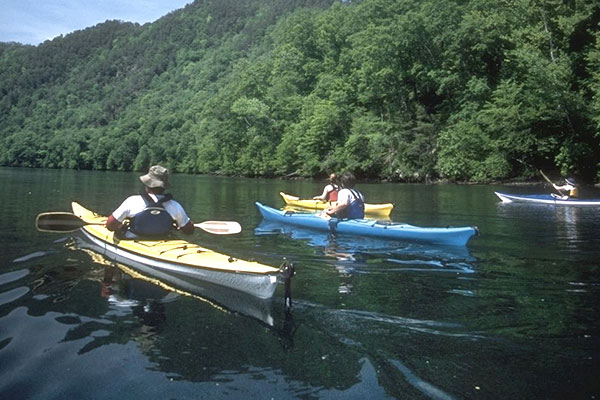 Lake Kayaking
— Best-known for whitewater kayaking, the North Carolina Smokies also offers lake kayaking on two scenic bodies of water — Fontana Lake and Cheoah Lake. For a list of outfitters, visit our
Kayaking
page.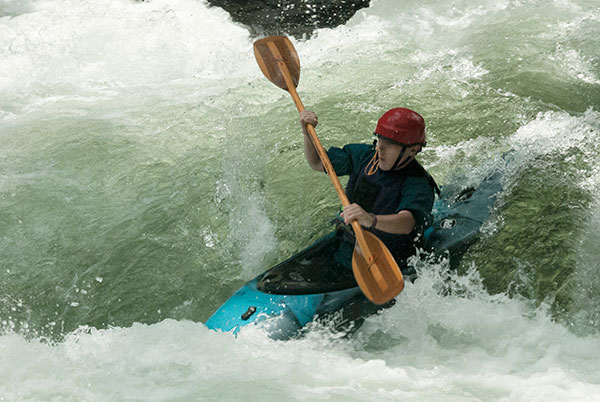 Whitewater Kayaking
— The Nantahala is one of the Nation's premier kayaking venues, a river where Olympic paddlers train and national kayaking competitions are held each year, and our Championship Wave, which is the site of international competition. For kayakers, it's a free park and play area. For a list of outfitters, visit our
Kayaking
page.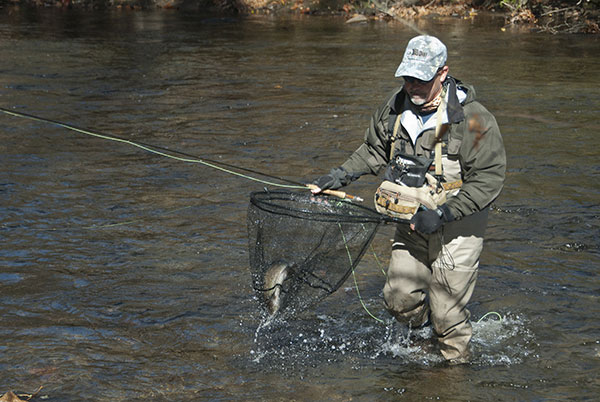 Mountain Trout Fishing
— The streams and rivers throughout the Smokies offer an abundance of native brook trout, rainbows and brown trout. The most popular streams are in the Great Smoky Mountains National Park, the Cherokee Indian Reservation and the Nantahala River Gorge. More information on our
Fishing
page and our
Fishing website
.
Stillwater Fishing
— With depths of over 400 feet, Fontana Lake is a habitat for many northern fish such as walleye, muskie and smallmouth bass. More information on our
Fishing
page.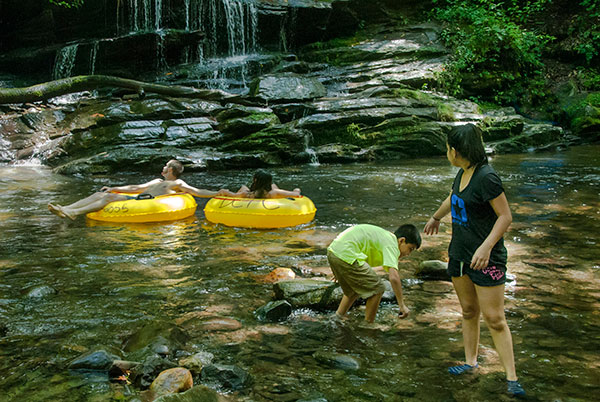 Tubing
— For generations, families have been coming back to Deep Creek to enjoy tubing in its swift, cool mountain waters. Described as "Nature's Best Water Ride", the mile-long Deep Creek course is naturally divided into two sections — an adventurous "whitewater" section and a wider, more easy-going section. Also, in Cherokee, several stores rent tubes for floating down the Oconaluftee River. For more information, visit our
Tubing
page.
Whitewater Rafting
— Located about a dozen miles west of Bryson City on US 19/74, the scenic Nantahala River ranks among the most popular whitewater rafting rivers in the country. A perfect combination of exciting whitewater and placid pools, the Nantahala is a great introduction to the sport of whitewater paddling. For more information, visit our
Whitewater Rafting
page.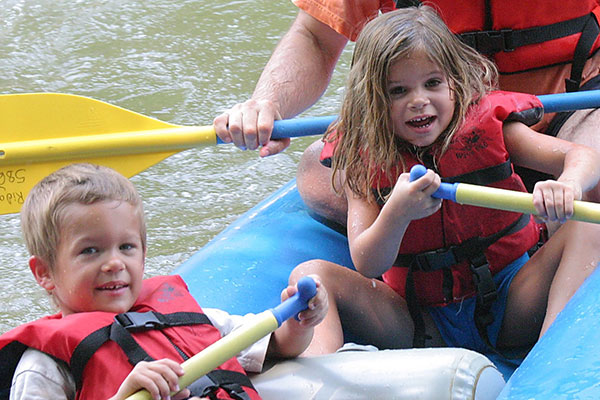 Family Rafting
— If your children are too young for the Nantahala, try the Tuckasegee River. With its Class I and II rapids, Tuckasegee rafting trips provide great outdoor entertainment for the entire family. You'll find several rafting outfitters listed on our
Whitewater Rafting
page.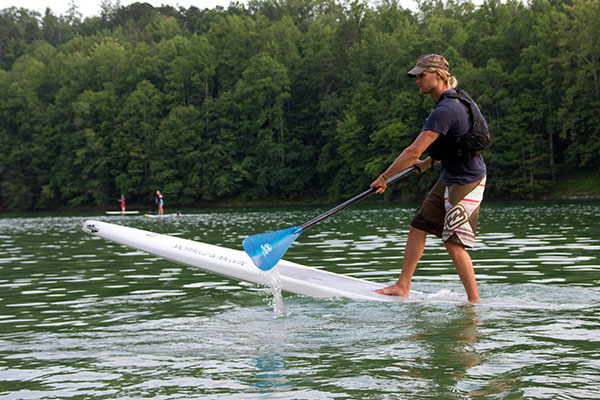 Stand-Up Paddleboarding
— Here in the Smoky Mountains of Western North Carolina we paddleboard on the placid water of Fontana Lake. A favorite spot – the finger lake area – is easy to access and there are no boats around to send wakes your way. Paddleboarding is a great way to strengthen your core and improve your balance, while you have an enjoyable time in the outdoors. Check out our
Paddleboarding
page.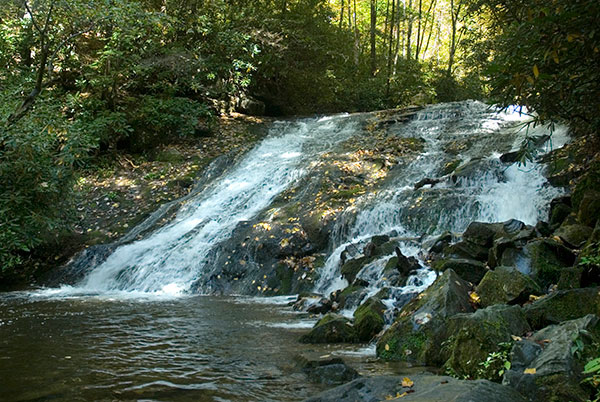 Waterfalls
— Three waterfalls can be seen on a relatively easy walk through the Deep Creek area of the Great Smoky Mountains National Park – Tom Branch, Juney Whank and Indian Creek Falls. Two others — Mingo Falls and Soco Falls — are in Cherokee. For more information, visit our
Waterfalls
page.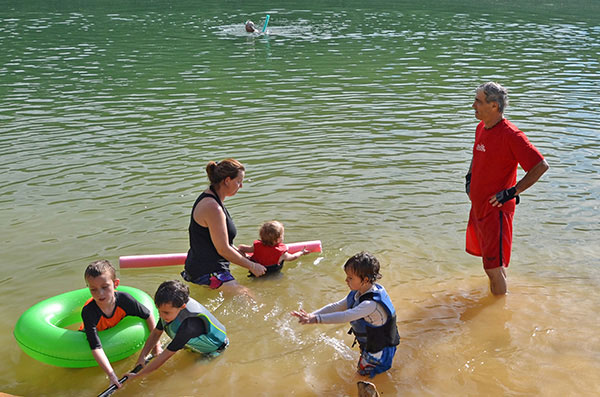 Freshwater Swimming
— Swimming in a cool freshwater creek or river is a unique mountain experience. At Deep Creek, at the end of the "whitewater" tubing section, there's a popular swimming hole (header photo). At Cherokee's Island Park, the wide, shallow section of the Oconaluftee River is ideal for small children. And at the "finger lakes" section of Lake Fontana (near the US 74 / Hwy 28 intersection) there's a popular "beach". Keep in mind that all these freshwater swimming sites are "swim at your own risk." There are no lifeguards.
Swimming Pool — If you prefer a public swimming pool, the Swain County Recreation pool is open during the summer months.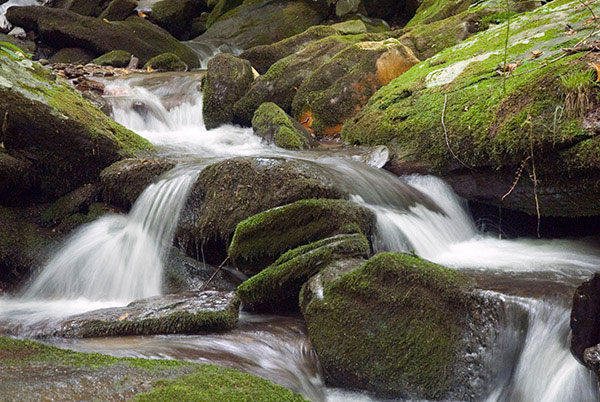 Scenic Mountain Cascades
— Many of the roads and trails throughout the Smokies follow mountain rivers and streams, where even the smallest cascade is a natural work of art.