Ever since the first furrow was plowed in 1980, Jeff Darnell's 100-acre wholesale farm has supplied regional grocers with such in-season fruits and vegetables as strawberries, tomatoes, onions, sweet corn, beans, peppers and blackberries.
Early on, the most visible part of the Darnell farm was the open-air produce stand on the banks of the Tuckasegee river east of town. While popular with the locals, it went largely unnoticed by visitors. That is, until the second generation of Darnells got serious about agri-tourism around 2015.
With winning personalities and a passion for agriculture, siblings Nate Darnell and Afton Roberts (above) embraced social media and soon became the public face of the Darnells' refreshingly un-corporate "family farm".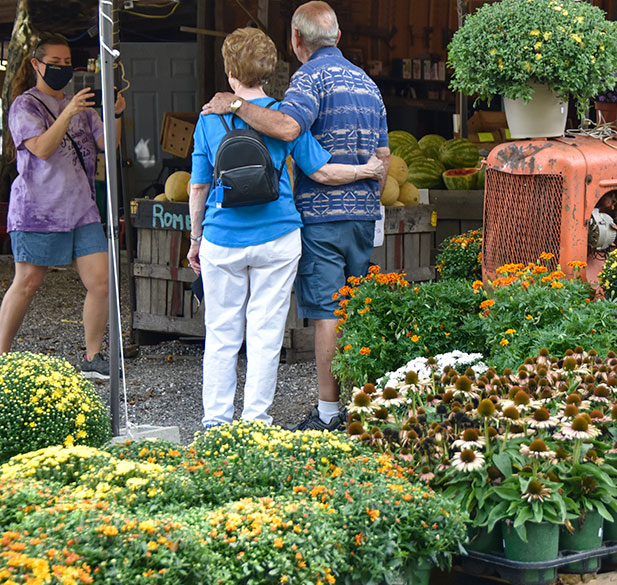 One of many Darnell photo ops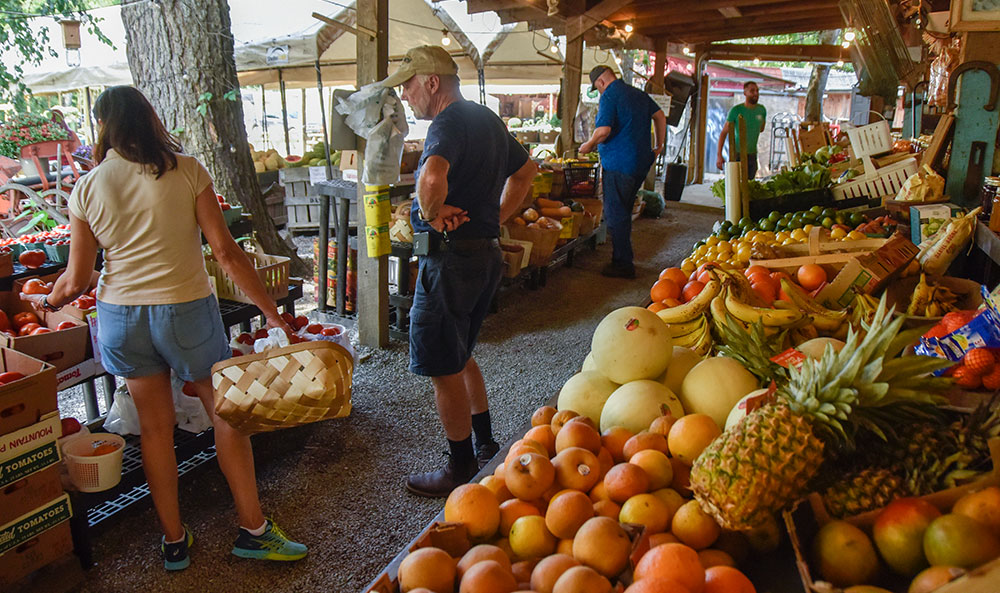 With Nate focusing on the farm and wholesale distribution, Afton turned her attention to marketing. She transformed the produce stand into an expanded retail Farmers Market with online ordering, drive-through pickup and home delivery – services that were greatly welcomed during last year's covid quarantine.
For many, Darnell Farms has become a family outing spot where they can shop, picnic or fish while the kids enjoy the playground. And everyone can enjoy a DreamWhip, the frozen concoction of ice cream and seasonal fruit that Afton dreamed up after purchasing a second-hand soft-serve ice cream machine.
A big part of the Darnell experience is learning about farming. Educational tours about farm life and farming methods are offered year-around and include the history of the Darnell farm land which has ties to the Cherokees. The tour continues on Nate the Farmer's YouTube channel, where Nate regularly takes viewers into the fields to learn about family farming first-hand.
Each year, the Darnells put on several seasonal festivals including the May "Strawberry Jam Bluegrass Fest", the July "Sweet Corn Festival" and the "Plow Day and Harvest Festival" in late October. Yet in reality, all of Fall is a festival at Darnell Farms.
Beginning September 22nd, Darnell will kick off their Annual Fall Festivities which include:
A mile-long scenic hayride to the Pumpkin Patch where kids can pick a real pumpkin.

Darnell's 2021 Corn Maze – 7 acres of densely planted corn, cut into a custom design by Nate The Farmer.

Apple Cider making demonstrations

Pumpkin Painting Booths

Face Painting Booths

Outdoor Movies

Apple Cider Donuts

Fresh Made Pies

Pumpkin Pie and Caramel Apple DreamWhips, along with new flavors for the 2021 season.
Times: Darnell's Fall Festivities are open Wednesday thru Sunday from 11 to 6 through October. Hayrides will continue through Thanksgiving weekend. Make reservations a DarnellFarms.com.
Darnell Farms is open year around: 9 AM – 7:00 PM: April thru October. Winter hours: 9 AM – 6:00 PM (weather permitting – check our Facebook page or call), (Closed Thanksgiving, Christmas Eve, Christmas Day and New Years Day)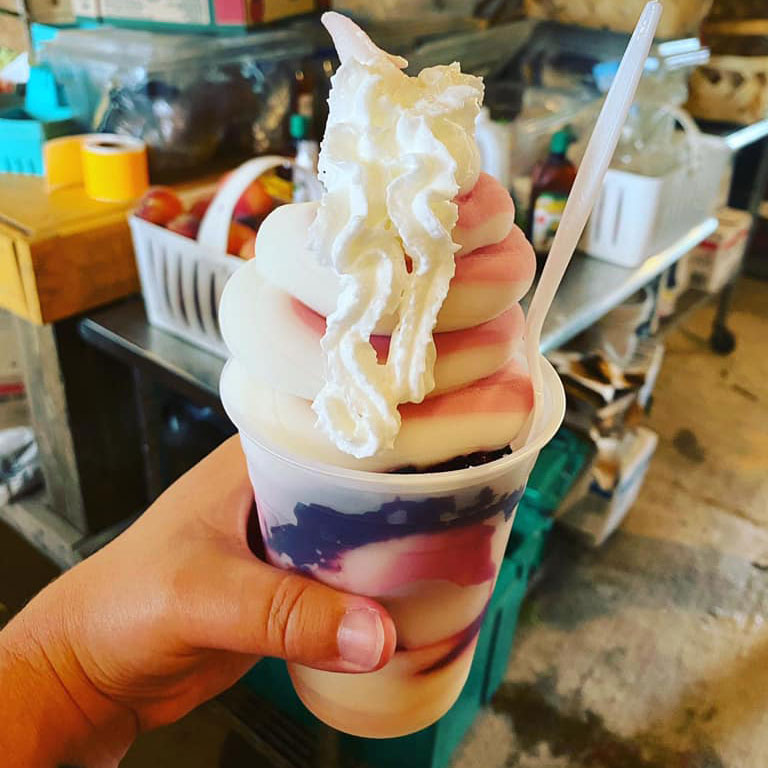 People drive from miles around to enjoy a Darnell Farms DreamWhip
A Love of Music
Attend one of Darnell's events, especially one of their festivals, and you're bound to hear traditional Appalachian music performed live on the bandstand. It may be one of the area's talented bluegrass ensembles and, more often than not, there may be a Darnell joining in. Jeff, Afton and Nate are all talented musicians who have been performing together most of their lives.
All in the Family
Just as Afton and Nate learned farming as children helping with chores around the farm, it's now their children — the third generation of Darnells — who can be seen helping and learning the family business.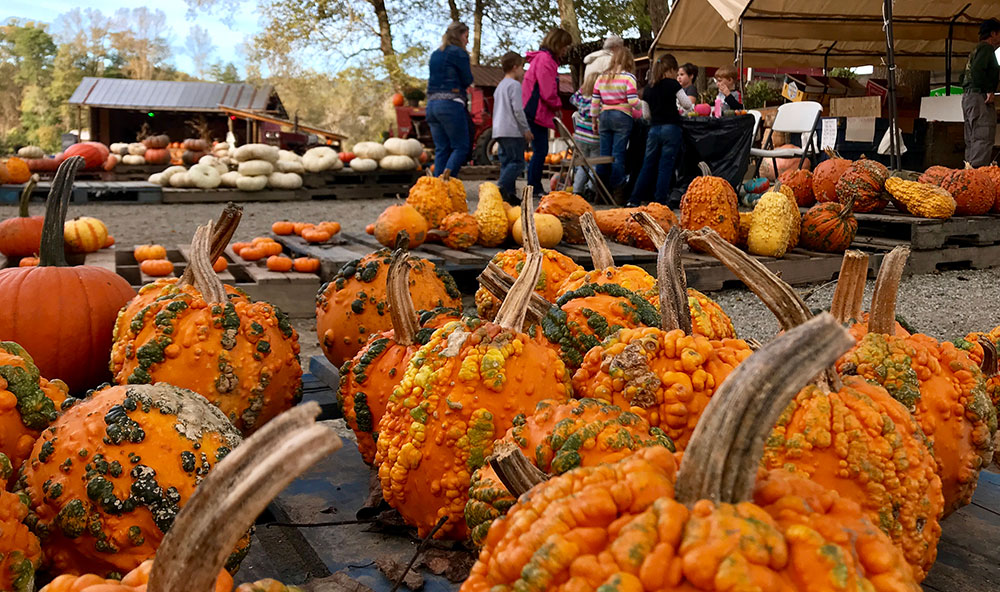 Subscribe to Stories From The Smokies
Every few weeks, you'll receive an email previewing our latest blog post and a link to the online story. We hope you'll enjoy our stories, but you can unsubscribe at any time.