Scenic Mountain Drives
The Dragon Area
The Dragon & Other Curvy Roads Great For Motorcycles and Minis
People come from all over the world to ride the curvy roads of Western North Carolina, and you won't find anything curvier than US Hwy 129, called 'The Dragon.' To reach this area from Bryson City, drive West on US 19/74, then follow NC 28N to the Deal's Gap, intersection with US 129, which is the start of "The Dragon.
Three short side trips include NC Highway 28 South; Fontana Dam, which you can drive across; and Cheoah Dam, used in the movie "The Fugitive."
IN OUR BLOG
A "great escape" mountain road trip to Western North Carolina's signature lakes, rivers and dams.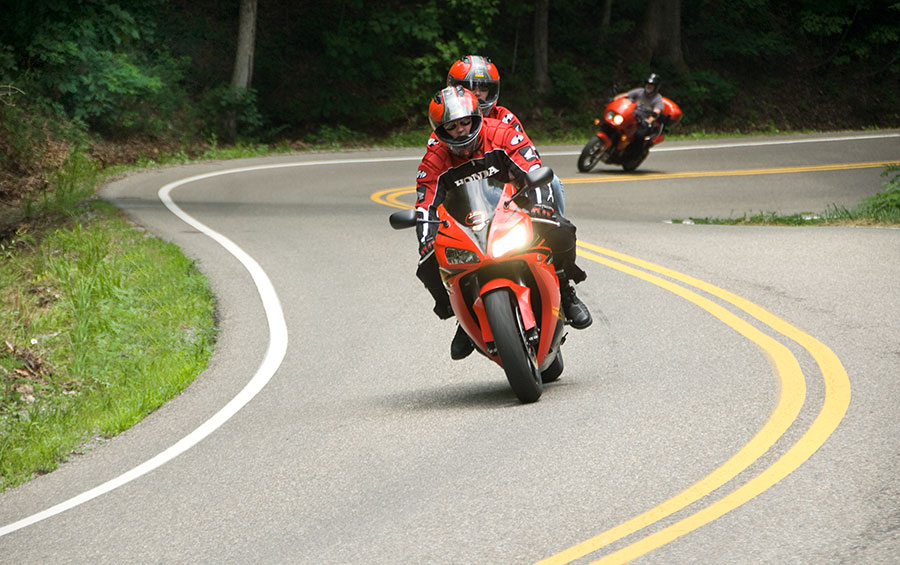 Taming 'The Dragon'
Deal's Gap (The Dragon) — US Highway 129, connecting Western North Carolina with East Tennessee, is world-famous among motorcyclists and sports car drivers, for its eleven-mile section with 318 continuous curves. Riding The Dragon at Deals Gap you closely follow an old Indian trail from Graham County NC to Fort Loudon TN. Take a spin through "Gravity Cavity", "Pig Pens Bend", and "Rebels Revenge" with beautiful views of the Cheoah River, past Calderwood Lake along the way to Chilhowee Lake in Tennessee. Deal's Gap is about 1.25 hours from Bryson City.
Side Trips on the Way
Fontana Dam / NC Hwy 28 North— You pick up US Highway 28 North just west of Bryson City. Not one mile down 28 is an expansive scenic overlook looking northeast towards Clingmans Dome. You wind through the small hamlet of Stecoah and then through a canopy of green woods to Fontana Dam (about 24 miles).
The next 8 miles – known as the "Hellbender 28" – offers beautiful views along the shoreline of Cheoah Lake before reaching US 129 and the curvy roads of "The Dragon".  More info • History PDF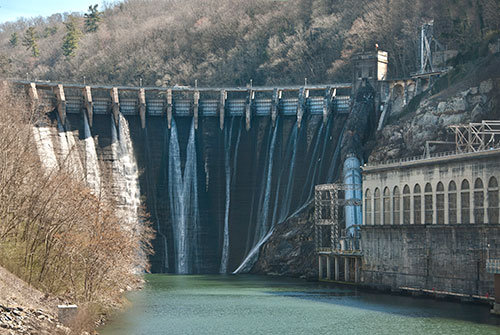 Cheoah Dam – Hwy 129 between Deal's Gap and Robbinsville. If you saw the 1993 movie "The Fugitive" you'll recognize Cheoah Dam where a key scene in the movie was filmed. The Dam was build between 1916 and 1919 by ALCOA. You'll be riding right along the Cheoah River, and if you're lucky you'll see some whitewater rafters. It's nine miles of exciting paddling for experienced paddlers.
NC Highway 28 South – 21-mile ride between US 19/74 just west of Bryson City and Franklin NC is twisty on the top end near Bryson City.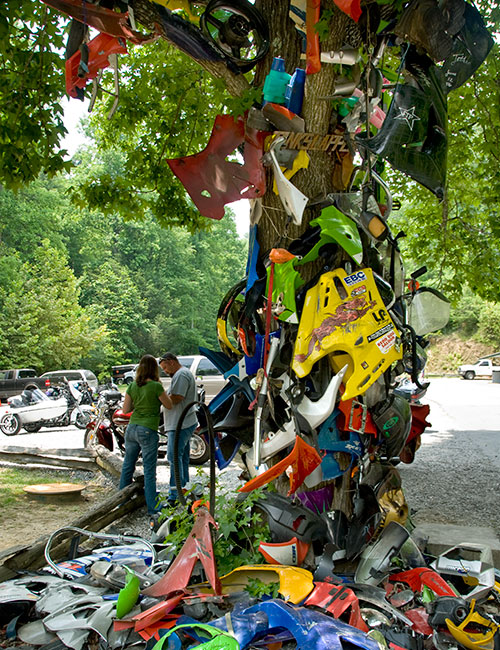 While enjoying our curviest road – The Dragon in Western Swain County – take a minute to see the 'Tree of Shame' at Deal's Gap Motorcycle Resort.
Started some time in the 1980's by a group of Harley riders, it is a makeshift shrine to riders who left a little of their gear behind somewhere in those 11 miles on one of those 318 curves. It's one of the most challenging rides in the country for motorcycles and sports cars. As the sign says, "No gain, but a lot of pain!"