Scenic Mountain Drives
Smokies National Park
Great Smoky Mountains National Park
Morning Drive – From Cherokee, take US 441 (Newfound Gap Road) north to the top of the Smokies. Enjoy the views at Newfound Gap and Clingmans Dome. Return to Cherokee, or…
Afternoon Drive –  Continue north on 441 into Tennessee. At the Park's Sugarlands Visitor Center, go west on Little River Road to Cades Cove.
You will return the way you came from Sugarlands. As of May 2016, the Park has closed the "back way" home by way of Parson's Branch Road. This one-way road south out of Cade's Cove would bring you back to Bryson City via its exit on Highway 129/28 west of Fontana Dam. The road is closed due to over 1700 dead or dying hemlocks within falling distance of the road.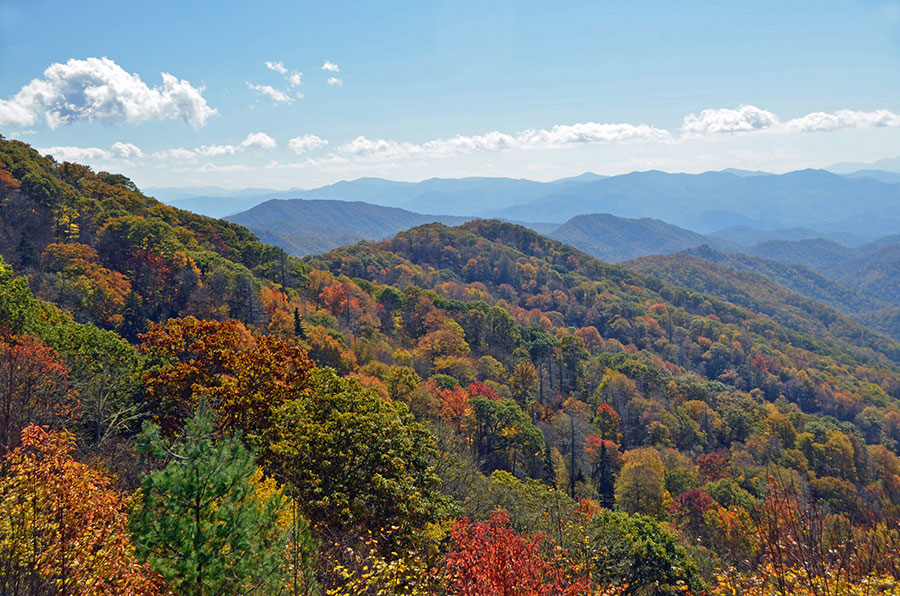 Along the way, don't miss…
Oconaluftee Visitor Center. A small museum documents early life in the Smokies before it became a National Park. At the Cherokee Park entrance. More info
Mountain Farm Museum. An outdoor living museum recreates a 19th century mountain farm. At the Cherokee Park entrance. More info.
Mingus Mill. A large water-powered working grist mill. Take home a bag of freshly-ground corn meal. Near the Cherokee Park entrance. More info.
Smokemont.  Riding stables and a 19th century church. More info.
Clingmans Dome.  At 6642 feet,  the highest peak in the Smokies. Walk the steep half-mile path to the 54-foot observation tower (above). More info
Newfound Gap. Spectacular views and the Tennessee-North Carolina state line.
Laurel Falls – A nice stop on Little River Road in Tennessee as you travel from the GSMNP entrance towards Cades Cove. 80-foot falls with a walkway between the upper and lower section. 1.3 miles from the parking area. More info
Cades Cove – An 11-mile loop through a scenic mountain valley. Historic structures. wildlife. Allow 2-4 hours to drive and walk through the structures. Traffic can be heavy. There is an inexpensive self-guiding tour booklet available at the entrance to the loop road. Only bicycle and foot traffice before 10 am some days. More info
The Road to Nowhere
Just north of Bryson City, the 6-mile long Lakeview Drive offers fantastic views of Fontana Lake.
Why is it called "The Road to Nowhere"? There's more information here…
IN OUR BLOG…
Seven great locations for capturing memorable photos of the Great Smoky Mountains National Park