Scenic Mountain Drives
Smokies National Park
Scenic Drives Thru Great Smoky Mountains National Park
Morning Drive – From Cherokee, take US 441 (Newfound Gap Road) north to the top of the Smokies. Enjoy the views at Newfound Gap and Clingmans Dome. Return to Cherokee, or…
Afternoon Drive –  Continue north on 441 into Tennessee. At the Park's Sugarlands Visitor Center, go west on Little River Road to Cades Cove.
Parson Branch Road – If you want to return a different way from Cades Cove to Bryson City, drive the one-lane, one-way eight mile Parson Branch Road. The historic gravel road, originally constructed in 1838 has changed very little in nearly 200 years. It provides a trail-like experience through a mature forest canopy with nearly 20 stream crossings.
High clearance vehicles are not recommended for traveling Parson Branch Road. Motorhomes, buses, vans longer than 25 feet, and passenger vehicles towing trailers are prohibited. This seasonally opened road is generally open from April to November annually.
Swain County and Great Smoky Mountains National Park Road Map with Activities
Click or Tap to enlarge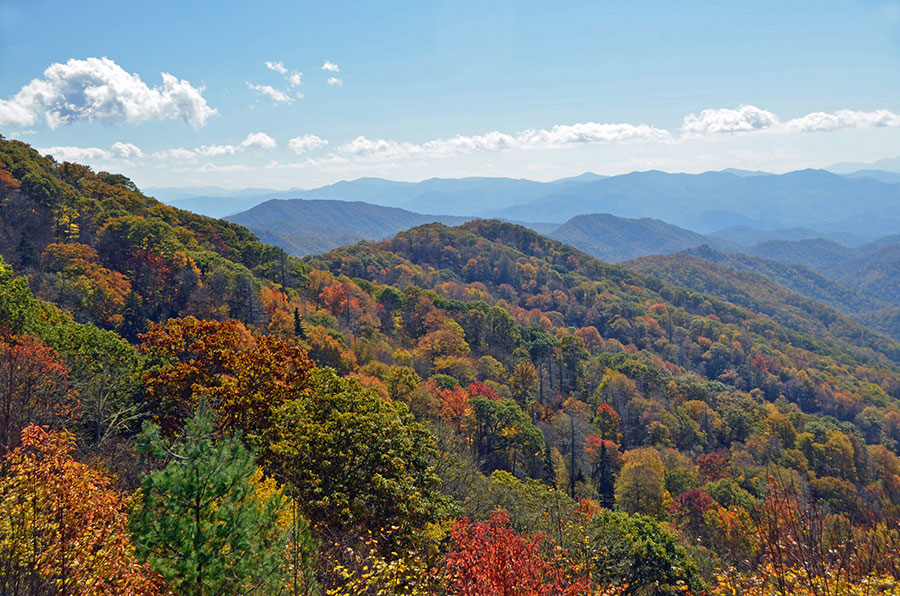 Along the way, don't miss…
Oconaluftee Visitor Center. A small museum documents early life in the Smokies before it became a National Park. At the Cherokee Park entrance. More info
Mountain Farm Museum. An outdoor living museum recreates a 19th century mountain farm. At the Cherokee Park entrance. More info.
Mingus Mill. A large water-powered working grist mill. Take home a bag of freshly-ground corn meal. Near the Cherokee Park entrance. More info.
Smokemont.  Riding stables and a 19th century church. More info.
Clingmans Dome.  At 6642 feet,  the highest peak in the Smokies. Walk the steep half-mile path to the 54-foot observation tower. More info
Newfound Gap. Spectacular views and the Tennessee-North Carolina state line.
Laurel Falls – A nice stop on Little River Road in Tennessee as you travel from the GSMNP entrance towards Cades Cove. 80-foot falls with a walkway between the upper and lower section. 1.3 miles from the parking area. More info
Cades Cove – An 11-mile loop through a scenic mountain valley. Historic structures. wildlife. Allow 2-4 hours to drive and walk through the structures. Traffic can be heavy. There is an inexpensive self-guiding tour booklet available at the entrance to the loop road. Only bicycle and foot traffice before 10 am some days. More info
The Road to Nowhere
Just north of Bryson City, the 6-mile long Lakeview Drive offers fantastic views of Fontana Lake.
Why is it called "The Road to Nowhere"? There's more information here…
IN OUR BLOG…
Seven great locations for capturing memorable photos of the Great Smoky Mountains National Park