Scenic Mountain Drives
Nantahala River
Following the Nantahala River
Nantahala, in the Cherokee language, means "Land of the Noon-day Sun." Over the course of centuries, the river here has carved out an eight-mile gorge that is so deep that many parts of it see direct sunlight for only a short time each day. Year-round whitewater recreation is a by-product of dam-controlled power generation by Duke Energy.
IN OUR BLOG
A "great escape" mountain road trip to Western North Carolina's signature lakes, rivers and dams.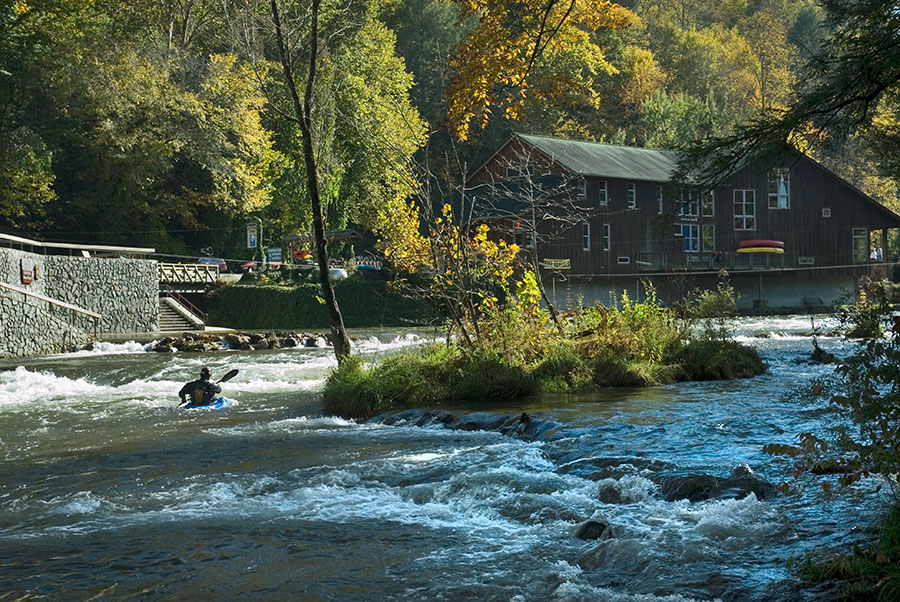 The Nantahala: a Scenic Drive Plus Hiking, Fishing, and Whitewater Fun
NANTAHALA RIVER GORGE
Driving west from Bryson City on US 19/74 takes you through the Nantahala Gorge, home to premier whitewater rafting and kayaking. This is a beautiful drive right next to the water with plenty of pull-offs and picnic spots. There are a number of whitewater rafting & kayak outfitters, three ziplines, and several restaurants in the gorge.
In 2013, the Gorge was the site of the International Canoe Federation's Freestyle World Championships. The "Championship Wave" the competitors used is open for public use. NOTE: any private boating activity on the river requires a USFS Nantahala River Permit (available at Nantahala Outdoor Center and Endless River Adventures)
Named one of the top trout streams in the country, and rated as one of the Top 100 Trout Rivers in North America by Trout Unlimited, the Nantahala is that perfect trout fishing destination. This section of the Nantahala also hatchery-supported by the State of North Carolina and is stocked from March through October.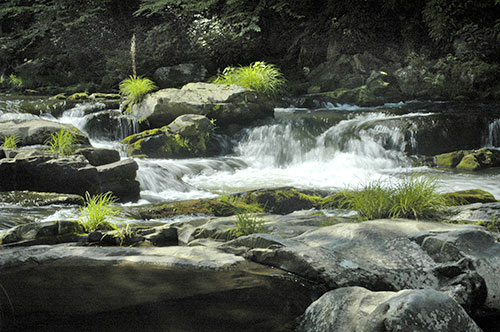 UPPER NANTAHALA RIVER & CASCADES
Eight miles (as the river flows) up the river, turn at the raft launch site sign (Wayah Road). Shortly on your left you will see a parking area and a bridge over the Nantahala. This is the wide, paved Nantahala River bikeway alongside the river that is perfect for walkers, bikers and strollers. It's about a 2-mile walk out and back.
Continue up the Wayah Road. Just past the power plant look for the handicapped accessible fishing pier, which offers a nice, close view of the water. Continue for a few miles following swift-flowing water past waterfalls and great trout fishing spots. There are 5 access areas with parking and access to the river. The series of cascades begins 1000 feet above the gorge floor.Several times a year, Duke Energy creates more forceful water releases in this section and you will be able to watch kayakers navigating these cascades.
Near the top of the mountain, at its confluence with White Oak Creek, the Upper Nantahala leaves Wayah Road and follows Old River Road (dirt) west before leaving the road altogether. The section along Old River Road has several very nice waterfalls with pull-overs.