Four Rivers Offer Whitewater Fun for All Ages in the NC Smokies
NANTAHALA
Located about a dozen miles west of Bryson City on US 19/74, the scenic Nantahala River ranks among the most popular whitewater rafting rivers in the country. Without a doubt, it is the most popular in the Southeast luring more than 200,000 paddlers to its waters every year. A perfect combination of exciting whitewater and placid pools, the Nantahala is a great introduction to the sport of whitewater paddling.
With Class II and III rapids, it's considered a "family" river suitable for senior citizens and children — providing the kids are at least 7 years old or weigh at least 60 pounds.
But, don't get the wrong idea. Just because the river is suitable for families doesn't mean it's not exciting; canoe and kayak Olympians often train on the Nantahala.

Nantahala won "Best Paddling River" in the Blue Ridge Outdoors 2016 Best of the Blue Ridge Awards.
TUCKASEGEE
In the mood for something more sedate? Try the Tuckasegee River. With its Class I and II rapids, Tuckasegee rafting trips provide great outdoor entertainment for the entire family. (including kids as young as 4 or weigh at least 40 pounds).
CHEOAH
The Cheoah is a nine-mile stretch of a narrow, whitewater river located outside of the mountain community of Robbinsville, west of Bryson City. It begins below Santeetlah Lake Dam, parallels Hwy 129 and finishes at Calderwood Lake. The Cheoah is a controlled-release river with a very limited number of release dates. It has continuous Class IV – V rapids. Dropping 150-feet per mile, the Cheoah is 3x as steep as the Gauley. Check with your outfitter for times.
OCOEE
The Ocoee has been rated one of the ten best whitewater rivers in the country by Canoe Magazine. A number of these outfitters also take trips down the Ocoee, about 1-1/2 hours southwest of Bryson City. It has been chosen as the site of national whitewater championships on several occasions as well as home of the 1996 Olympic Whitewater competition. Fully guided due to the challenging water.
Contact Name:
Mark Van Osdal
Address:
35 Slope Street
Bryson City
NC
28713
Do you want to book adventures like Whitewater Rafting plus multiple other Adventures while you're here for vacation? Save time making reservations and do it all at one website! Our adventure planning and reservation concierge service consolidates your vacation research and planning in one place. Visit our website, choose your desired adventures like Whitewater Rafting and we'll make the reservations plus set up your itinerary!
Hop in, and enjoy the ride…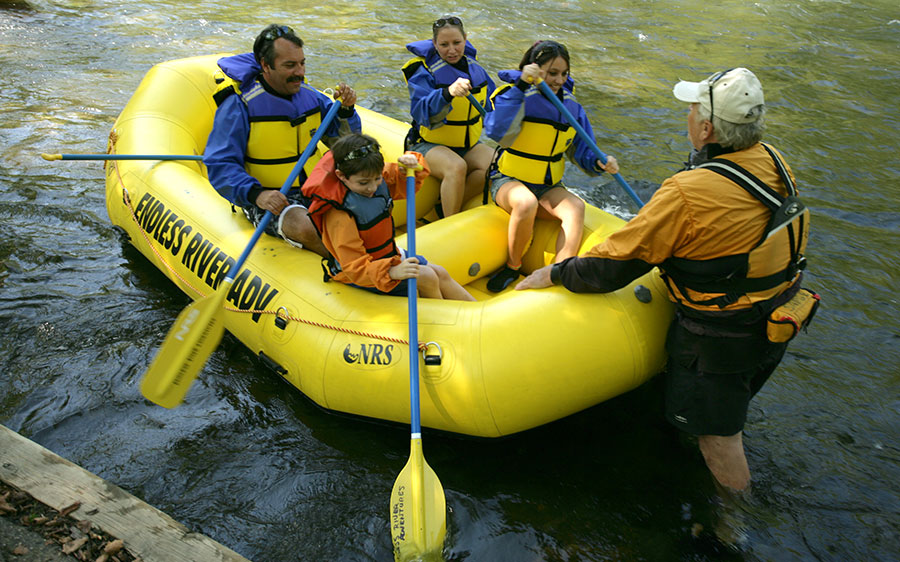 Outfitters provide paddling tips and safety instruction.
What to Wear
All outfitters provide approved life jackets; most outfitters will provide a wet suit and/or paddling jackets during the cooler months.
It's advisable to wear a bathing suit or shorts and tee shirt, and secure shoes. If it's cool, you should bring wool socks, a hat and sweater. Watches and loose jewelry should be left behind. And eyeglasses should be secured with a head strap. You should also bring towels and a change of dry clothes.
Bryson City - Swain County
Chamber of Commerce
210 Main Street
P.O. Box 509
Bryson City, NC 28713
Karen Proctor
Executive Director
828-488-3681
877-472-1681
Free 2020 Travel Guide to the Smokies — Includes the Official 2020 All Aboard for the Great Smoky Mountains Railroad.
Sign up for our monthly travel news